I've lived in SF for about 4 years now and ever since I moved here I've been wanting to drive the California coast all the way down Highway 1. I ended up doing it over one of my Thanksgiving breaks with my friend and we packed it all into 4 days! It was AMAZING! Part of me wishes I did it in the summer, but there was something cool about no crowds over the holiday season.
Stop 1: Santa Cruz
We got a late start from San Francisco, so we watched the sunset in Santa Cruz. I could do a whole post on SC because I love it so much! We only really drove through quickly this time because we got on the road late, but the sunset was well worth the stop.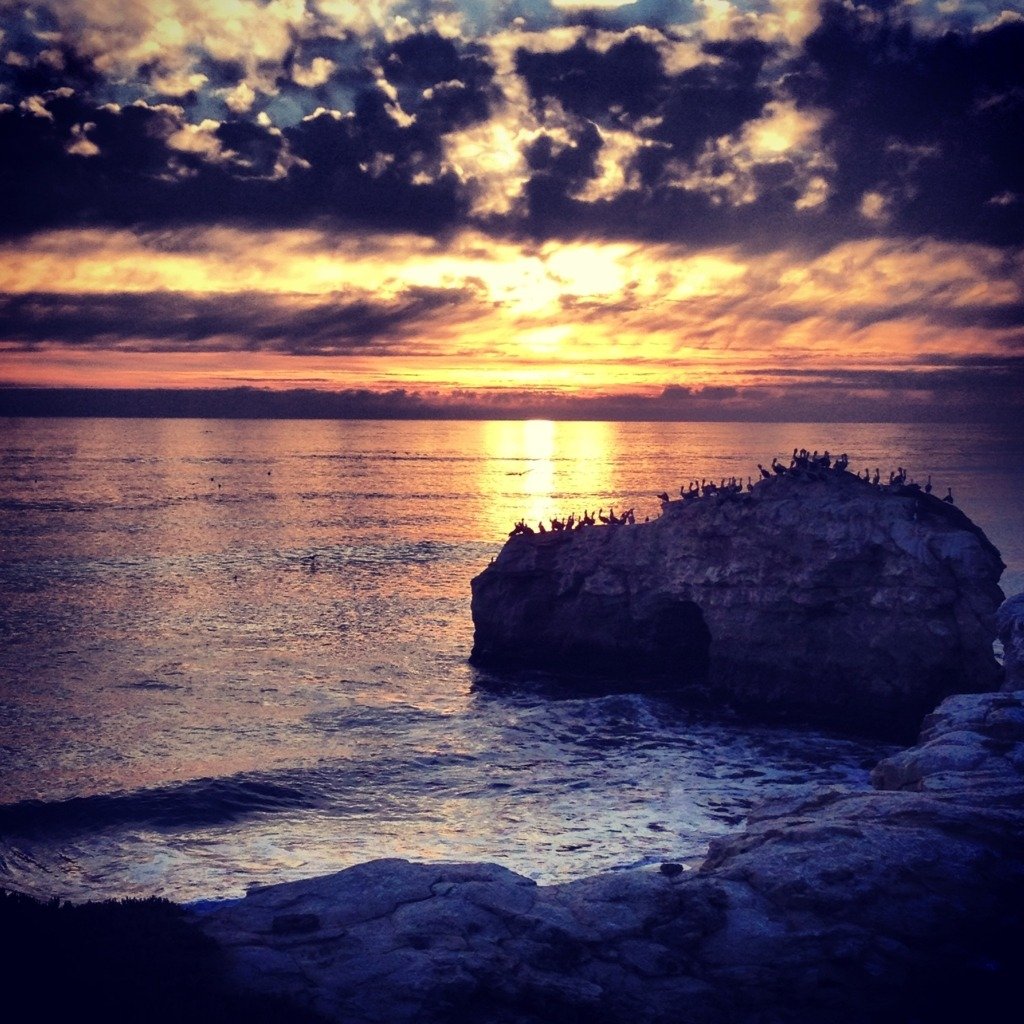 Stop 2: Santa Barbara
We drove the whole night to Santa Barbara so we could wake up there on Thanksgiving morning! We stayed the night at The Fess Parker by DoubleTree Hilton, which was a great location right on the beach. We ate at The Boathouse at Hendry's Beach for brunch and had Thanksgiving dinner at Holdren's Steaks & Seafood Restaurant. We also made the trip to Isla Vista to check out UC Santa Barbara and then took a quick drive through the Montecito hills. I wanted to stop at La Super Rica, but it was closed on Thanksgiving…bummerrrr!
Stop 3: Los Angeles
We did all the touristy stops like Rodeo Drive, Avenue of the Stars, Hollywood Walk of Fame, and the Hollywood sign. I had only been to LA once for work so I was in heaven checking out all of the sites. We ended up eating at a great local spot called Laurel Hardware (looks like a hardware shop on the outside) located in West Hollywood and went down Rodeo drive during Black Friday!
Stop 4: Santa Monica
Santa Monica….In the winter time. The lazy streets so undemanding. – Savage Garden.
Haha! I sang this to myself the entire time we were there. It was, unfortunately, rainy all day in Santa Monica, but I still enjoyed myself. We took a walk down the Santa Monica Pier, went to some of the shops, and went to some seafood restaurants along the Pier.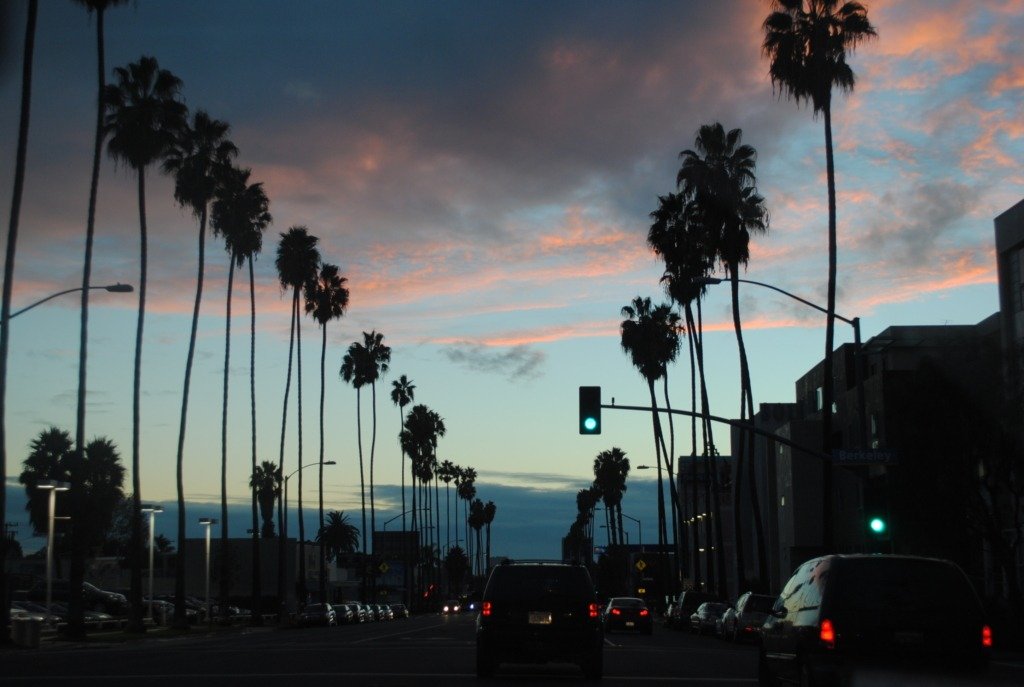 Stop 5: Malibu
We stopped here for a drink and food before heading to Ventura. Our stop of choice was Duke's Malibu where Brody Jenner apparently hangs out a bunch. It was fun to watch the sun set over the ocean from Duke's!
Stop 6: Ventura
I had a few friends that were home for Thanksgiving in Ventura and was lucky enough to have them show us around. We had so much fun here. We ended up going to Lure Fish House for dinner and this bar called the Tavern which I'm obsessed with! It was in a huge Victorian home and each room was set up like an actual room in a house. I felt like I was in a house party the whole time. Very fun! The next morning we had brunch at Cafe Nouveau, which was just the cure we needed from a night out.
Stop 7: Solvang
We took the back roads and found this crazy little town in the hills. The entire town is set up like a small Danish village and looks like it's off the set of a Disney movie. People actually live there! Get the split pea soup at one of the restaurants, pop into some of the shops and just walk around because there's plenty to see!
Stop 8: SLO (San Luis Obispo)
We checked out the Cal Poly campus and then headed over to the Madonna Inn which was my highlight of SLO. I couldn't believe the inside of the place. It was decorated (to the extreme) for Christmas and each room had a different theme. I didn't want to leave! Click on the link…you've got to see pics of it. For brunch in SLO we stopped at the cutest restaurant called the Apple Farm.
Stop 9: Pismo Beach
Pismo beach is right outside of SLO so we stopped here to do another sunset watch. The weather was decent so we sat on the beach for a little bit and just relaxed. It's a great beach and I can only imagine how awesome it is in the summer!
Stop 10: Hearst Castle
One of the highlights of my trip! I couldn't believe this place. William Hearst built it as his home and it IS a castle. I wish we could have gotten to tour it more, but it's huge and would have taken forever. If you drive the coast you cannot miss this!
Stop 11: Big Sur
Big Sur is incredible. I ran out of phone battery and service here so I don't have tons of pictures which is a bummer. Be sure to not miss Pfieffer beach! We missed it because we didn't have cell service and got lost (whoops), but I've heard its incredible. I recommend stopping at the restaurant Nepenthe and sitting on the deck looking over the ocean. You really can't beat the breathtaking views from there.
Stop 12: Carmel
Our last stop before returning home was Carmel. We didn't have much time here because we were tired, but both of us had been before. Usually people do Carmel and Monterey together for a day or weekend trip. It's a quaint little town, great for shopping and having a white wine lunch. 🙂 Of course we caught another sunset here to end our trip on a high note!
Last stop was home to SF!
What a fun whirlwind trip it was driving the California coast! You can probably do a lot of this in less that 4 days if you don't want to stop at some of the spots I did. Or you could make it longer and head down to San Diego if you have time. This is definitely one for the bucket list! 🙂
Are there any stops I missed on the route?