I LOVE LOVE LOVE Chicago!!!
If I wasn't living in San Francisco, I think Chicago would be my next choice.
Since I love it so much, I've decided to list out the top 20 reasons to visit Chicago now and why it's one of my favorite cities in the US!
(1) The architecture is INCREDIBLE.
I can't get over how tall and beautiful the buildings are. Go on a river boat architecture cruise if you want to learn all about the history of the different buildings. It was one of my highlights!
(2) There's a river going straight through the city.
They even dye it GREEN over St. Patty's Day! How cool is that?
(3) It's SO freakin' clean!
Literally so clean. Barely any garbage on the street or homeless people camping out. Maybe I'm scarred from the dirtiness of SF.
(4) People are SO friendly!
Must be a Midwestern thing 🙂

(5) The food scene is fantastic!
Their deep dish pizza, Chicago dogs, and steak are all must haves in Chicago. Go to Portillo's for a dog and Lou Malnati's for deep dish!
One is old-school Chicago and the other is an amazing new age comedy show. It's also been around for 50 years, but has the BEST comedy show I've ever seen. Many famous people like Tina Fey and Mike Meyers got their start here.
(7) Millenium Park
Go check out Cloud Gate aka The Bean and all of the different old and new art installations.
(8) The Navy Pier
It's very touristy, but fun to walk around and sit by the water.

(9) Lake Michigan is right on the edge of the city.
There's even beaches….right in the city…what?!

(10) The Willis Tour
It used to be the Sears Tower…don't get it twisted. It's tall and has a great view from the top.
(11) There is art everywhere.
Big sculptures and murals are all over the city! My favorite pieces are in Millennium Park, but you can find art in a bunch of hidden places. The Marilyn statue is a traveling structure and is now in New Jersey. Unfortunately, you won't see her in Chicago anymore.
(12) The rooftop restaurants and bars!
There are a million rooftops in Chicago and all are awesome. A few I've been to and loved are ROOF at the Wit, and the Godfrey Rooftop Lounge. All great, but especially great when it's summer in the city!
(13) There are tons of great cocktail bars!
Two of my faves are 3 Dots and a Dash and Untitled. Both have a slight speakeasy feel.
(14) St. Patty's Day here is CRAZZYY!
And they dye the river green. It's the perfect place to go for Irish Car Bomb's!
(15) Tons of pubs and large bars and restaurants line the city.
Can you tell I like my drink spots? These are perfect for happy hour, a night out, or dinner and a game watch.

(16) Lollapalooza
Although I've never been, Lollapalooza Music Festival one of the most popular and famous festivals in the US taking place right in Grant Park.

(17) Chicago is centrally located in the USA and you can get to most major cities rather quickly!
(19) Wrigley Field
I'm an SF Giants fan, but nothing beats the authentic and ever so famous Home of the Chicago Cubs!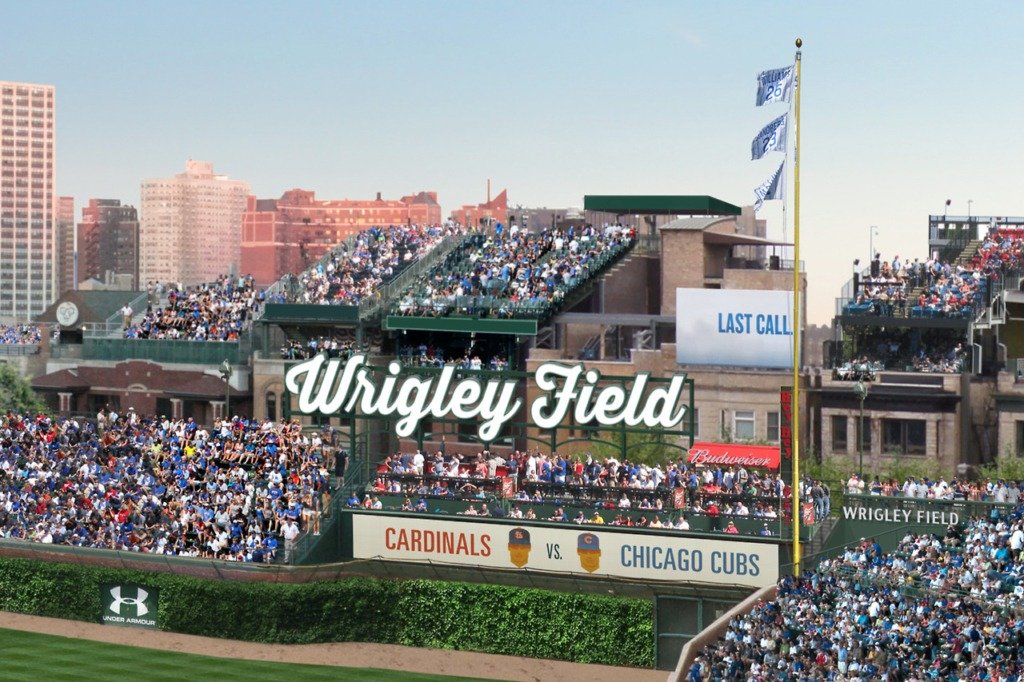 source
(18) The Magnificent Mile!
Literally ever store you could ever want…for a mile!
(20) It's CHICAGO and it's one of the most amazing cities you'll ever visit!