Have you ever been somewhere that totally takes your breath away? Somewhere you feel like you've stepped into an alternate reality and just cannot believe what you're looking at is real?
Well, there are places like this in the form of European fairytale villages! If you're heading to Europe this summer, be sure to head to one or all of the following villages to feel like a Disney princess or prince! 🙂
4 Fairytale Villages in Europe You Must Visit
Hallstatt, Austria is over 7000 years old (talk about an old fairytale village) and is home to 859 people! 🙂 The backdrop of the village and the views across the lake are breathtaking. Plus, the only way to get there is by boat! Before visiting Hallstatt I thought I knew what to expect, but even the photos don't do it justice in real life. When I found out how close it was to Salzburg, Austria I knew I HAD to go on a day trip! Tourists are starting to find out about Hallstatt, so I recommend going soon. Luckily, it still feels somewhat untouched and is beautiful in every season!
Closest cities: Salzburg, Linz or Vienna, Austria
(2) Lake Bled, Slovenia
Lake Bled is a quick bus rid from the capital city of Slovenia, Ljubljana and is a popular weekend destination for Slovenian's and foreigners. Next to Lake Bled is another popular lake called Lake Bohinj, but is not as near to as breathtaking as Lake Bled. Lake Bled is one of those fairytale villages that you can't really compare to anything else. It's got a picturesque island in the middle of a glacial lake with a castle overlooking the entire town from the mountain top. Not sure how it can get more enchanting than that! It's also beautiful in all seasons, although I recommend autumn because of fewer tourists and changing leaves!
Related Posts: The Perfect Getaway to Lake Bled Slovenia
Exploring the Charming City of Ljubljana Slovenia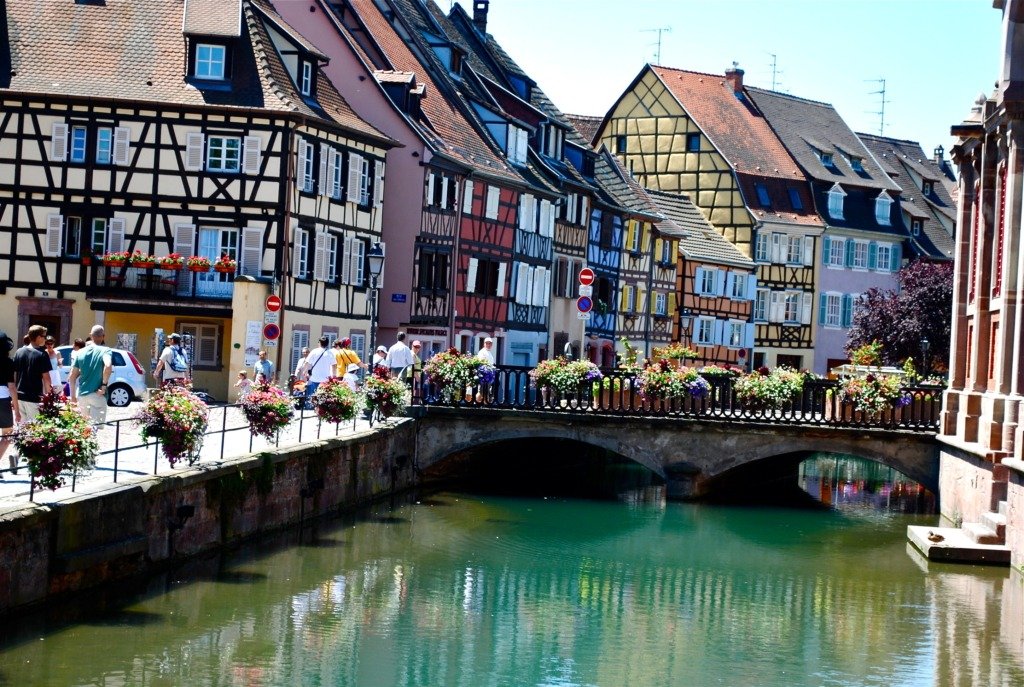 When I first went to Colmar, France I felt like I stepped onto the set of Beauty and the Beast in the village that Belle grew up in. The houses people live in actually look like this and I couldn't actually tell if I was in Disneyland or it was real. The flowers surrounding the river and the cobblestone walking paths made me feel like I was a princess. AND, yes, it all REALLY does actually look like this. 🙂
Closest cities: Strasbourg, France or Zurich, Switzerland
I'm a huge fan of castles and this is the ACTUAL fairytale castle that Disney modeled their famous castle from. Located just outside of Munich, it was King Ludwig's permanent residence. He certainly had an eye for beauty because the views from the castle and of the castle are insanely gorgeous. In my opinion, the views of this castle are better than actually going up inside, because of the backdrop of the German/Austrian Alps. Read about how to find the castle and how to get tickets, here.
Related Post: Avoid the Hassle: Here's the Easiest Way to Get to Neuschwanstein Castle
I love finding fairytale villages and especially in Europe where everything is old and beautiful. Are there any other fairytale villages in Europe that I should go to?
READ NEXT:
Avoid the Hassle: Here's the Easiest Way to Get to Neuschwanstein Castle
Hallstatt, Austria: 8 Reasons to Visit Now
My Favorite Region in France: Alsace
The Perfect Getaway to Lake Bled Slovenia
Why Salzburg is My Favorite City in Austria
Exploring the Charming City of Ljubljana Slovenia
PIN IT: