I went to Frankfurt, Germany on a whim during my trip around the world because I had found a cheap flight  from Reykjavik in Iceland. I knew I wanted to get to Germany to meet my friends in Munich for Oktoberfest, so it worked out perfectly for me to explore Frankfurt before taking off on my journey. I was also LUCKY because I have a friend from college who just so happened to live there with her Germany boyfriend and I got to stay with them for a few days! Thanks Hailey and Jannik!
Now, I'll be honest, I LOVED Frankfurt while I was there, but after visiting some other places in Germany it slowly slid down my list as favorite (sorry Frankfurt)! However, this city is still pretty awesome and has a ton to offer! Plus I learned a TON about the history of Germany and got a sense of how the city has changed over the years.
Frankfurt is known as the financial hub of Europe and has one of the biggest airports in Europe (hence my cheap flight). I didn't know this before going, but there are a ton of modern skyscrapers and newer buildings in Frankfurt which is different from the traditional German architecture I had imagined. This is mainly due to the fact that in WWII, Frankfurt was literally bombed flat and most older buildings are no longer there.
Upon arriving in Frankfurt I did the Free Alternative Walking Tour  and it was awesome. It was one of my first walking tours of my RTW (around the world) trip and made me fall in love with walking tours in general. So, if you find yourself going to Frankfurt or have a long layover there, I recommend taking the walking tour! If you don't have time though, here are the 5 stops you've got to make while you're in the city!
5 Stops You Must Make in Frankfurt Germany
1. Römerberg or the Main Square
You can't miss this main square of Frankfurt when you go. You'll notice the German-inspired architecture that's been rebuilt since the bombing of WWII. The facades almost seemed fake, but it's just because they were a replication of past facades. On the ground, in the middle of the square, you'll see a plaque that commemorates all of the books that were burned during WWII. It's somewhat wild standing somewhere with so much recent and horrible history and seeing how it's all been rebuilt for the new generations.
This square is where coronations, Christmas markets, and many different fairs take place. While I was there they were all set up for a mini-Oktoberfest celebration and had different stands selling all types of different beers, mulled wines and pretzels!

2. Frankfurt's Bahnhofsviertel or Red Light District
This part of town used to be a place that you wouldn't want to be caught dead. Filled with crime, junkies, and prostitution, for years it was a scary place to hang out. Nowadays, it's a neighborhood full of rapid gentrification with new cocktail bars, uber-hip restaurants, clubs and luxury apartments coming in and changing it's old reputation.
Walking through this neighborhood was fascinating to me because of the grunge mixed with the modern hipster vibes. Prostitution is legal in Frankfurt and in all of Germany in fact. So, in the Red Light District, you'll find many sex shops, strip clubs, and brothels. I actually saw many men in suits taking a break from what looked like their jobs to go into brothels. Talk about a trip!
This area also used to be the main spot for drug addicts (still is), but Frankfurt has implemented drug use facilities where addicts can go get free drugs and clean needles in an effort to get them help and keep them off the street. This was super forward thinking to me and I couldn't actually believe it when I heard about it. Then we saw a facility with people lined up outside waiting to get a fix. Now, that was wild! I highly recommend visiting this area (although it's not for the faint of heart), but it truly will give you a grungy (non-touristy) version of Frankfurt that will open your eyes!
3. Take a Stroll Along the River Promenade and Visit the Lock Bridge
The Main River runs right through Frankfurt and slightly divides the city between old and new. If you walk along the shaded promenade next to the water, you'll be exposed to some wonderful views of the entire city.
One of the best spots to view the city is from the Love Lock bridge (a bridge covered in locks) that has a wonderful view during the day and magical view at night of all of Frankfurt.
There are also a ton of great restaurants and bars lining the water and on a nice day, it's the perfect place for some food and German beer!
4. Visit the Kleinmarkthalle and Hauptwache
Many cities in Europe have awesome food markets and Frankfurt is no exception. Check out the large Kleinmarkthalle to find fresh flowers, fruit, coffee, fresh fish and just about anything you could ever want. You can grab a snack or actually stop here to grab lunch. While you're here, stop at
Metzgerei Schreiber for possibly the best sausages in all of Frankfurt!
Only a 5-minute walk from the Kleinmarkthalle is the center square of Frankfurt called Hauptwache. It is the most bustling and lively square in Frankfurt with easy access to the main financial district and a close walk to Zeil (one of the main shopping districts of the city).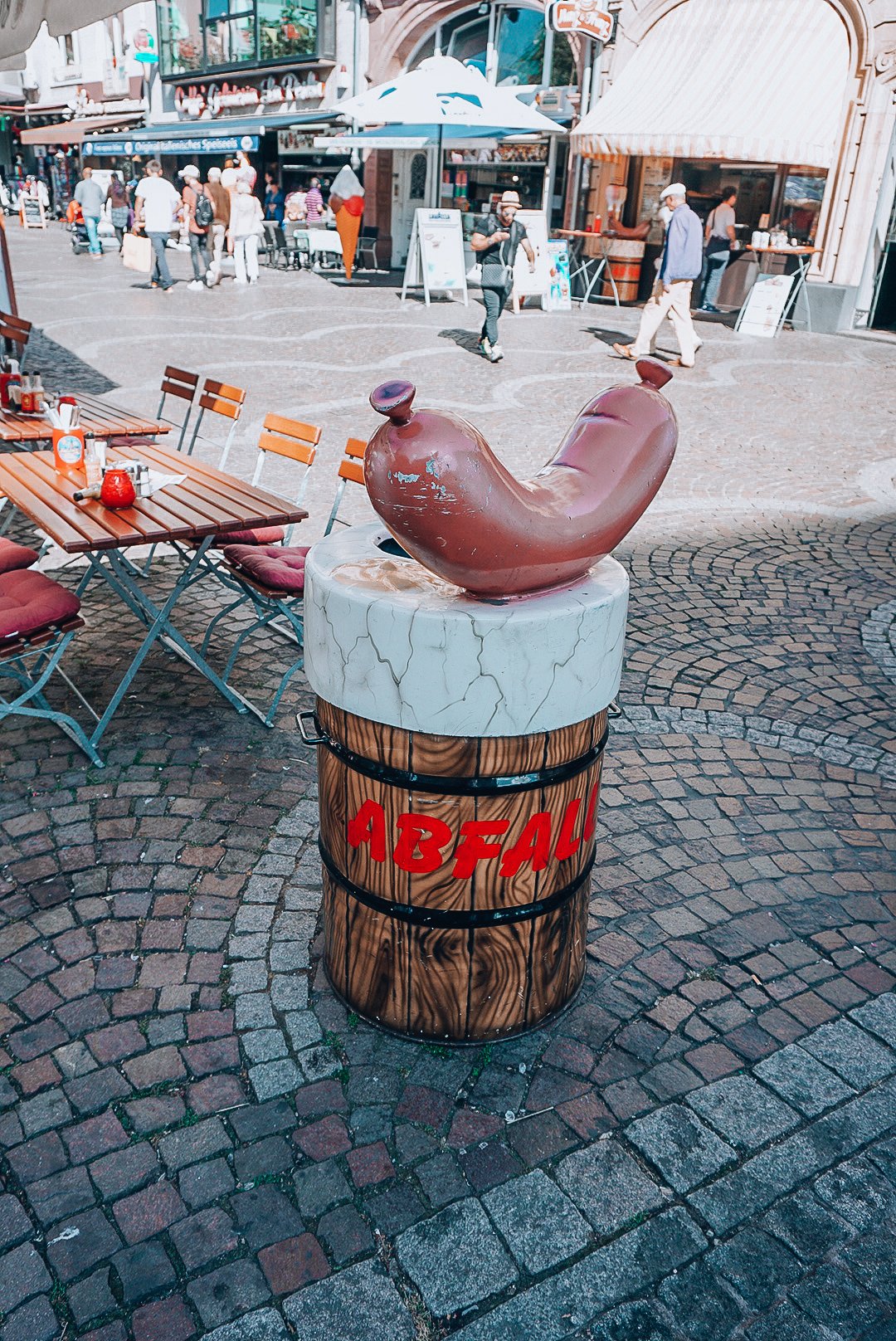 5. Have a Traditional Frankfurt Meal in the Altstadt or Sachsenhausen districts
One of my favorite traditional restaurants in Frankfurt was
Atschel
. It's an old tavern that's quintessentially German. I loved it and the decor and was the only foreigner I could see! I ate out on the patio and loved every second. While in Frankfurt, be sure to try:
-Schnitzel or Frankfurters
-Green Sauce (Grüner Soße) – Get this on top of your schnitzel for a true Frankfurtian meal. It's made with herbs and yogurt and is oh so good!
-Applewine – This is almost like a cider, but not as sweet and comes in clay jugs.
WHERE TO STAY IN FRANKFURT:
I was lucky and got to stay with my friends in the Sachsenhausen district of Frankfurt. I highly recommend renting an Airbnb in this area because it's sooooo cute! $40 code for Airbnb here. Another great option is to stay at a hostel with good ratings from my fave hostel site, Hostelworld!
Have any of you been to Frankfurt?? If not, would you visit?  There are so many more fun things to see and do than just these 5 and hopefully, you can experience them all one day!