8 Things to Do in Moscow Idaho
Moscow, Idaho is located about 8 miles from Pullman, Washington (home of Washington State University) and home to one of the best colleges in Idaho, University of Idaho. I'm a bit bias because I went to school here, but if you ever make it to Idaho it's worth a quick trip! You'll find it easy to get to if you're in Northern Idaho or close to Coeur d'Alene or Sandpoint. The rolling hills of the Palouse surrounding Moscow are breathtaking and the college campus, which makes up the majority of the town, is Idaho's oldest school. The campus itself is charming with brick buildings covered in ivy, large lawns and massive fraternity and sorority houses.
The town itself is granola/hippie in nature (different from other parts of Idaho) and has a wonderful farmer's market, great breweries, cute shops and fun art festivals all year round. It's a great place to walk around and explore for a day or two in the summer or while school is in session!
Here are some of my absolute favorite things to do in Moscow, Idaho when I visit.
1. Greek row.
Greek row reminds me of the sororities from the movies with all of the well-manicured lawns and huge houses all on the same street. I have some great memories in this house right here. Just take a walk down the Greek Row (Elm Street) and check out all of the incredible houses. Don't forget New Greek Row (on Nez Perce Drive) as well!
2. Hello Walk.
This path is super famous with University of Idaho students as it's one of the main walkways on campus. It runs from Greek Row to the Administration Building and you can't miss it! The large trees and steps leading up to the Admin building are beautiful in all seasons. This path was coined, "Hello Walk", because you see everyone you know walking up and down it.

3. Grab some college town grub.
Some of my favorite places to eat when I go to Moscow are below. I still crave these places!
Mikey's Gyros – a divey, dark spot on Main St. that has some of the best gyros and hummus I've ever had. Make sure to stop here for a cheap lunch and $1 PBR's. Who can resist that?
The Bagel Shop – You can get any kind of bagel sandwich you can think of. My fave is the Sweaty Teddy. They even steam the bagels. What more can you ask for at breakfast, lunch or 2 am?
Slice & Biscuit – Great pizza place that also serves beer and biscuits in the AM and beer.
Maialina Pizzeria Napoletana – a great pizza place and good for groups
Nectar – a little fancier spot, but amazing cocktails and all of their food is so good!
Mad Greek – Another great sit-down greek restaurant with a patio.
Lodgepole – This is new(ish) and I haven't been here, but walked by it and it looked amazing!
Black Cyprus – If you're in Moscow on a busy weekend, you can always drive over to Pullman, WA and go to some of their great spots like Black Cyprus!
The Breakfast Club – This is an old classic and is always packed for Saturday and Sunday brunch. They don't take reservations, so be prepped to wait. It's great though!
Bloom – Small location with fabulous breakfast and lunch options.
La Casa Lopez – The old school Mexican restaurant we all know and love.
Patty's Kitchen – Another great Mexican restaurant that's really small, but great for a quick meal and sitting outside with a pitcher of beer.
4. Local Dive Bars, Breweries & Tap Houses
There are a lot of great places to drink in Moscow, how could it not? Be sure to try one of the below spots!
5. The Arboretum.
Technically there are two arboretum's (we call it The Arb). One old and one new. One is more of a forest on campus and the other is an amazing park with hidden lakes, trees, benches, views and turtles.

6. Moscow Farmer's Market.
Moscow is located close to a lot of farms which makes this farmer's market pretty robust. It's got all kinds of great locally made/grown items like homemade bread, veggies, flowers, milk, beer, jewelry…you name it! Visit on a weekend and fill up your basket with cheap and fresh goodies.

7. Hike Moscow Mountain.
Head up to Moscow Mountain if you want to hike a bit or get some mountain biking in on the many biking trails! There are some great trails up there and it's so nice to be in nature in Idaho.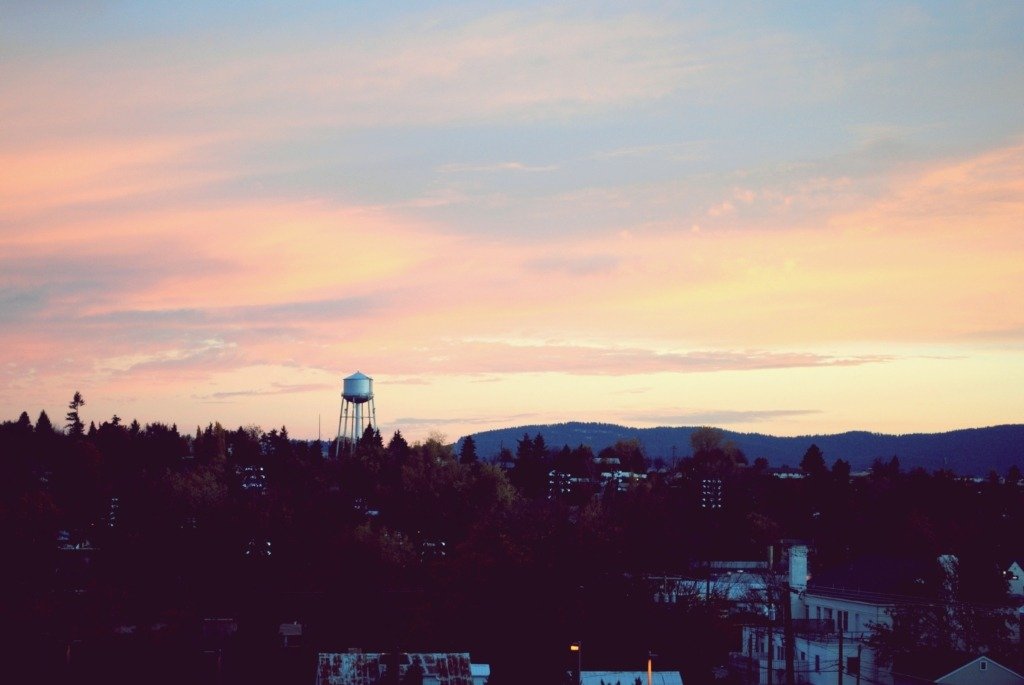 8. Tour University of Idaho Campus or Washington State Campus next door.
It's pretty rare that there are two schools next to one another only 8 miles apart in different states! Get a tour or just walk around U of I's gorgeous campus and then take a drive over to WSU and check it out (grab some Cougar Gold cheese while you're there). Also, you can't beat a U of I football game at the Kibbie Dome as well! I highly recommend going to one if you're there during a game.
WHERE TO STAY
I'll be honest, there aren't a ton of great places to stay in Moscow and if you're going to be there on a busy weekend EVERYTHING sells out. You'll want to make sure to book your hotels in advance.
The Monarch Motel – This would be my #1 recommendation because they've completely remodeled and old gross hotel to make an amazing new hotel! It's also owned by the same people that own Nectar and that's one of my favorite restaurants. See Current Prices.
University Inn – This is an old staple of Moscow and is all University of Idaho themed. It definitely could use a refresh, but it's still one of the better places to stay in Moscow.
Airbnb – This is always a great idea because there are a lot of cute homes in Moscow to rent! Here's a code for $$ off your first stay with them!
Alrighty, I think that's all for now! If you ever find yourself in Northern Idaho, I highly recommend visiting this cute little college town! And I hope this post gives you a sense of things to do in Moscow Idaho!
READ NEXT:
The 12 Best Places to Visit in Idaho
Sandpoint Idaho: The 10 Best Places to Visit
75+ Things to Do in Boise Idaho (A Local's Guide)
9 Things to Do in Twin Falls Idaho
Idaho City: A Fun Day Trip from Boise
The 10 Best Winter Activities in Sun Valley Idaho
PIN IT: