Before I get to a new city, I almost always do research on what to do when I'm there and I especially look up where the best places to eat are. Unfortunately for me and for Barcelona, I had NO time to do research before visiting. So upon arriving, I didn't have a clue of what the best restaurants to try were. Shame on me!
Luckily, I found out about the bitemojo self-guided food tours and figured I had to try one! I had heard the food in Barcelona was great and thought doing a food tour would be a good idea. My chances of finding good stuff to try last minute were slim so I figured this would be my best option.
After trying out the beta version of bitemojo I have to say I was pleasantly surprised and would definitely try this tour again in another city! Below is an honest review of my experience using the app.
Barcelona Foodie Tour with BiteMojo: A Self-Guided Food Tour
What is bitemojo you ask? Good question.
bitemojo, is a self-guided food tour conducted from an app on your phone. They are located in five cities around the world and plan on launching in more soon.
How does Bitemojo work?
You download the bitemojo app to your phone and the app gives you a walking tour map to all of the restaurants and sites along the tour. The guide will take you anywhere from a bar to a restaurant, to a monument, to an ice cream shop, you name it! Once you get to a spot on the map you'll have directions on what to do next. If it's a restaurant, you'll show the employee your phone and they'll give you the bite of food listed on your map. Typically it's a drink (alcoholic or non-alcoholic) and a larger sized tapa. I was so full after the tour that I felt like I had a full meal plus some!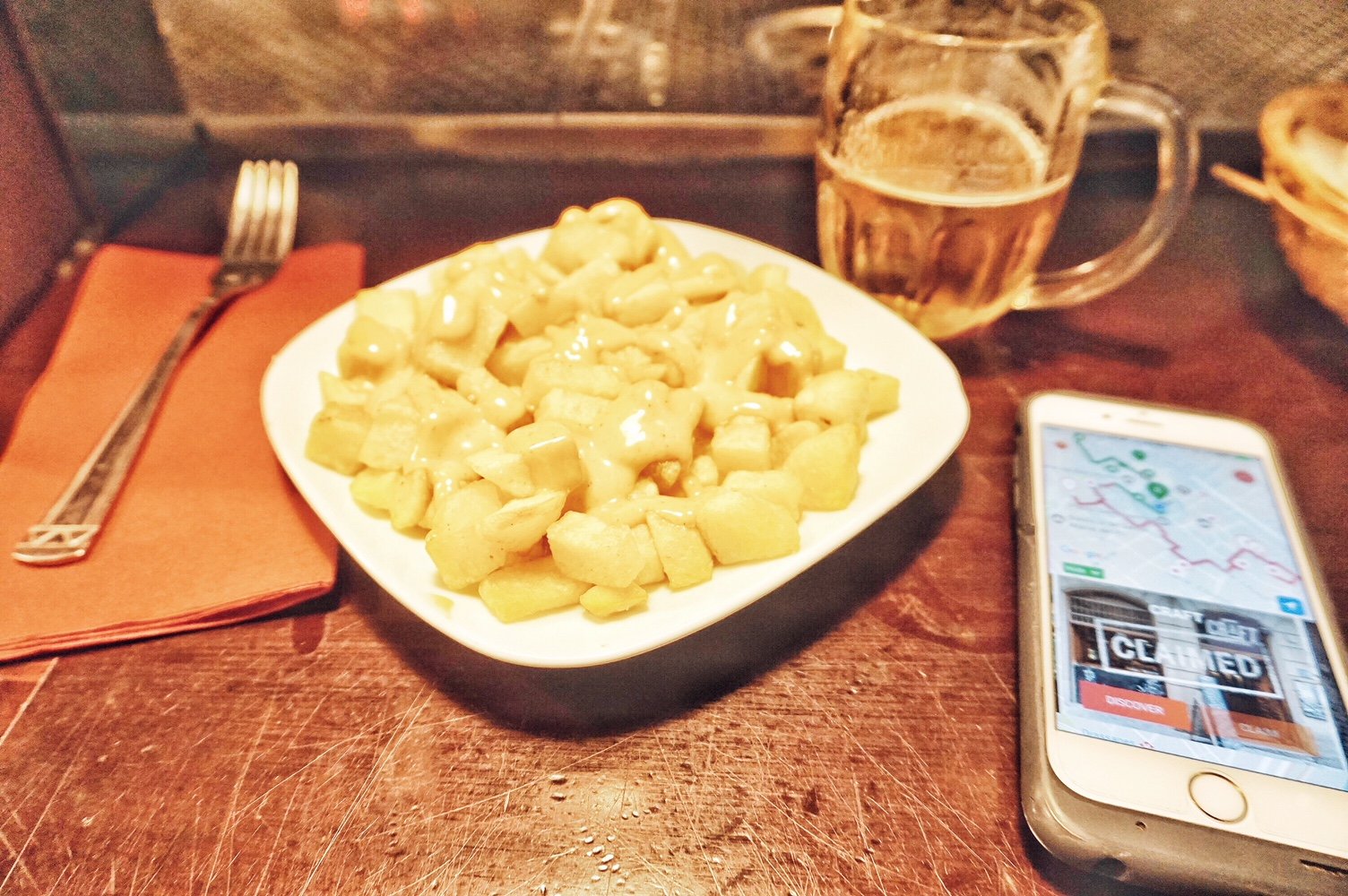 How much is it?
Each tour costs approximately $30 depending on the tour you choose.
How long does it take?
The tour is as long as or short as you'd like it to be. They have a recommended time frame for each tour, but you can start or stop is as you like throughout the day!
Where do you go on the tour?
My foodie tour was in Barcelona and I chose to do the Gothic Quarter tour. This is a relatively small area in Barcelona, but the app showed me so many cool spots in the area that even my city tour guide didn't point out. Not only that, but it took me to 5 different locations to grab food and drink. I took my time at some spots and hurried at others and then took about an hour break in between my tour because I got distracted by other pretty sites in Barcelona! The best part is that this app is flexible so you can do it whenever you want as long as it's within the time frame each place is open.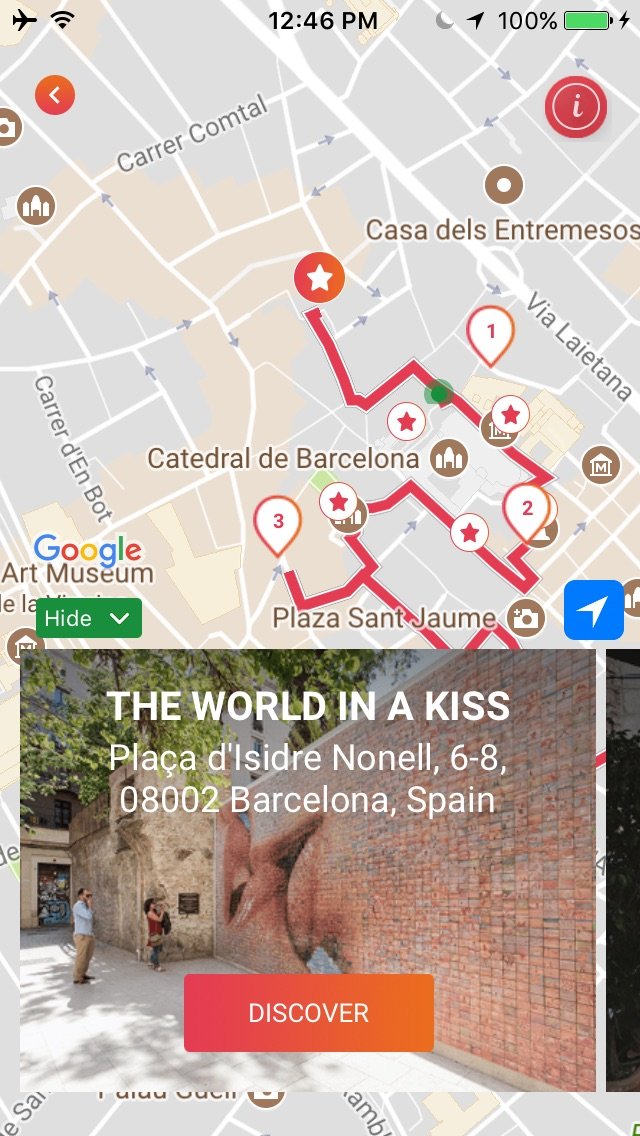 What do you get on the tour?
I had all sorts of food from patatas bravas and beer to a gelato cone to a coffee and brownie. Many of the places you get a couple options to choose from. I promise you'll leave the tour with a full stomach.
Would you do it again?
Totally! It was a great way to explore places I wouldn't normally know about and try great local cuisines. I did the tour by myself this time, but it would be even more fun with a small group of 2 or more. Keep in mind that as of the time of my tour bitemojo was still in the testing beta phase so in some places I did have to ask for the manager in order for them to know what I was there for. I didn't see this as too much of a problem since I knew this was a new tour. Luckily everyone knew what I had come for and were glad to help me!
Overall Rating
4/5 – I'm a solo traveler a lot of the time so I enjoyed being able to run the app and go to the spots at my own leisurely pace. I could stop where I wanted and then pick it back up again. I loved that the tour didn't only just show me food spots, but also cool spots within the city as well!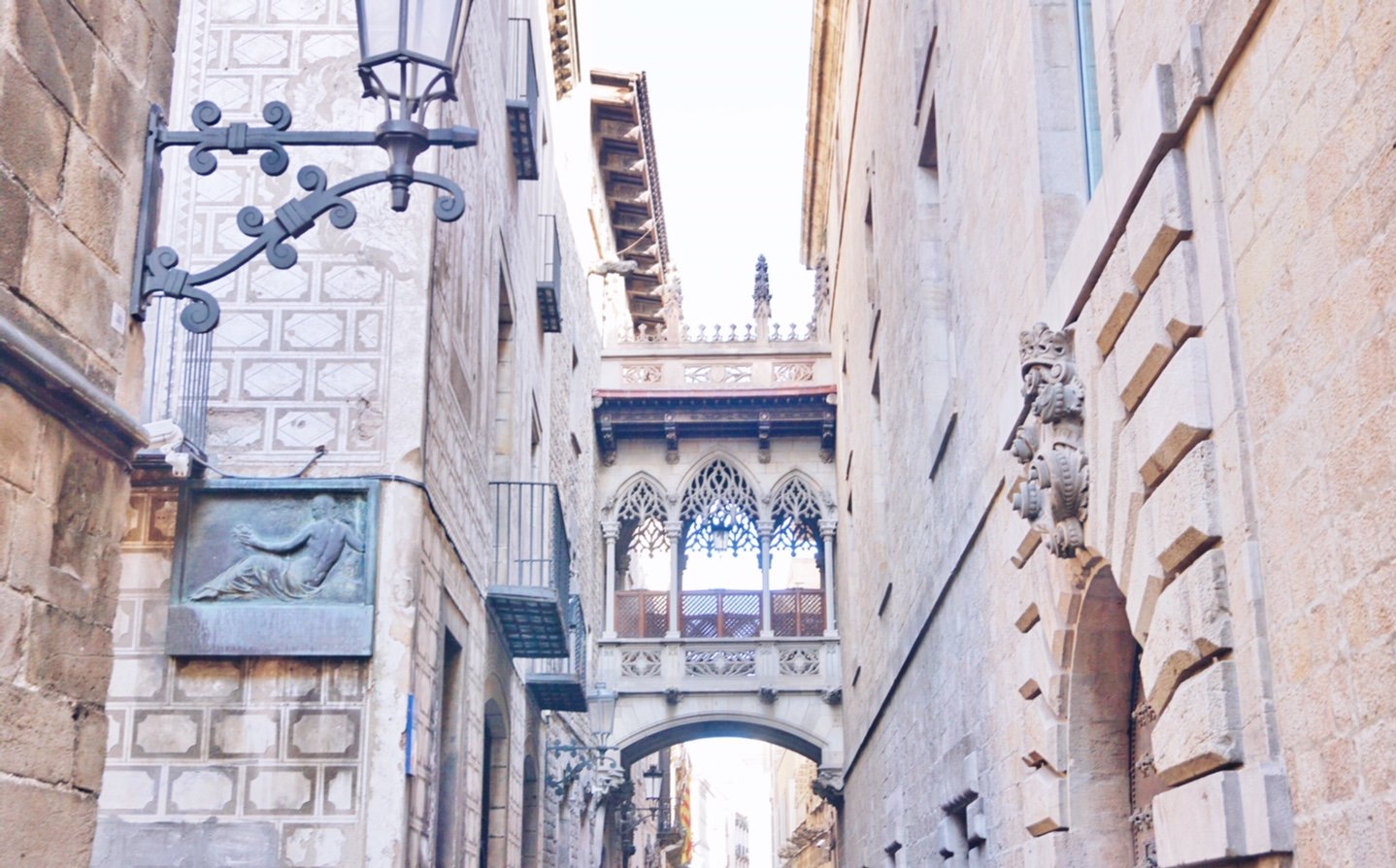 Have you guys done a food tour before? I'd be curious to know in the comments if you would ever try something like this!
Many thanks to bitemojo for letting me try their app free of charge. As usual, I maintain full editorial control and as always all thoughts and opinions are my own.