(Photo from my friend @raisedwithdogs)
Traveling with your pet can be stressful, especially since many hotels in the United States don't allow your furry friends to stay the night. Not to worry though! If you're traveling with your pet and need a hotel in Boise, Idaho I've compiled this list to help you explore Boise while still bringing your pet along.
Also, you're in luck because Boise is extremely dog-friendly! Not only is Boise sunny 200 days a year, but we get all 4 seasons and there are tons of great outdoor adventures to be had with your pet in all seasons. Whether you're here as a tourist, visiting someone at Boise State University, or looking to live here, this list will help you explore more comfortably with your pet in tow.
7 Most Pet-Friendly Hotels in Boise, Idaho
Some of these hotels really go above and beyond to make your pets feel at home. While all of these options allow dogs, be sure to check before booking if you plan on bringing your feline friend, or anything other than a dog. Also, below you'll find a list of fun things you can do in Boise with your dog, but I also wanted to share these dog-friendly off-leash areas around town as a resource.
This upscale hotel in the heart of downtown Boise has been ranked the #1 hotel in the state by U.S. News and World Report. Walking distance to local shops and restaurants, it boasts an extremely ideal location. Pet-friendly rooms are available upon request, so I would suggest booking through the hotel directly to ensure this gets communicated. They even have a "best friend" room decked out with pet-themed decor. If you do bring your pet, there is a $75 fee added on, which works out to a reasonable daily rate if you stay for more than a day or two. Plus, many hotel reviewers agree the fee is totally worth it.
See my full review of the Inn at 500 Capitol here.
"This is the most dog-friendly hotel I've stayed at. When I entered my luxurious room I was greeted with a personalized note to my 70lb boxer-husky mix with a list of dog-friendly pubs and eateries nearby and a humorous approach to the rules. They had placed a large bed and bowls in the room along with several treats." – Trip Advisor review
Hotel 43 is another incredible downtown hotel, walking distance to the city's main attractions. The hotel's award-winning restaurant, Chandlers, serves up one of the top dining experiences in Idaho with gourmet, locally sourced ingredients. Hotel 43 not only provides a super comfortable night of sleep for people (with Serta Euro Top beds), they also provide complimentary premium plush beds for canine guests. Plus, the hotel provides a Boise Arts passport for each guest that includes tickets and deals to local theatres and museums.
As with Inn at 500 Capitol, there is a non-refundable $75 pet deposit, and you should communicate with the hotel directly about your plans so they can make sure they are all set up for you and your pup. In addition to a bed, they will include a food dish, treats, doggie bags, and a leash to give your pet their best stay in Boise.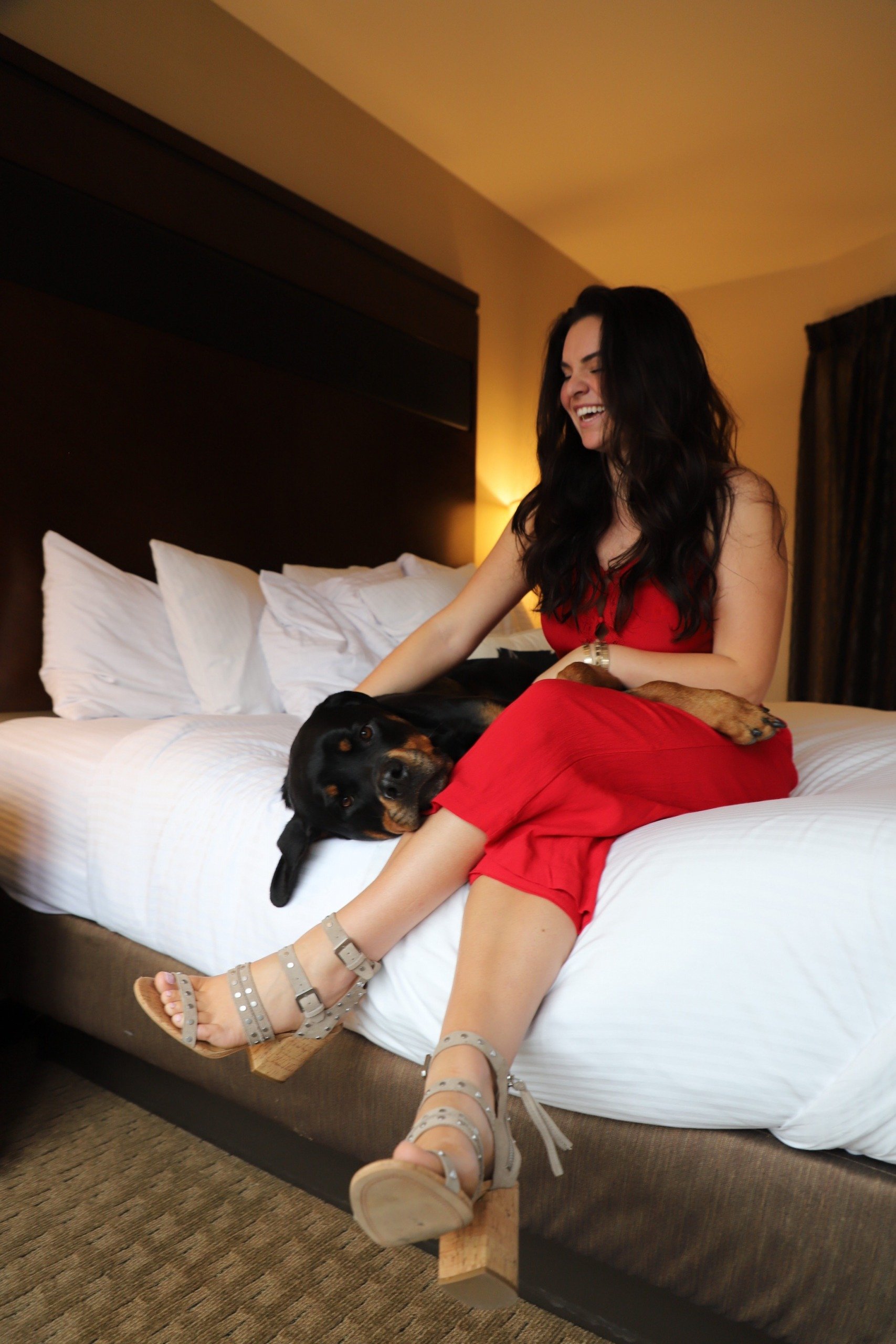 If you have an active pup and are worried about limited exercise options, you can book a room right on a 26-mile paved trail along the Boise River. The Riverside Hotel's best feature is, like its name implies, the riverfront location with direct access to the Boise Greenbelt. Just a five-minute drive to downtown, the hotel is a good affordable option for those who don't want to pay the premium to be in the middle of everything.
Plus, this location may be more ideal for pet owners who prefer outdoor recreation opportunities over city life. A recent Trip Advisor review states "Their pet-friendly rooms are lovely and spotlessly clean." The hotel accepts pets in limited guest rooms, so make sure to communicate your plans well ahead of time. The non-refundable fee is very reasonable at $25 per pet. If you do stay here, be sure and make a stop at Telaya winery on the water, Sandbar for live music, and Yardarm, a fun outdoor surf bar.
The Modern Hotel is a dog-friendly accommodation, welcoming two dogs up to 80 lbs and a fee of $25 for an additional pet, per stay. Dogs are only permitted in exterior entrance rooms on the ground floor and may not be left in rooms unattended. Dog treats are available at the front desk. Cats are not allowed. The Modern Hotel is close to Big City Coffee (a great place for brunch) and A'Tavola (a great lunch spot). The Modern Hotel also has an amazing cocktail bar and has made my favorite Boise restaurant list as well!
This hotel is a modern, budget-friendly, and pet-friendly hotel walking distance to everything in downtown Boise. With 94 restaurants and 28 attractions within 0.3 miles, you can skip the car rental during all but the coldest months of the year. Plus, you're very close to one of my favorite Boise coffee shops, Broadcast Coffee where you can grab a cup and bring your dog to drink it out by the famous Pink Tree.
Though there is a $75 non-refundable pet fee (plus a $100 additional cleaning fee if you stay for 7+ nights), it's far cheaper than boarding your pup. Reviewers comment that the staff is excellent and helpful with accommodating canine guests. Please note that there are some weight restrictions, so check the website before booking your stay.
If you're looking for more room to stretch out, this all-suite upscale hotel is the perfect home away from home for both you and your pet. It also happens to be right in the middle of downtown Boise with probably the best location of any hotel on this list! The 2,000 square foot Roof Deck lets you take in the mountain and city views while enjoying drinks and tapas. I love hanging out up here in the summer. Plus, you'll be only a few minute's walk from my favorite restaurant in Boise, Wylder and a great brewery, Boise Brewing.
Although the pet fee of $100 is the highest on the list, it's very reasonable if you plan an extended stay and consider that this is a suite (versus a room), so there's more cleaning involved.
While I'm usually not a fan of chain, airport hotels, this hotel is the most affordable option on this list and is great if you and your pet plan on making a quick stop in Boise. It's super close to the airport, only ten minutes to downtown and 8 mins to Boise Towne Square Mall and it's convenient for layovers or weekend trips on a budget.
There is a $20 pet fee per stay but also be aware that there are restrictions on animals over 40 lbs.
One Trip Advisor reviewer writes….
"The room was the BEST pet-friendly place we've stayed. CLEAN, NEW and VERY NICE. The staff is amazing and we recommend this hotel!"
Pet-Friendly Airbnb's
Would you rather feel a bit more at home while traveling? Why not try a pet-friendly Boise Airbnb. Here are a few pet-friendly Airbnbs you can choose from.
I also would recommend doing a bit of research on Airbnb yourself depending on when you're looking to come to Boise. Sometimes availability depends on when some weekends are busier than others.
While I think it's a great idea to stay near the Boise River if you have a pet, I also really love the North End neighborhood for the proximity to Camel's Back Park and Hyde Park restaurants. However, anywhere near downtown or close to the foothills is also a great option. With all of the amenities you have at home, sometimes Airbnb's or home rentals can be the best bet when you have a pet!
See more pet-friendly Airbnb's here, or go to Airbnb and create a filter for 'pet's allowed'.
Pet-Friendly Things to Do in Boise, Idaho
Lucky for you, Boise is a wonderful place to visit with your pet. There are so many outdoor adventures to be had that will guarantee to make you and your pet happy. I recommend taking your pet with you and doing one or more of the following:
Go on a walk along the Boise Greenbelt and throw a ball for your dog in the Boise River.

Head to the popular

Treasure Valley Dog Island

. Trust me when I say it's one of the cooler dog parks you'll find.

Take your dog to the Boise foothills, Camel's Back Park, or one of these

great hikes near Boise.

Find a pet-friendly patio to eat like Fork, Madre, Funky Taco, Bacon, Tupelo Honey and Big City Coffee.

Grab a drink at one of these dog-friendly patios: Telaya Winery, Hops & Bottles, Yardarm, Lost Grove Brewing, Meriwether Cider, and Western Collective.

Take a stroll downtown on 8th Street and check out Freak Alley Gallery.

If you're looking for more to do, check out this list of

75+ Things to Do in Boise, Idaho

, or this

Fall

,

Winter

, and

Summer

bucket list options in Boise. Not all of them are pet-friendly, but they will get the ideas flowing!

Looking to get out of the city? Spend some time with your pet exploring the ghost town of Idaho City, take a weekend trip to the Payette Lake in McCall, check out Shoshone Falls outside of Twin Falls, or check out Bruneau Sand Dunes State Park!
Wrapping Up
I hope this pet-friendly hotels list helps you on your trip to Boise, Idaho! There are just so many amazing things to do with your pet in Boise and I'm excited for you to visit this fun city! If you need any tips for more things to do in Boise with dogs, be sure to check out my friend Sarah's Instagram @raisedwithdogs for her hot spots!
As always, the content and opinions expressed here are entirely my own. There are affiliate links within this post which means I might make a small commission off of any sales. This is at no expense to you. 🙂