If you find yourself in Cusco, Peru awaiting a trek to Machu Picchu or visiting and want a day in the countryside, I highly recommend spending a day in the Sacred Valley of the Incas.  I didn't have any clue what to expect before heading here besides the fact that we'd see a bunch of ruins. I was very much blown AWAY! The Incas were some cool peeps and I learned a lot about their history and culture. Plus the views were breathtaking!
– A Day in the Sacred Valley of the Incas –
How to Get There:
There are a lot of ways to get to the Sacred Valley, but we ended up taking a bus tour that we purchased within our hostel (Pariwana) and it was extremely easy! Other people opted for the taxi ride (a little more spendy, but less of a tourist trap) so they could stop where they wanted vs. going where the bus drives. I really enjoyed the bus tour we did, but beware, there is a lot of walking and hiking involved in the tours so if you're hiking the Inca Trail the next day…like we did… you might want to take it a bit more easy! 🙂
What You'll See:
Each tour is a little bit different, but here's what our tour day looked like.
Stop 1: Pisac
An amazing old village and fortress with different towns and rooms covering the entire landscape. Their tiered gardens are also incredible and you can walk all around them and through them. Pisac is a great place to start your Sacred Valley tour!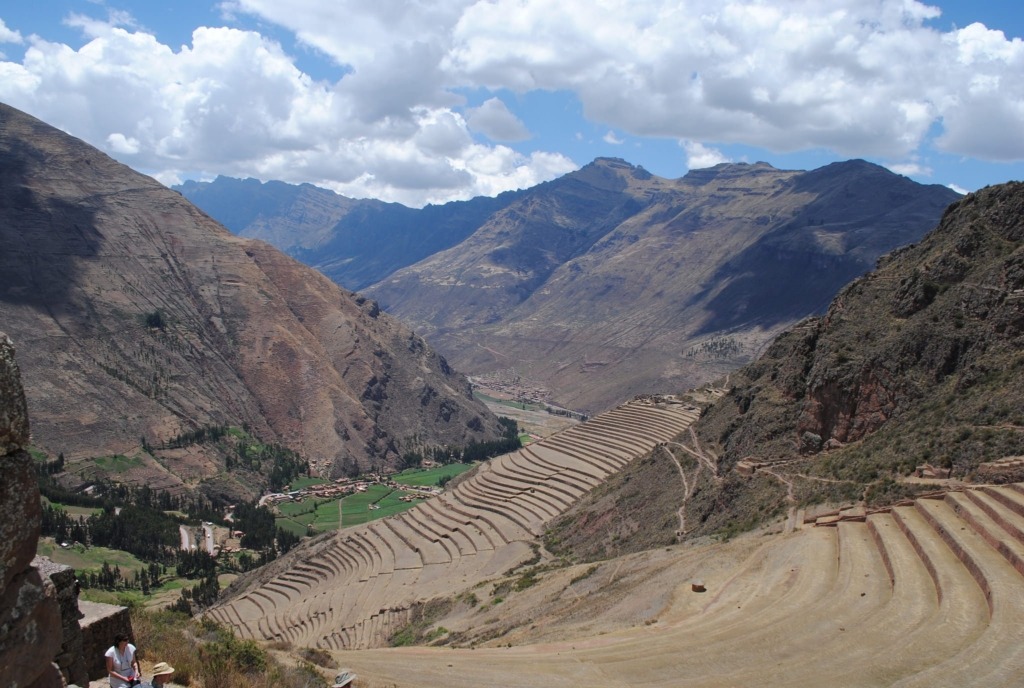 2. Urubamba for lunch and an Inca Cola (!!) 
The lunch we had was definitely a tourist trap and they served us a buffet in Urumbamba, but we didn't mind because we got to try a lot of the local grub like Lomo Saltado, chicha morada (purple drink) and Inca Cola.
Stop 3: Ollantaytambo 
Ollantaytambo is a current working village surrounded by Inca ruins. It was fascinating to see and I wish we could have spent more time here. I highly recommend spending a night here if you can swing multiple days in the Sacred Valley. The ruins here are gorgeous and have some cool history surrounding them. I also loved all of the kids dressed in the traditional garb! CUTE.

Stop 4: Chinchero (Sacred Valley highlands)
The drive up to the highlands was amazing and I was blown away by the views of the Andes. The people who lived up here were even more removed from current civilization and are some of the closest relatives to the Inca's. Once again the terraces blew my mind and so did their perfectly groomed farms.


This whole trip lasted the entire day and part of me wished I could have spent longer here. I was SUPER tired at the end of the day though so one was enough. The one thing I wish I got to see was the salt flats in Moray! Go there and take pics for me if you can 🙂
More things to Look Forward To in the Sacred Valley:
You'll learn all about coca leaves and how to deal with altitude sickness
You'll hear most of the locals speaking their main language in the Sacred Valley, Quechua. It's  been around since the Inca time!
You'll get a chance to try Inca Cola (woahhhh it was interesting and SWEET)
You'll learn how they weave all of their wonderful clothing and what they use to make the vibrant colors
You'll get to hike up the different ruins and learn how the different Inca classes lived
They didn't have wheels so you'll wonder the whole time how they built any of this stuff?!
You'll mostly be amazed at all of the structures you see!!
Have you traveled to the Sacred Valley before? Anything I missed?
READ NEXT: