Diaries Around Japan
I CANNOT BELIEVE IT….
It's been about 2 weeks since I hit my 8th month traveling around the world and my 28th birthday! What a weird coincidence it is!
This experience has by far been the best thing I've ever done for myself mentally, physically and emotionally and I'm so glad I took the plunge to quit my job and leave the
USA
. Doors have been opening, adventures have been everywhere, and the people I've met have been the icing on the cake.
Since my last post about my time in SE Asia, I've been to Japan, Italy, and Morocco! I went to Japan mainly to visit my Japanese family friends that are pretty much my Japanese family. Originally I planned on staying for 2-3 weeks, but once I got here I realized I had to stay an entire month. I loved it so much and there is so much to see that I ended up canceling my plans for South Korea and stayed a full month and a few days!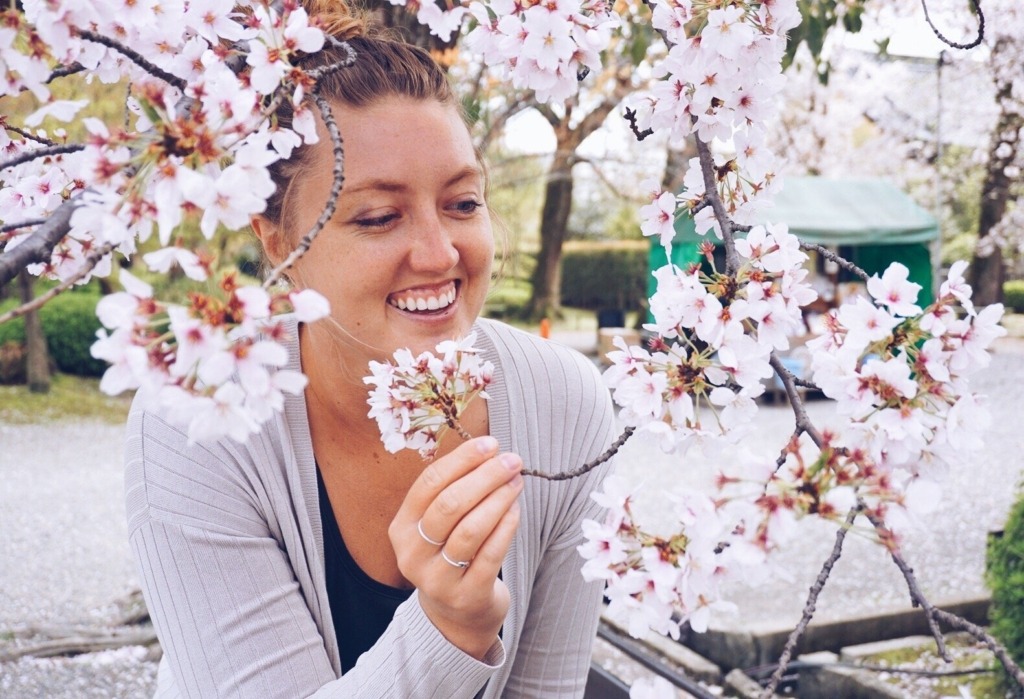 Leaving Japan ended my 5-month stint in Asia which is crazy to say! It sorta felt like home after that long! I'm really going to miss the Japanese toilets (haha) but not any other toilets in SE Asia (gross)!! My Asian travels have been INCREDIBLE, but I will say, I'm excited to be back to western foods and culture.
JAPAN
When I landed in Osaka, Japan, I'll be honest, I shed a tear. It's almost like I felt like I was home or something weird like that! I'll explain…cause I'm a weirdo.
My whole life I've been really tied to the culture. When my mom was younger she had a foreign exchange student, Naoko, who came and lived with her for a while during school. They became extremely close, like sisters. Fast forward a few years and my parents went to Japan on their honeymoon where Naoko hosted them.
Fast forward about 7 more years and my mom brought me as a 2-year-old to Japan where I ate all the Japanese foods for breakfast, lunch, and dinner and started young learning about the culture. This is probably why I love every single thing I've eaten in Japan minus matcha flavored sweets and sour pickled plums. 😉
Then, when I was a little girl from age about 5-8 or 9 I took Japanese class with other friends from my hometown. I learned how to sing songs and say certain words and phrases. When I was about 13, Naoko's daughter, Mariko came to live with my family to go to take prereq classes before going to college. She was 18 at the time and we had so much fun having her live with us.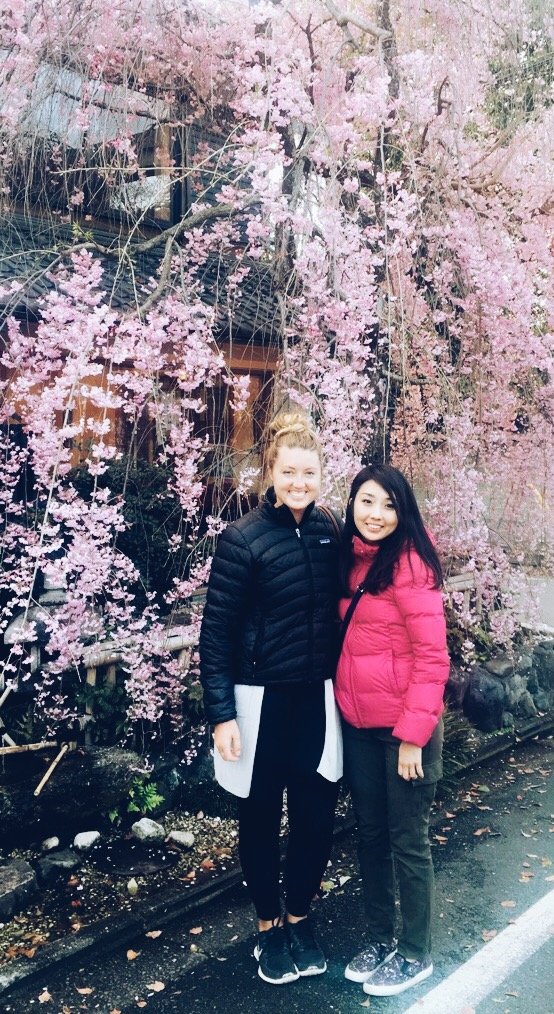 I then had extra credits my senior year of college and decided to take Japanese 101 and see if I remembered anything. I barely did, but it was fun to brush up on the language I knew when I was little!
Fast forward to now….
Me getting off of that plane was like coming home to a culture I understood and knew and felt like I belonged to even though I definitely stick out like a sore thumb. 😉
And that is how my trip to Japan started. Shedding a happy tear at the airport and anticipating my next adventure.
I started my trip in Osaka because it was cheapest from Kuala Lumpur, Malaysia. In Osaka, I toured around and really took in the culture! It was crazy to see the sights and smells and try the foods for the first time. I knew it was going to be so different than what I expected and it was but in such a good way! Eventually, I met up with Mariko and her husband and they immediately took me to a super fancy traditional Japanese restaurant where we at sukiyaki, drank sake and had ladies in kimonos wait on us. THIS WAS A DREAM COME TRUE! All of the food was so great and I died and went to heaven having this be my first dinner in Japan.
I then spent a week touring around with Mariko and her husband where they took me to eat every type of food imaginable!
I've had miso soup, gyoza, fish, fish and more fish, sushi, beef bowls, beef tongue (!!), chicken gizzards (!!), ramen, udon, okonomiyaki, takoyaki, Korean bbq, traditional Japanese breakfast and so much more I can't even name it all. The food in Japan is to die for! Even if it's something that I'm iffy about, I try it, and it always tastes so good.
I also learned that Japanese people are EXTREMELY clean.
Like, extremely! Way cleaner than any country I've lived in or been to. They value the cleanliness and freshness of their food and so everything is of the highest quality. I know I already mentioned the toilets, but after being in
SE Asia for 3 months
and the
Middle East for 2
you'd feel the same way coming to a fancy and clean public toilet in Japan (with toilet paper)! What a luxury!
Mariko and her hubs have a place in Kyoto and Tokyo so we started out in Kyoto which is actually the old capital of Japan where the geishas live. We saw beautiful cherry blossoms and I got SO SO lucky that I hit the season right because it's so short! We toured around and went to a few famous temples and shrines and ate such great food, again. Some of the highlights were Fushimi Inari (the red torii gates) and the Arashiyama Bamboo Forest. These were both super duper crowded, but still really great to see!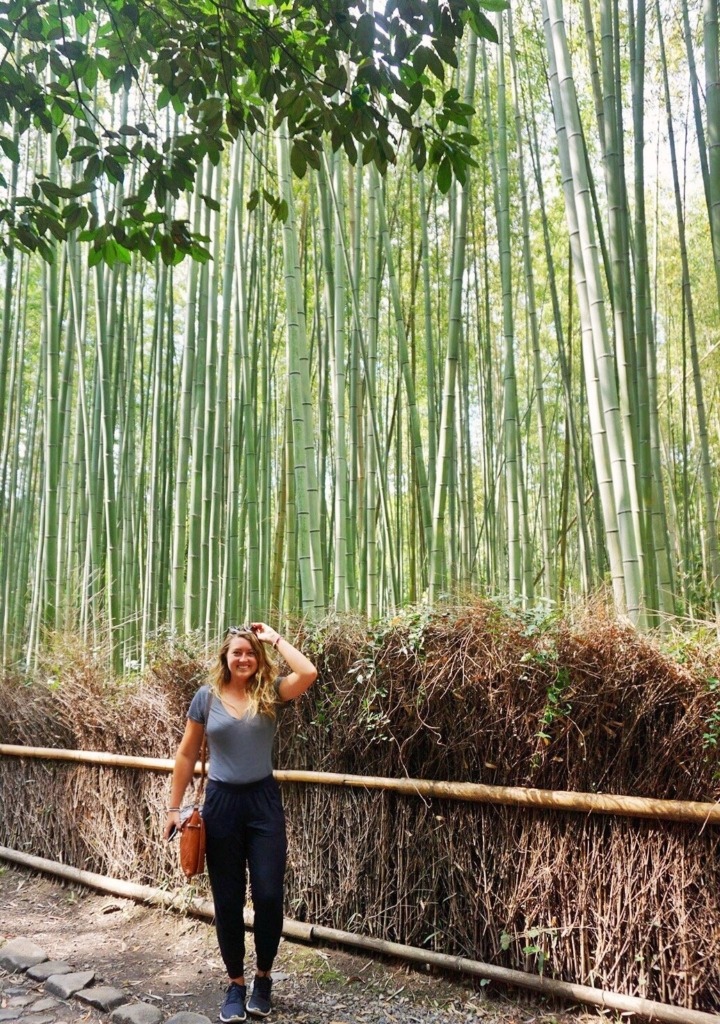 After Kyoto, we went to Hiroshima and Miyajima.
Hiroshima
was SO depressing. It was also really sad going at the same time that Trump and North Korea were threatening each other with nukes. NOT cool. It made me realize that the people who get affected the most from atomic bombs are kids and families and not the actual people who decide to drop them. It was depressing to see how the area I was in got flattened and how so many school children were affected by it.
After Hiroshima, we took a ferry to Miyajima where we got to see the floating Torii, tons of deer all over the place and the famous temple on the island. This was a beautiful change up after depressing Hiroshima.
Next stop was Tokyo and I was soo excited to be in the capital city!
I stayed right by the Tsukiji fish market, which was a hi-light for me! I didn't get up early to do the tuna auction (saving that for another time), but I did walk thru the market and ate as much fresh fish and little snacks I could find. It was pretty amazing cause they would cut a fresh tuna right in front of you and serve it up to you with some soy sauce and wasabi. So YUM!
It's also wild because Japanese people work VERY hard. Many of them dress the same to go to work in what they call 'salary man' uniforms which is a black suit with black tie and white shirt. When you are in Tokyo it almost looks like a ton of ants coming out of the subway there are so many people wearing the same thing!
In Tokyo, I had so many adventures and was so happy that my friends Liz and Kyle were stopping in Tokyo for the same dates I was there. We had a ton of fun together!
Some highlights of Tokyo include:
1) Akihabara district
The gaming, comic (manga) nerdy area where I went to a maid cafe….haha and saw crazy electronic stores, cat cafes and many manga comic stores.
2) Harajuku district
Where all of the young girls' shops are with big cotton candy, crepes and girls (kawaii-ne) clothing all over the place!
3) Senjoii Temple
Beautiful temple in the middle of Tokyo with a gigantic lantern and beautiful scenery! (this couple in the corner is hilar)
4) Tokyo Tower and Skytree
Two massive towers in Tokyo that were fun to check out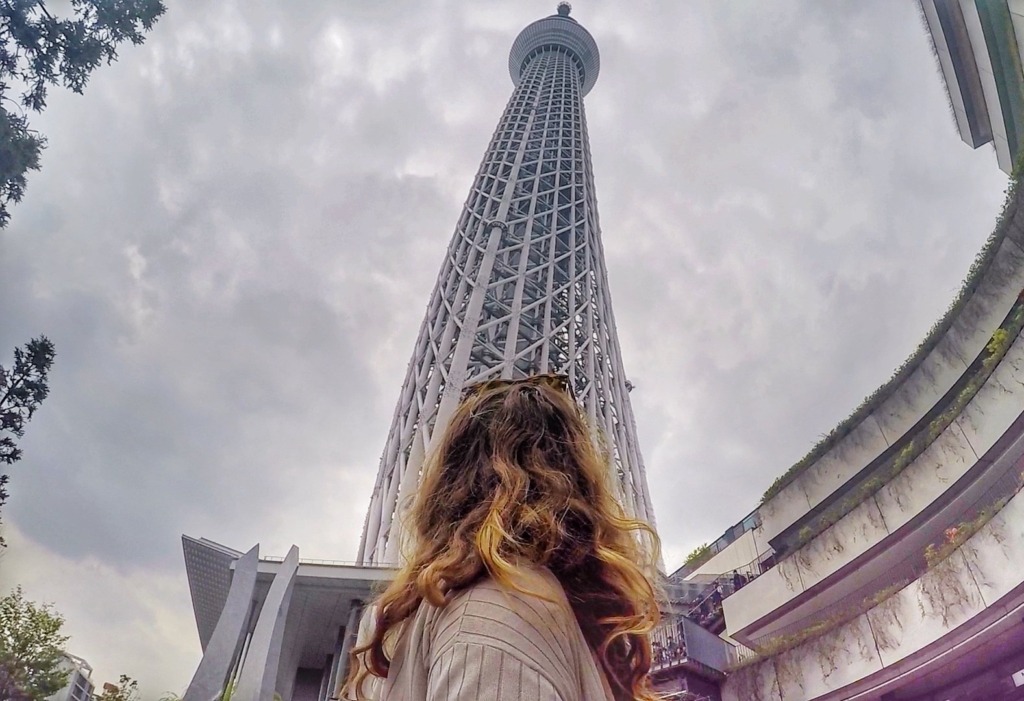 5) Shibuya Crossing
The busiest crosswalk in the world. I LOVED walking across it and checking out the crowds from the train station window!
6) Kurand Sake
Unlimited sake Bar called Kurand Sake where we could pour our own sake out of 100 different types (SO COOL!) I want to open one of these in the USA.
7) The Robot Show
Crazy weird show, but glad I got to check it out as it was like nothing I've ever seen before. Ever…
8) Golden Gai
A freakin' amazing area in Tokyo with little tiny streets filled with small bars that only fit 5-8 people inside.
9) Karaoke-kan and karaoke in general
A must do in Japan. I went twice and had a blast both times. Nothing compares to Japanese karaoke.
10) Ginza Shopping, Omote-Sando Shopping
Shopping in Japan is like nothing I've ever seen before. They've got every single store you could possibly imagine!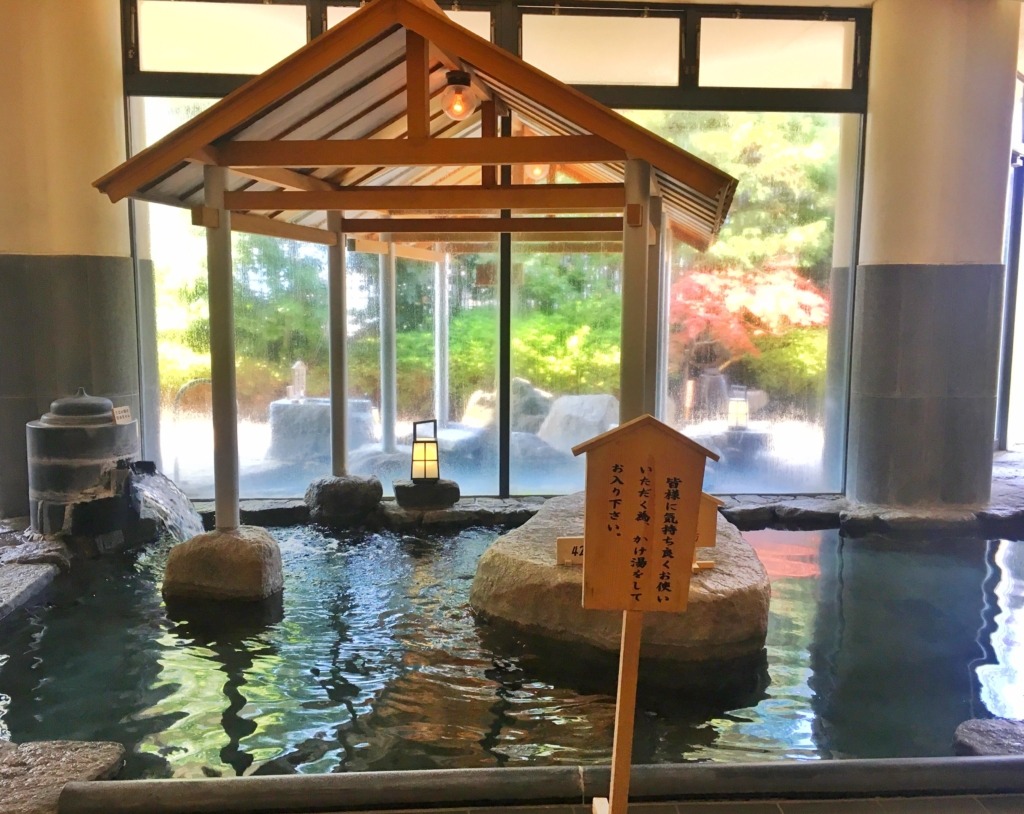 After Tokyo, I went to a few onsens in Japan scattered through my trip. Some of the highlights were the Dogo Onsen and Kamakura Onsen. Both were in the mountain areas and we stayed in Ryokans (Japanese hotels) both times. I couldn't even believe how cool the culture of the Japanese onsen is and want to do a separate post just for that!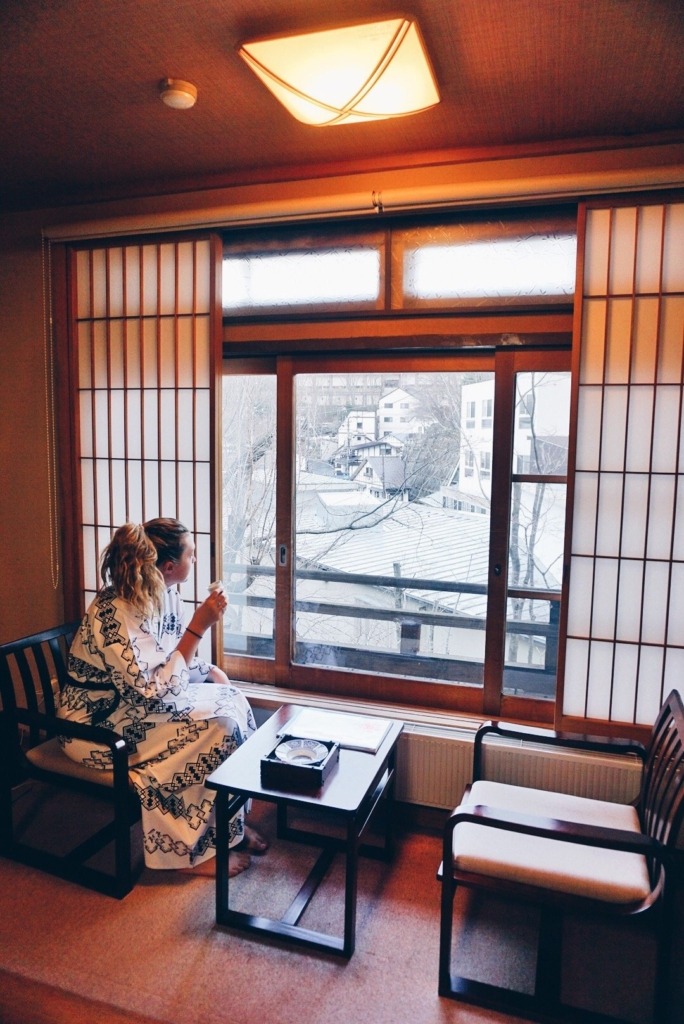 Eventually, I met up with my Japanese mom (Nao), dad (Satoshi) and Gma (Hisako) in a small town north of Tokyo called Utsunomiya. I was spoiled with Nao's homemade cooking and her famous gyoza, fried rice, and tempura. Let's just say I died and went to heaven. It was also amazing to be inside an old traditional Japanese home and see how older Japanese people live like Nao's mom, Hisako who was alive for WWII.
While I was with them Nao took me to a kimono fitting where I got my makeup and hair done.
Putting on a kimono is an extremely cultural and sacred practice in Japan. It was really a special cultural experience. The kimono is not just the outer pretty part, it's an ART. There are about 40 pieces that go on under the kimono and everything has to be tied correctly and meticulously picked out and put on in great detail. I was amazed to see how everything worked behind the scenes and was grateful for the experience. I also got to see a bride getting ready for her wedding shoot where she wore a huge headpiece typical for Japanese wedding photo shoots and it blew my mind! The whole experience was once in a lifetime.
While up north with Nao and Satoshi I did a day trip to Nikko which was an incredible mountain town. One of their most famous and ornate shrines, Toshogu shrine is there! Nao also took me to an amazing yellow flower festival and a coy fish festival which was in preparation for the celebration of Children's Day where they had 800 coy fish flags flying over the water. It was magical!
After spending time with them, I bounced back to Kyoto but stopped in Mt. Fuji on the way.
I LOVED it there! Mt. Fuji is only visible 90 days out of the year and I had wonderful weather both days. I hiked up to the Sengen park viewpoint where I could get views of the mountain with the temple in the distance. I wanted to try to hike the mountain a bit but decided not to. Maybe next time! I also went to a flower festival and got amazing views of the mountain from there.
In Kyoto, I met back up with Mariko and her husband and I got to watch Mariko's national Japanese election where she's running for office! It was amazing to see how a Japanese election works behind the scenes and I got to go around in her campaign car where she waved to people and stopped every so often to give speeches. It's so different than in the USA, I felt very privileged to witness it and do a ride-a-long!
After some more time chilling out in Kyoto and going to the Kiomizudera Temple, The Golden Pavilion, Nishiki market and more adventures in Gion, it was time for me to fly to Italy!
Japan was an incredible experience for me and I seriously cannot wait to go back. I'm also not sure how I'm going to live without their food and kind hospitality every day!
Until next time! Italy and Morocco!
-Katie