I'm back in the USA everyone!! Wahhooo! I'm not back for good, but I came back for a conference (Bloghouse) that I was selected to attend for my blog. When I found out the conference was in Indianapolis I wasn't sure if I could make it work or if I even wanted to come back to the USA, but I decided to bite the bullet and do it! And…I'm so glad that I did!
Diaries in Italy and Morocco: 9 months!
It's been 9 months since I left my SF apartment to go to Iceland and honestly it seems like it flew by!
Since my
last post about Japan,
I've been to Italy, Morocco, the Netherlands, San Francisco, Indianapolis, and Idaho. After writing this I'm realizing how behind I am on posting!  I just spent the 4th of July in my home state of
Idaho
and then will be heading to NYC and the Hamptons before flying to Spain in August!
I didn't think I'd say this, but upon leaving Amsterdam I was really ready to be home. 9 months is a long time and I finally started to feel homesick once I booked my flight back. Meeting my family in Italy and traveling with my brother and sis in Morocco made me really miss them and made me anxious to get back to the USA!
Before stepping foot in the USA my main cravings were American brunch, really good Mexican food and my fam and friends. Oh and stability…although I won't be getting that this time. 🙂
I'm going to recap my trips to Italy and Morocco below!
Italy: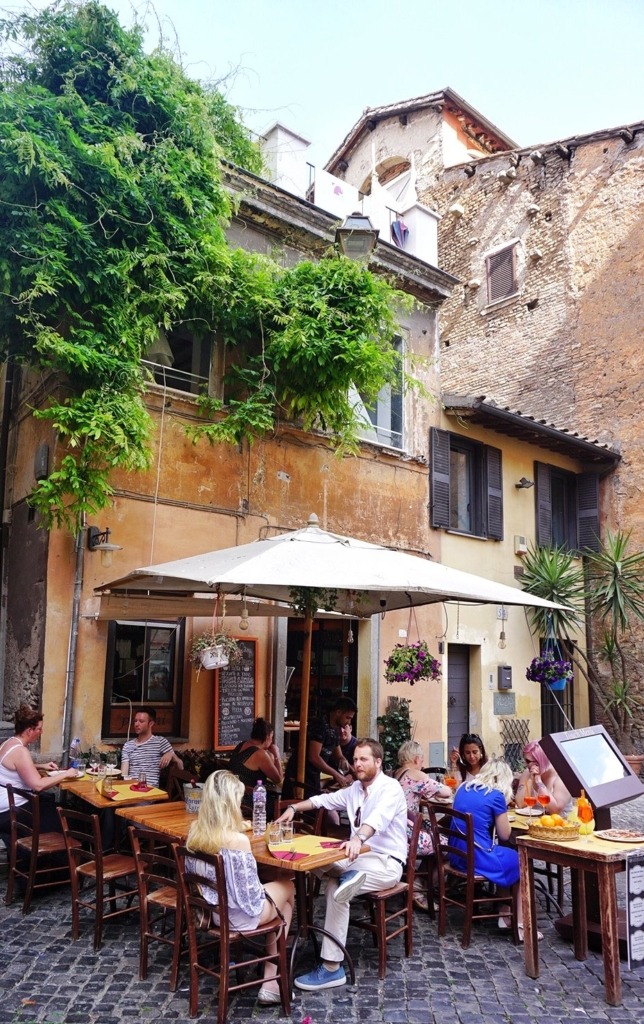 Italy was always in the plan for my around-the-world trip. This is because my brother was studying abroad there and then for Xmas, my parents got my fam a trip to Italy. So, my plan was to fly from Japan to Italy! If I didn't have this trip bringing me back to Europe I'm almost positive I'd still be in Asia…
Italy was a whirlwind of food, culture, history and family time. I had the best trip and seriously can't wait to go back to see more of the country. 
Everyone had told me that Italy was amazing, which makes me sometimes wary if EVERYONE likes it. But, it's true. I'm not sure how you can't like Italy. Also, May is a perfect time to go for people who hate crowds because we felt like everything was extremely manageable!
I met my friend Anna from NYC that I met in Slovenia like 5 months ago and we spent a day in Venice. I LOVED Venice. I'd heard that it is super crowded and unbearable, but we had a fabulous time walking the streets, getting lost, eating pasta, and drinking wine all day long. I had just come from being in Asia for a LONG time so having freshly made pasta and wine was a dream come true.
After Venice we took the train over to Cinque Terre where we spent the night at an amazing Airbnb in Riomaggiore (one of the 5 towns).
We decided to hike between the 5 towns and despite some of the paths being closed off we still had a good day of hiking. It was super hot and the stairs were steep, but it was so beautiful! Probably one of the most beautiful and rewarding hikes I've done in a while! We strolled the streets, had frozen lemonades, ate fried seafood and drank all the wine. It was so nice to have a friend to experience everything with.
After Cinque Terre we went to Florence which I loved! We took a Bla Bla car to get there and two Italian guys picked us up on their way. I loved having locals to chat with on our way to Florence. BlaBla Car is such a smart idea. I asked one guy, "do you eat pasta a lot?". He replied,  "Yes, I eat it every single day." HAHA I knew Italians ate pasta but didn't realize they truly eat it every day.
In Florence we did some of the touristy stuff like climb the Duomo and watched the sunset on top of Piazzale Michelangelo.
We ate our way through the city, saw the famous Ponte Vecchio, did a little shopping and drank lots of wine. It's such a beautiful city and I can't wait to go back one day.
After our time together, Anna and I said goodbye and the next day I went to Roma to meet up with my family. I took the early train and walked into the hotel just as they were checking in. It was perfect timing and so good to see my fam! It was also really good to stay at a hotel for a week without having to move my stuff around. Our plan was to explore Rome for 7 days and we filled it up!
John (my brother) showed us all around the city. We got a night tour of the Vatican which was amazing. I highly recommend going at night (a lot less people). We got a tour of the Palatine and Colosseum which were pretty incredible. We ate our way around Rome getting pizza and pastas everywhere we went along with their house carafes of wine. It was so fun to be with my family exploring and it was especially nice because I didn't have to think about anything and my brother was our personal tour guide!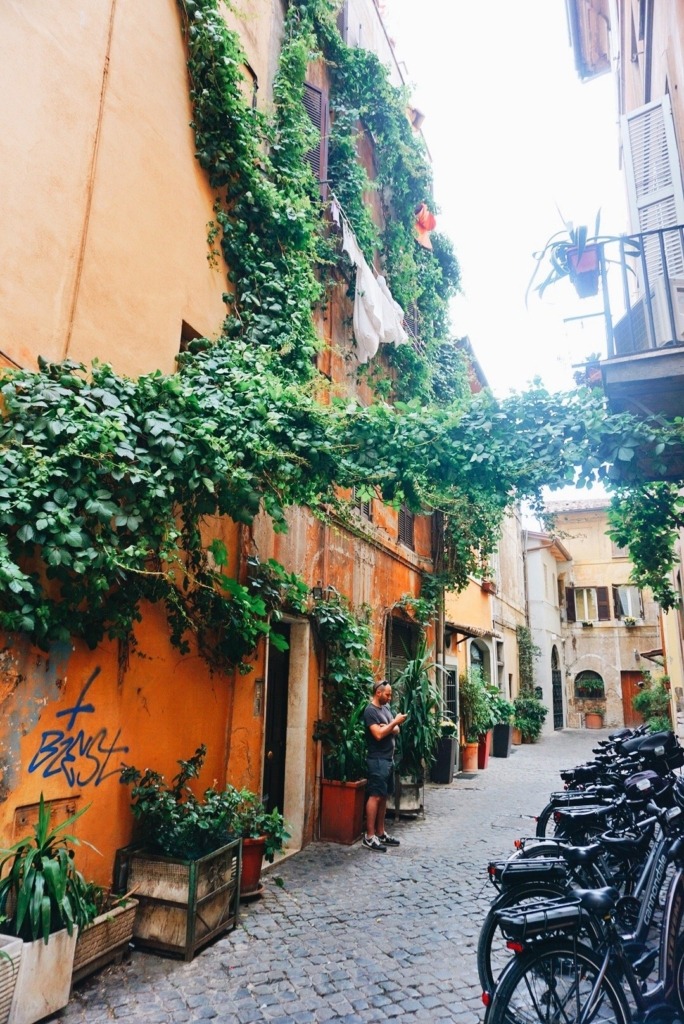 My favorite area was the Trastevere neighborhood where all of the bars and cute restaurants are and the picturesque Italian architecture. I loved it. Oh and the blooming jasmine was insane. And I want a plant at my future house.
I also turned 28 in Rome and that day we went to St. Peter's Basilica and the Trevi Fountain.
Also, I drank a beer and made a wish at the fountain even though they say throwing in a coin just means you'll come back to Rome one day. I hope so! We went out at night in the Trastevere area and had a blast! We drank a few beers and then John took us to a hidden keyhole on top of a hill that looked out to St. Peter's Basilica. This was one of the hi-lights of my birthday for sureeee!
After a week in Roma it was time for us children to head to Morocco. Our parents continued on to explore more of Italy and Kadin (Em's bf) went back to Chicago. And then there were three. Until next time Italy!
Morocco:
So, none of us did research before coming to Morocco. Was this a mistake? Probably not the smartest thing we've ever done, but it all worked out. John was only going to be with us for 3 days before heading to Egypt and leaving Emily and me to our lonesome.
We started our trip to Rabat and John luckily met a Moroccan girl on the plane who later offered to drive us to her hostel with her friend. It was SOOO nice of them. We felt so welcomed and it put such a good taste in my mouth for the country.
The girls told us all about their lives in Morocco and how they live in Casablanca and are engineers.
I asked if they were Muslim and they said yes. I wondered because they weren't wearing the head covering. They said that in Morocco you don't have to if you don't want to. But once you do you have to wear it forever more. Usually, it's a discussion between the woman and the husband and these two girls were single.
They dropped us off right outside of the medina walls (medina is center of the city) and they couldn't believe we were staying inside the medina because it's so chaotic. We didn't know what to expect so I just used Google maps and luckily we were only a few mins away from where they dropped us in a hostel.
Woah!!! It was a shock to walk through the medina.
I've seen the Muslim culture before, but Em and John were a bit shocked I think. I was too since the Medina was super small and the streets are close together to keep the heat out. It was kinda scary, but also really cool. The colors everywhere were amazing. Also, in Rabat, tourists only come for day trips so the locals really respect tourists and they don't hassle you or haggle you like they do in touristy Marrakech (that was whole other ball game). We had a nice 3 days in Rabat wandering around the city sites and checking out the amazing Moroccan architecture. It was fun for me to be back with my siblings again! It had been so long.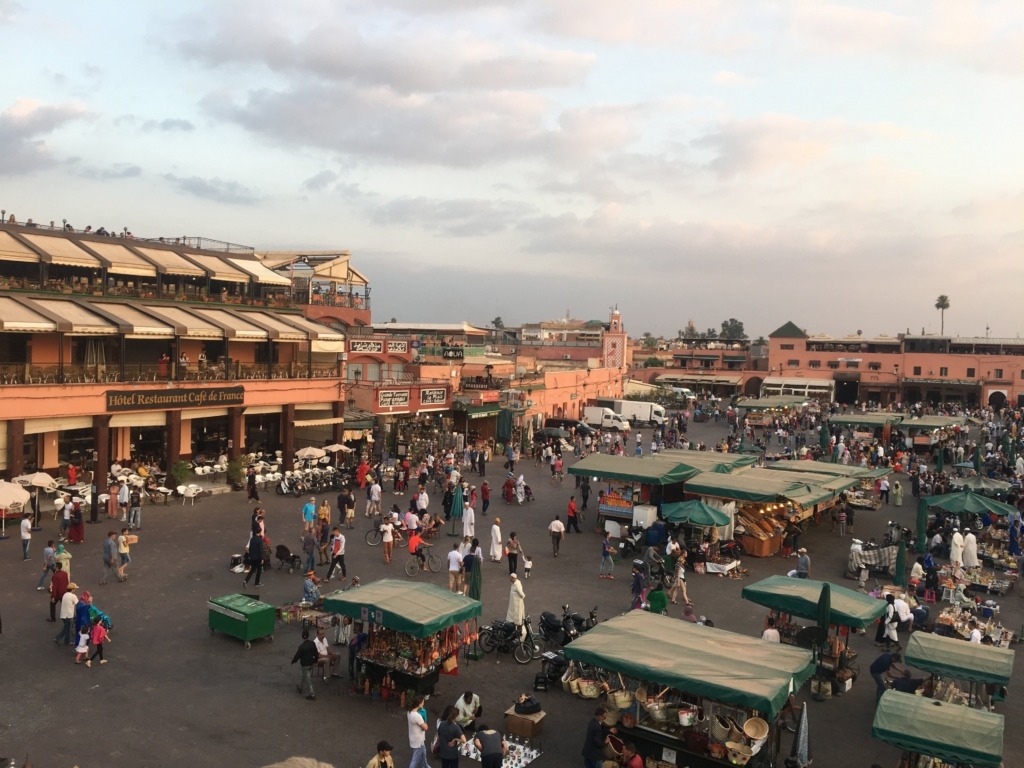 Eventually, it was time for John to leave us to go to Casablanca and Em and I to take the train to Marrakech. I was so lucky to be traveling with Emily because she's fluent in French and Moroccans are way better at French than English. I would have been SOO beyond screwed alone. Em and I upgraded to first class for our train and thank god cause the first class was like our coach at home and the toilets were gross.
We took about 4 hours to reach Marrakesh and when we exited the station it was like we were in a different world.
Way different from Rabat which is super laid back with not a ton of tourism. Marrakesh is built on scams and tourism and it was INTENSE. I had to grab a water so luckily Emilly asked the worker inside the train station how much a taxi should cost to get to our Riad (we booked the Riad on
Airbnb
and were really excited about it cause it looked nice).
Luckily the worker told us how much we should pay and immediately upon exiting the station we had 3 people try to scam us into not turning on the meter. Finally, we found someone who would turn the meter on and drive us. We're talking a difference of $2 and $10, but still in Morocco the cabs should be cheap.
He drove us to the Medina wall where we had to get out and walk to our hostel. Luckily google maps worked. We got hassled and haggled with people telling us we "couldn't go that way", "that way is closed for Ramadan",  or ask if we were lost and that all the roads were closed. Em and I decided to just keep walking even if people were saying stuff to us. I was stressed out because I was relying solely on my maps to find this hidden Riad and it was SO effing confusing. Even writing this gets me stressed out again.
Finally we got to our Riad safe and sound, but of course it didn't look the beautiful photos we had seen.
We decided to suck it up and were stressed any time we had to eat cause we had to wander aimlessly thru the medina. Then we booked our sahara trip thru our Riad owner and stayed a day in Marrakesh checking out the sites. Marrakesh is tiring. We wandered and found some really cool areas and I wanted to buy a ton of things, but had to refrain due to space in my bag.
The unwanted attention that Emily and I got in Morocco was PATHETIC.
I DO NOT recommend going alone unless you have a full idea of what you're going to do and you aren't staying in the medina in random hotels/hostels. We had a really intense experience of scams, sexual harassment, people lying to us and of course the people trying to help us get around. If you go to Marrakesh trust NO ONE and I'm serious on that one. I highly recommend going with a tour—even then you'll probably still get scammed or ripped off, but it will be less intense.
Eventually Em and I went on our Sahara desert tour which was so cool, but we did notice that Moroccans don't really tell you what you're going to be doing ahead of time. It's kind of just a go with the flow mentally. Our group ended up being really cool though! We had a French Canadian mom with her twin sons and then another set of twins from Seattle and then a few other couples. We were spending 3 days with these people so we got to know them a bit.
Our driver/guide couldn't really speak English so thank god for my sister and the French Canadians who were able to translate everything to us.
I also failed to mention that we were in Morocco for the beginning of Ramadan.
This is a holy month for Muslims and a time they focus on caring for the poor and praying. They also fast for the entire month which means no water or food for the entire time the sun is in the sky.  At first, I thought this was only a day thing, but no, it's an ENTIRE MONTH. So they wake up around 3am each morning to pray and then they eat a huge meal and drink enough water to sustain them throughout the day. Then they don't eat or drink all day long until the sun goes down around 7:30pm and they have a quick snack, pray again and then eat a feast with their friends and families. I couldn't believe this! The weather was around 90 degrees and I was so dehydrated even while still drinking tons of water.
I think a lot of people get HANGRY during this time. We also thought our driver was going to kill us cause he was hungry, thirsty, and hadn't slept all night. Pair that with driving us thru the Atlas mountains windy roads and it's a recipe for disaster. I'm alive to tell the story, but HOLY HELL.
The actual Sahara desert was intense, but awesome.
We road camels through the desert, which was pretty surreal. We made it to our camp at dark, but had to wait until the sun went town to even start our trek so the workers didn't pass out in the heat since they weren't eating or drinking.
Looking back I'm realizing we didn't really even get to see the camp we stayed in the light the whole time. Em and I didn't sleep well cause there was a sandstorm all night that sounded like our tent was going to fall over all night. It was insane. We celebrated Em's 25th birthday in the sandstorm hahah.  I had to go outside to pee and got blasted in the face and my entire body was covered in sand. Now I get why people wear these turbans to keep the sand out of their faces.  Without my sand turban I would have been screwed.
After we got back to Marrakesh, Em and I checked into a hostel one more night and went out to dinner and met the Seattle twins at a really good restaurant. Em left around 4am and I stayed one more night and didn't leave my hostel most of the day. I did walk around a bit and had my serious face on so no one would bug me.
I kind of couldn't wait to leave Morocco. It was really tiring to do it alone. If I had to do it again I would definitely do a tour.