WOW! Today marks my 2 month and 1 week anniversary of traveling around the world! I can't believe it. Some days it seems like it's been so much longer than that and other times it seems so much shorter. Regardless, it's been an adventure and I don't regret my decision to do this ONE BIT.
Disclaimer: this post has typos and is super long so read at your own risk 🙂
Previous Journal Posts:
Last time I wrote, I was on a bus to Budapest (4 weeks ago)! WHAT? Seems like a lifetime ago!
First of all, Budapest was AMAZING and has become my favorite city in Europe!
I got off the 5 hour bus from Zagreb, Croatia and took a quick bus to my hostel in Budapest. It was Halloween weekend so I was excited to celebrate in Budapest even though we sort of already celebrated in Maribor, Slovenia…post on that here.
I met up with my friend Anna who I had met in Slovenia. She had already checked into our hostel and was waiting for me there! I just told her to make us friends before I got there ;).
Oh by the way…we booked a party hostel because we wanted to party for Halloween. This was my first ever "specifically focused on partying" hostel and it was CRAZY. Carpe Noctem Vitae was the name of it. It's much tamer than it's sister hostels, Retox and Grandio I learned quickly and I was thankful that you could actually sleep at the hostel and people didn't actually party til wee hours of the night in the hostel itself like they did in Retox and Grandio.
I got in around 2pm and Anna and I did a walking tour of Budapest with the free walking tour. I love doing these in every city I can so I can get my bearings at the beginning of a trip.  Budapest is amazing, but we didn't cover tons of ground with the tour so I knew I needed to spend more time exploring.
I noticed quickly that it was very easy to get sucked into the party hostel vibe and not leave the hostel or the area. A lot of people just kind of hung around all day because of hangovers or other reasons.
Because it was Halloween we dressed up and I was a pirate AGAIN cause that's the only costume I had. I think I was a pirate 3x lol. We went out to a few bars and it was a WILD night and it wasn't even actual Halloween yet!
For actual Halloween I dressed as a Canadian because there were so many Canadians around and they helped me draw a Canadian flag on my face and I wore a sweater and ear muffs….not the most creative costume I've had, but it worked. Halloween night we got ready and went to a party boat on the Dunabe (Hungarians call it the Duna river) and partied all night on the boat with free flowing alcohol and a DJ. It was so cool to see the city lit up at night and the boat was fun!
The next few days were sort of a daze because of how much we partied. My hostel was located in the Jewish district and the food in that area is AMAZING. There were small restaurants from all over the world and they all were super hip and modern. Budapest is a foodie city for sure. Some of my fave places to go were, Gettó Gulyás, Funky Pho, Soul Food, Zing Burger, Bors sandwiches and soups, Made in Pasta, and the Karavan food trucks. The food was so cheap so I went to TOWN.
After 4 nights of the hostel I was pretty dead so on day 5 I checked into my Airbnb and said bye to Anna and all of my new hostel friends. It was super sad to say bye to Anna since we'd been traveling together for a while!
I checked into my airbnb which was pretty awesome and basically slept for a day straight. I also got sick AGAIN (I've been sick a lot) and tried to relax. I made myself a big breakfast most of the days in the Airbnb because I seriously was missing bfast at this point. I blogged a bit, and then went and hiked up to the Citadel on the Buda side of the city and met up with a girl from the hostel from The Netherlands.  We went to the Rudas thermal baths together and saw the sunset from the bath on the top of the spa with views of the city! This was super cool and I highly recommend going at night or for sunset.
The next day I ventured around the city again and took pics, saw the Jewish memorials (the shoe memorial is so sad!) and then went to the Szechenyi baths. These baths were HUGE and really beautiful. It was cool to go and visit. I was going to go to their Sparty (spa-party) the night before but felt way too sick to go party again with the hostel.
I felt like I covered a lot of ground with 9 days in Budapest, but there's more I could have done! Oh and I forgot to mention that the ruin bars in Budapest are SUPER cool. If you visit Budapest I recommend doing a long weekend at least. A Friday night – Sunday just won't be enough.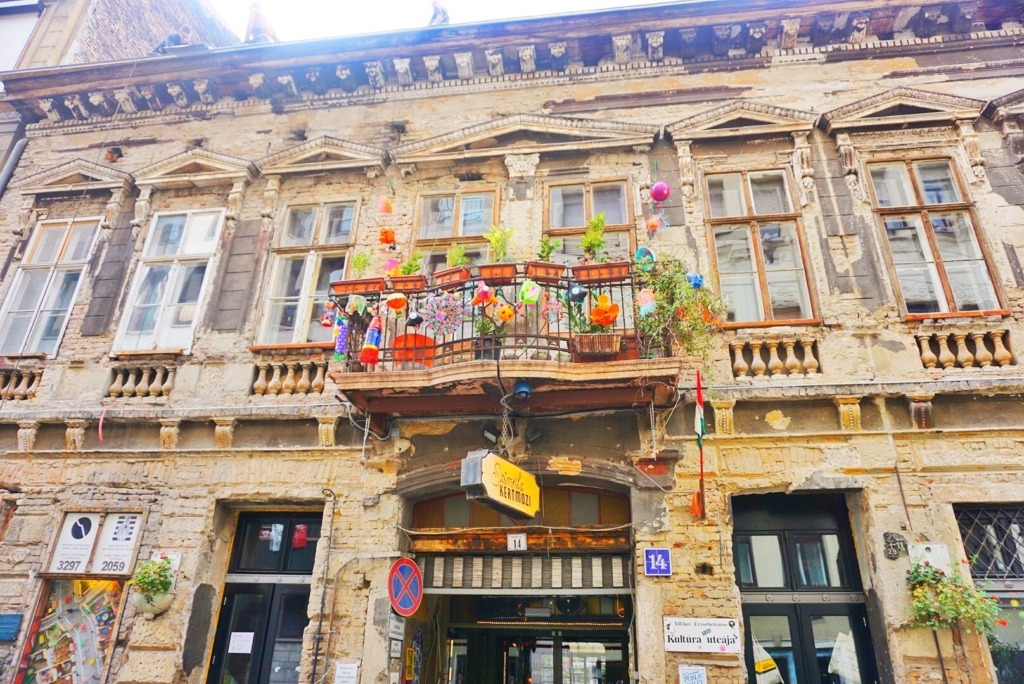 I really wanted to extend my stay in Budapest, but the Airbnb had other guests coming so I decided to listen to a few peeps's recommendation from my hostel and go to the High Tatras in Slovakia on the way to Prague to meet my friend Michelle. So, after some research I finally figured out how to get to a small village in the middle of the mountains on public transportation. This was not easy at all, but I somehow made it!
First of all, I took a train to Kosice, Slovakia (2nd biggest city in Slovakia) and spent the night at a somewhat sketchy hostel (the only one in Kosice, Slovakia) and stayed the night here. It's getting dark early now because of winter so I got in to the train station late and had to find my hostel in the dark AND rain. UGH I hate that. Travel days are sometimes my least favorite days. Anyway, I found it and then met an Irish guy and we just went out to get a few drinks. He had been living and working in Bratislava and was taking some time off to explore more of Slovakia.
I really like Slovakia a lot! I can't describe the vibes I get from the country besides eclectic and grungy. I love it.
To get to the mountains I took a 1 1/2 hour train to Poprad (this small town in Slovakia) and once I got there I took a bus to get to this other smaller town in the middle of the High Tatra mountains (Zdiar) to get to my hostel, The Ginger Monkey.
I finally made it around 2pm! The travel day was so long but the hostel was so cute and the location could not be beat! It was in the middle of these majestic snowy mountains and had a hostel dog named Wally that we took for a walk! It was just what I needed after a crazy party filled Budapest.
I spent 3 nights here and I'm so glad I did. I was going to spend more time in Kosice, but there wasn't much to do there at all so I'm so glad I spent more time in Slovakia.
I met a cool girl from Australia and a guy from NZ and we decided to adventure around together. When they got in we went to a tiny little house along the road with a man sitting in the window. At the hostel they call him the Goulash Man. He made us homemade goulash and sausages and we had beers at the back of his shop. They were awesome and shit, talk about authentic!
The next morning we woke up super early to go on a Green Lake hike in the Tatras. I woke up even earlier with notifications about the USA presidential election and couldn't believe my eyes when I saw Trump was winning.
I had to leave for the hike right when it probably had 45 mins left, but I had to go and couldn't sit around to wait to see who actually won the election. So, I went the whole hike not knowing who was our next prez.
We got to the top of the mountain and there was a restaurant but they didn't have service. We ordered some yummy soup and beer and played with the polar bear sheep mountain dog, but the whole time I was dying to know who the prez was and was so scared!! So were the Aussie and Kiwi. They weren't Trump fans either.
There were a few Slovakians working at the restaurant and they all sounded like they were listening to the radio. I asked Clare, the Aussie, if she thought they might be listening to the election. She didn't think so, but then I heard the word 'Trump". I about had a heart attack. I asked if she would go ask them who won the election because I couldn't really stomach it.
She asked the guy and he just walked up and said "Yep, Trump".
Naturally, I freaked out. OMG. Still kind of in shock that he's our next President…
Anyway, I walked down the mountain 2 more hours deep in my thoughts, but trying to pay attention to the beauty around me. I was mainly being selfish and wondering…omg what will that do to my travels? Now, everyone will only talk to me about Trump (which is definitely true and annoying AF). I wondered things like 'what if I can't get into certain countries because of him?', "WTF is going on at home? How did we go so far forward only to now go so far backwards as a country?" "This makes me scared for non-white communities in the USA as well as the LGBT community. Oh and not to mention, women." UGH.
Sorry to get all political on you all!
When I got back to the hostel I watched Hillary's speech and cried my eyes out. I was the only American at the hostel so they probably thought I was insane, but it was really emotional for me and it made me a bit homesick!
Oh and we almost hitchhiked home after the hike (apparently it's safe in Slovakian mountains to do that) but we never ended up getting the courage to actually put our thumbs out so we waited for the bus.
The next day we got up and walked the dog, Wally, who was so cute and we found some amazing views off the ski hills. It was a nice leisurely hike which is just what I needed after the day before. We also went out to an amazing Slovakian restaurant and took Slovakia Tatra tea shots. They are sooo strong. We played some drinking games at the hostel and everyone was of course making fun of me and Trump the whole night…..this is just the start because it's been super annoying ever since.
I had to wake up super duper early to go to Prague after the High Tatras. My bus was at 4:20am and I wasn't sure if it would come or not! It came and drove me to Poprod where I then took a train for 7 hours to Prague. It was a huge train, but for some reason super uncomfortable because I was facing a guy who had long legs and our legs kept bumping. I tried to sleep the whole way though!
Finally I made it to Prague and checked into Michelle and my Airbnb! It was super nice and I was excited to see an old friend from SF! She made it later in the day and we ventured out to a club in Prague with 5 levels! It was so fun. One floor had an ice bar and oxygen bar, another had oldies music, the other hip hop etc. We definitely had a good time!
The next day we went and toured all over Prague. We basically did it all! Went to the castle on the other side of the river, went over the Charles Bridge, saw the astronomical clock, got potato pancakes and mulled wine at their Christmas market and got coffees at a sweet rooftop restaurant. It was such a fun day!  At night we went out to two other huge clubs. They really know how to party in Prague. I also met up with a friend I met in Budapest at the bar and we realized we will both be traveling to the same areas at the same time! We decided to take a trip together in the future so we might meet up somewhere cool!
We were also in Prague over St. Martin's day which is where they eat duck and drink 'new wine' to celebrate the first day of winter. So naturally we ate TONS of meat and duck and drank a lot of the new wine which was pretty freakin' good. I really loved how beautiful Prague was. It reminded me of a smaller version of Budapest and a bit prettier too :).
Michelle met me in Prague because was heading on a work trip in London. I was planning on going to Krakow, Poland next, but Michelle convinced me to change my flight and come to London with her. I would get a free stay and some nice dinners with her work team and have more fun with her for a few days. So, I decided to change my flight and take a detour to London!
I studied abroad in London and wasn't planning on coming here over my trip at all because I've seen it and have come back for work. But, I ended up coming back and have been here for about 8 days! To get here I flew from Prague to Kiev, Ukraine to London. A super roundabout way, but since I'm not on a time constraint I can opt for the cheapest fares and this one happened to be on Ukrainian airlines. It was fun to get a glimpse of the airport scene there and the Ukrainians on the plane.
Anyway the last few days in London have been amazing! Michelle and I stayed at an airbnb in Shoreditch. Shoreditch wasn't even a cool place when I studied abroad (it was sketch) and now it's super hipster and poppin'! There's art, markets,  cool restaurants and bars everywhere! I did my own graffiti and art tour and it was so fun.
We went out a bunch with Michelle's coworkers and had the best time! I explored many parts of London while Michelle was working. Some that I have seen before and a lot of new parts! I love being here for Christmas time and Christmas markets! Seeing the city all lit up is so cool.
I also got my cream tea and scone which I've been missing for so long. I went to tons of markets, Notting Hill, and basically took the tube to every neighborhood. I LOVE the tube so freakin' much. It's so easy to use and I found myself easily remembering exactly how to use it. I also got my Oyster card at the train station and was so glad I did.
I had also totally forgot the address of the apartment I lived in while studying abroad in Camden Town so I decided to go on a hunt to find my street. I ended up finding it after getting off on the tube stop I used to always take and then walking a bit. Many of the places that I frequented were still there like the World's End bar, my old Sainsbury's grocery and the club Koko. The neighborhood is a lot more cleaned up now though 🙂
I can't believe it's been 8 years since I studied abroad! Man time flies.
I met some of Michelle's coworkers while here and really hit it off with a Lithuanian girl, Diana, who lives here with her English boyfriend. She offered for me to stay with her and her boyfriend at their apartment in their extra room! It was so nice and her boyfriend Dan works at Linkedin over here so it was fun to be able to talk about our Glassdoor Linkedin rivalry. We also had some mutual friends.
After London I took a flight to Dublin to spend Thanksgiving with my friends Shay and Kurt. I've been to Dublin a few times before so instead of touring around we've been eating and relaxing and spending time together and it's been awesome. I also spent Thanksgiving with my old co-workers and it was so fun to have an actual Thanksgiving meal!
The other day I went with Kurt and Shay to their gym and did a super intense workout so today I cannot move. Ireland played Australia in rugby last night and we all went out to a pub and drank some Guinness!
After Dublin I have a flight booked for Berlin and then possibly Hamburg and Cologne to see some Xmas Markets! After that I don't really know what I'm going to do, but I think I might meet my Icelandic friend in Israel which will be right around Hanukkah!
All things are up in the air so I'll have to keep you posted 🙂
Follow my adventures on snapchat @kwilliams300 or instagram @travelingspud
-Katie