This is a Dubai Itinerary guest post brought to you by Neha from Dubai Wikia. You may see affiliate links sprinkled throughout the awesome, free content you see below. I'll receive a small commission when you purchase from my links (at no extra cost to you).
While we're at it, let's be friends on Instagram!
---
Dubai Itinerary: What to Do With a Week in Dubai
An entire week in Dubai! It's like a dream come true. No, we're not getting dewy-eyed and romantic over nothing here. A week in Dubai is a week in the most glitzy-glamorous rich person's luxury capital of the middle east.
It's a city of excesses – you can see it in the malls, in the resorts, in the theme parks, in the cars people drive, and on the streets. Dubai is also a city of culture, as you can observe from the traditional souks, the hidden old alleys, the stunning desert, and museums. When you immerse yourself in Emirati culture and the richness of Dubai, you'll get to realize that 7 days really aren't enough to enjoy this spectacular city to the fullest.
Day 1 Itinerary: Get Ready for a Culture Fest
What better way to begin your Dubai itinerary than by getting to know the city's culture by visiting some historical parts of Dubai?
Explore the Al Fahidi Historical Neighborhood:
This is the oldest region in Dubai, complete with very narrow, cobblestoned alleyways and old houses built out of black coral. The houses here date back to a century and beyond. As a result, the alleyways meet up in sudden squares where you'll find beautiful little cafes and art galleries.
Sheikh Mohammed Centre for Cultural Understanding:
Here you'll be taken deep into the history of the region, which consisted of fishing, pearl diving, trading and fighting off the British and other invaders. Similarly, you can enjoy a lovely full Emirati lunch at the Cultural Center while learning about the traditions of the United Arab Emirates.
Explore Deira and Bur Dubai:
Both Bur Dubai and Deira are market areas, with many souqs selling spices, textiles, gold and carpets. Bargaining is the way to go, so don't be afraid to haggle. Be sure to take a selfie in front of the biggest ring in the world at Deira. Both Bur Dubai and Deira have many wonderful cafes and eateries, so be sure to try out some local food!
Visit the Heritage Village:
Close to the mouth of the Dubai Creek, next to the Sheikh Saeed House is the Heritage & Diving Village. Here you can get an idea of Dubai's pearl-diving, fishing and maritime traditions.
Visit the Dubai Museum:
Dubai's oldest surviving building is the Al Fahidi Fort which now houses the Dubai Museum. Here you can learn about Dubai's culture, history, and traditions.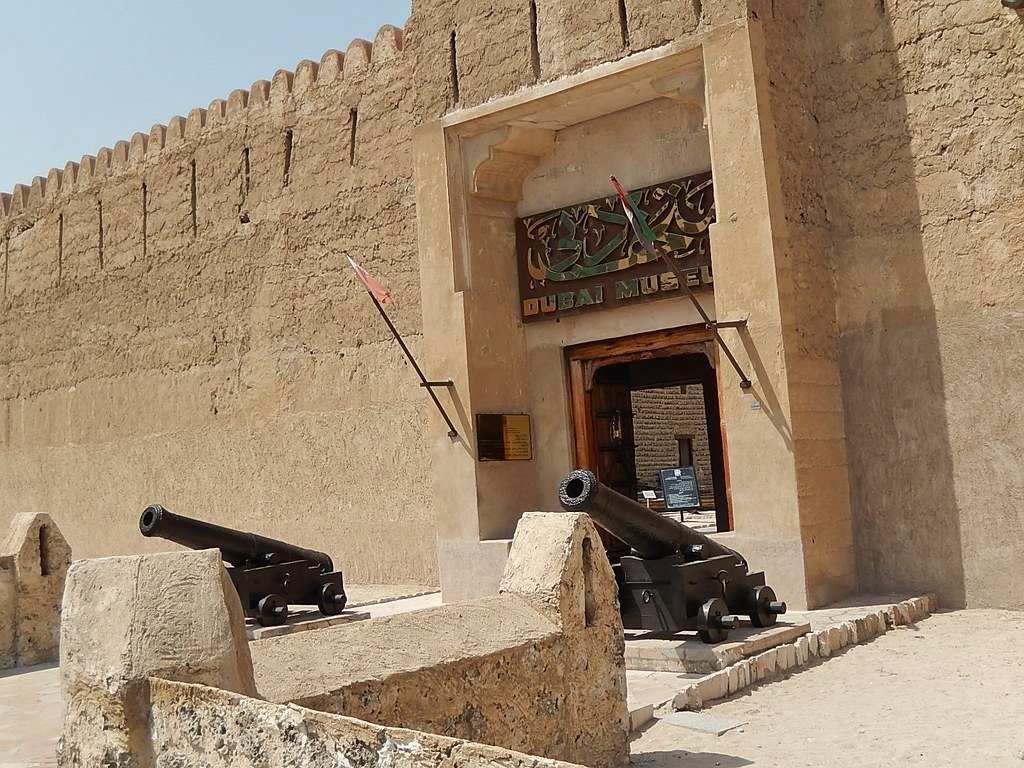 Visit Heritage Areas:
The home of Dubai's former ruler offers a good example of 19th-century Gulf architectural style. Plus, you can check out a number of photographs of Dubai from the before-oil-hit days. Check out the Al-Ahmadiya School, where you can understand the history of education in Dubai. Spare a few minutes to observe the 1910-built Bin Lootah Mosque in front of the school.
Day 2 Itinerary: Bus Tour & Desert Safari
Morning- Hop-on-Hop-off Big Bus Tour:
Spend the day on board a double-decker, open-top bus exploring Dubai's various landmarks. You can hop off whenever you want and explore attractions on foot. The big bus tour comes with an audio commentary in several languages plus an onboard guide offering witty anecdotes and bits of history.
This bus will take you to famous sites like Burj Khalifa, the Dubai Marina, and the Palm Jumeirah. You'll find that there's so much to see in Dubai, there'll be no question as to what to do in Dubai in 7 days. Find hop-on-hop-off bus tickets here.
Evening – Desert Safari:
Get ready for a fabulous desert safari in Dubai in the evening. The expansive dunes of the Arabian Desert await you with fun sports such as dune bashing, quad biking, camel riding, and sandboarding. Take a strong pull on your shisha pipe as you enjoy some fine cultural entertainment – belly dancing, tanura dancing, and henna tattooing! An excellent Emirati dinner follows. If you sign up for the overnight safari, you can actually spend the night under the stars.
Day 3 Itinerary: Culture & Entertainment
Morning – Jumeirah Mosque:
One of Dubai's most iconic landmarks, the Jumeirah Mosque allows people of all faiths to enter. The mosque can hold 1,200 worshippers. It is built out of white stone, with two huge minarets enclosing a central dome in the medieval Fatimid tradition. Be sure to take pictures of the mosque when it's lit up at night. Enjoy a bit of light eating at the Lime Tree Café, on the Jumeirah Beach Road.
If you have kids along, take them to enjoy these two famous places at the famous Atlantis, The Palm. You can have your fill of rides and slides at the waterpark and cool off the heat. The aquarium offers the rare experience of coming face to face with dangerous sharks and other marine creatures.
Day 4 Itinerary: Ski Dubai and Dhow Cruise
Morning and Afternoon – Ski Dubai:
Leave the hot city behind and enter the cool environs of the world's largest indoor ski resort. Exchange your light clothing for a warm winter jacket and gloves. Ski Dubai has multiple ski slopes to suit every skill level. If you're a beginner, you can take skiing lessons here! If skiing is not your thing, then you can snowboard, toboggan, build a snowman in the huge snow park or play with the friendly penguins in the Penguin Park.
Evening – Dhow Cruise:
Sign up for a cruise on a beautifully-renovated version of Dubai's traditional trading vessel, the dhow. As you cruise Dubai's waters, you can enjoy the brilliant lights of the city reflected on the water. Watch Dubai's iconic landmarks as they pass by. Enjoy a wonderful Emirati dinner on board, accompanied by belly dancing, tanura dancing and henna tattooing.
Day 5 Itinerary: Height & Luxury
Morning: Burj Khalifa:
It's time to have the world under your feet. Be sure to book your ticket in advance though. Enjoy the brilliant view of the city from the observatory deck on the 125th floor. You can see far into the distance beyond the desert and the sea. Use one of the telescopes along the deck to focus on specific landmarks. Don't miss checking out the Dubai Fountain at the base of Burj Khalifa in the manmade lake within the Downtown Dubai development. This is the world's tallest performing fountain and goes off from 5:4pm – 11:30 pm.
Afternoon and Evening – Shopping:
Explore the Dubai Mall, its beautiful lobby, the Gold ATM, its 1200+ retail stores and its other attractions. The Dubai Mall houses more surprises than you ever imagined, including the fabulous Virtual Reality Park.
Day 6 Itinerary: Beach Day and Burj al Arab
Morning and Afternoon – Beach:
Head out to Jumeirah Beach, from where you can enjoy a fantastic view of the Burj al Arab. This beach offers excellent amenities. You can rent equipment for surfing, snorkeling, and other water sports. Check out the food trucks that sell cool drinks, snacks, and quick hot meals. You can also try walking along the Jumeirah Beach Residence, where you can pop on The Walk, a touristic boardwalk.
Evening – SkyView at the Burj al Arab:
It's time to pay homage to one of Dubai's major icons – the Burj al Arab. Enjoy a cocktail at the SkyView Bar, from where you can enjoy a brilliant sunset. Be sure to reserve your table in advance.
Day 7 Itinerary: IMG Worlds of Adventure, and More Shopping, or a 7 Emirates Tour
Morning – IMG Worlds of Adventure:
IMG Worlds of Adventure is the world's largest indoor theme park, covering 1.5 million square feet. All your favorite Marvel Comics and Cartoon Network characters come to life, in five themed zones, via thrilling and immersive rides.
Afternoon and Evening: Shopping:
If you don't want to hit the malls, check out the shops along Jumeirah Beach Road. There's the Renaissance-style Mercato shopping center, plus Beach Center, Town Centre, Magrudy's Mall and the Palm Strip. There's plenty of shopping to be had, plus a really nice walk. During the evening, explore the captivating Madinat Jumeirah, a mini-Venice, with many waterways. Get into an abra and explore the waterways, checking out the theaters, the malls, the souqs and the many galleries. Enjoy a lovely dinner at one of the romantic restaurants and watch Madinat Jumeirah come to life with colorful lanterns lighting up the lanes and waterways.
Note from Katie:
When I was in Dubai, I had an extra day and went on a day trip to the 7-Emirates. However, this is a lot to see in one day and I would recommend spending more time in each Emirate. It was still an amazing tour through the country though! Along the way, you'll get to see how different every Emirate is! Here's a tour similar to the one I went on, 7 Emirates Tour.
Conclusion
That's our itinerary for 7 days in Dubai for you. Of course, you can move things around and add items that you want. If you can wing it, visit Dubai Parks and Resorts, the Dubai Miracle Garden, Love Lake, Dubai Garden Glow, Global Village and other famous attractions.
Thank you, Neha, for the wonderful Dubai Itinerary! Neha is an avid trekker, explorer and a true foodie; Neha finds happiness in small endeavours of life and loves to pen them down as a cherished memory. A firm believer that "we have just one life to live and so much to do", Neha lives every moment to the fullest. Visit her blog, Dubai Wikia for more tips and Dubai recommendations.