Iceland is the land of fire, ice, fish, fish and more fish, fairytales, breathtaking landscapes, and unpredictable weather extremes. I couldn't wait to visit this tiny island and thought a camping trip across Iceland would be the perfect place to start my around the world trip.
I flew to Iceland on WOW Airlines for $200 from SFO to KEF (thanks to my fave travel site Skyscanner)! (This was the beginning of my Around the World trip so I was grateful to meet up with my friend, Devon, at the airport. We had the BEST adventure around Iceland's Ring Road. We did it all in 6 days and probably could have made even more stops if we had more time, but let me tell you, 6 days was plenty of days to stay in a camper van. 🙂
—>>Note: We rented a camper van from KuKu campers to get around. I highly recommend them for the price and amenities!
Here's the entire route we took around Iceland's Ring Road including all of the epic spots we stopped. Below I've broken out what stops we made for each day. Enjoy!
DAY 1: Reykjavik, Blue Lagoon, Reykadalur Hot Springs & Seljalandsfoss
Blue Lagoon
After arriving in Reykjavik, we went straight to the Blue Lagoon. This is what most people do because it's somewhat close to the airport. I recommend booking this ahead of time since it's the most popular attraction in all of Iceland. Honestly it's a bit overrated, but it is really relaxing after a long flight. There are better hot springs in Iceland…trust me and keep reading. 🙂
We booked online and also booked the shuttle straight from the airport to the Blue Lagoon from the Blue Lagoon site. We ended up staying in Reykjavik for one night before we picked up our KuKu camper that we would eventually drive on the entire Ring Road!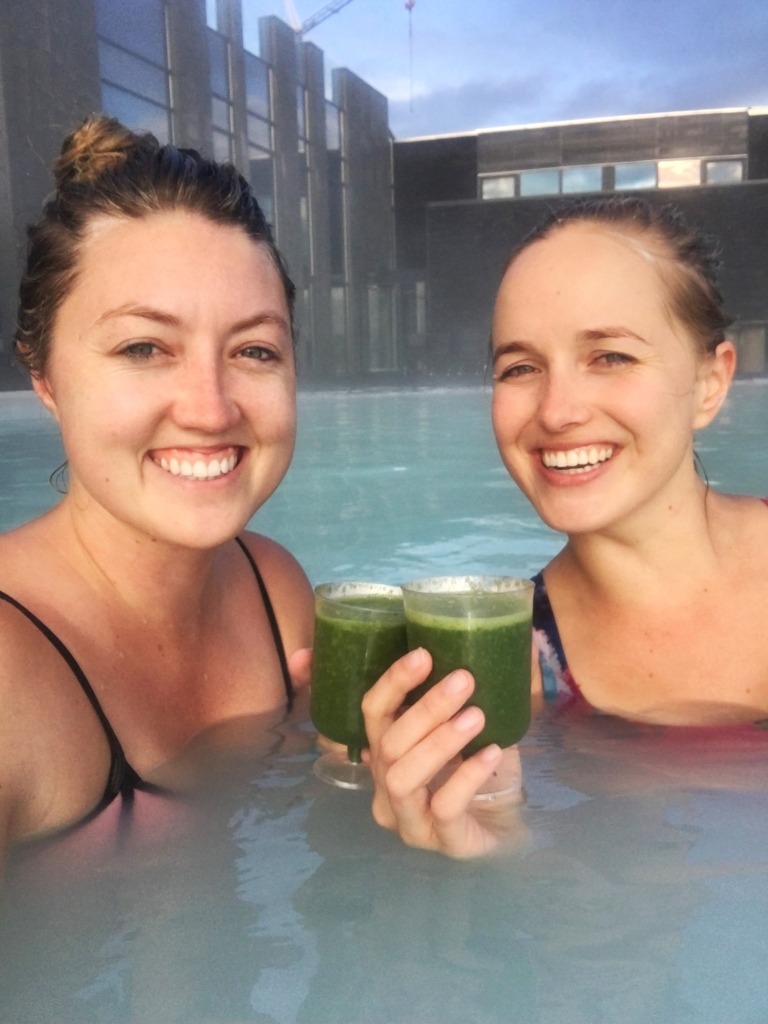 Our free green drinks in the Blue Lagoon.
Rekjadualur Hot Springs
After we picked up our camper we drove to the trailhead of the Rekjadualur Hot springs which is a hot springs river in the middle of the mountains. This hike is about an hour in and an hour out. The weather was great when we started the hike, but proceeded to get worse and worse. It would rain and hail and whip wind in our faces all along the hike. If we had gone any other day it would have been magical, but it was rough hiking up there. Even though getting there and leaving were pretty miserable, the hot springs river was definitely worth it! The views were still spectacular and it was great sitting in the hot water after the cold hike.
Seljalandsfoss & Campsite #1
After the hot spring river we drove our KuKu camper to the campsite we found right outside of Seljalandsfoss and enjoyed a nice night and morning view! You can walk completely behind this waterfall which is pretty cool.

Day 2: The South of Iceland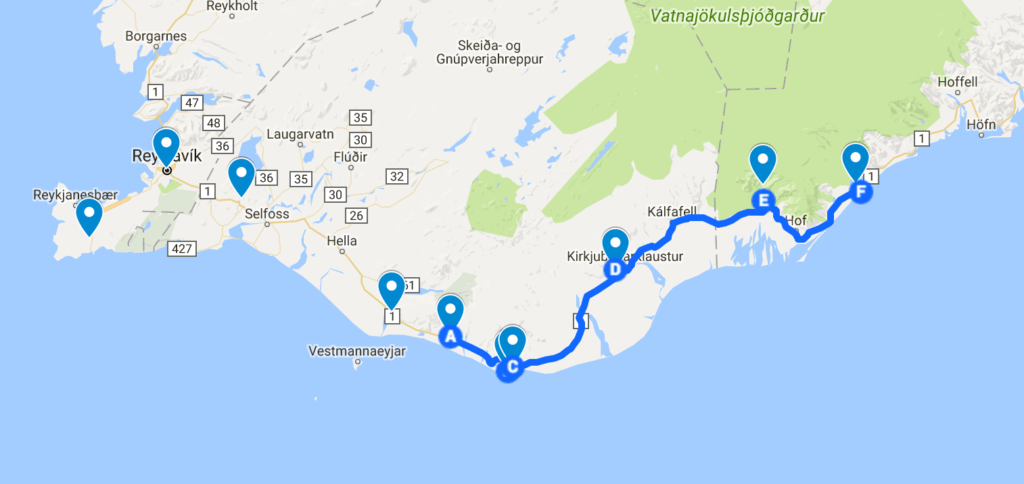 Skogafoss
We stopped at Skogafoss which is a magnificent waterfall that legends say has a treasure chest behind the fall. There were lots of tourists here, but it wasn't raining and it almost felt like you could reach out and touch the rainbow which made me believe there really is a treasure chest!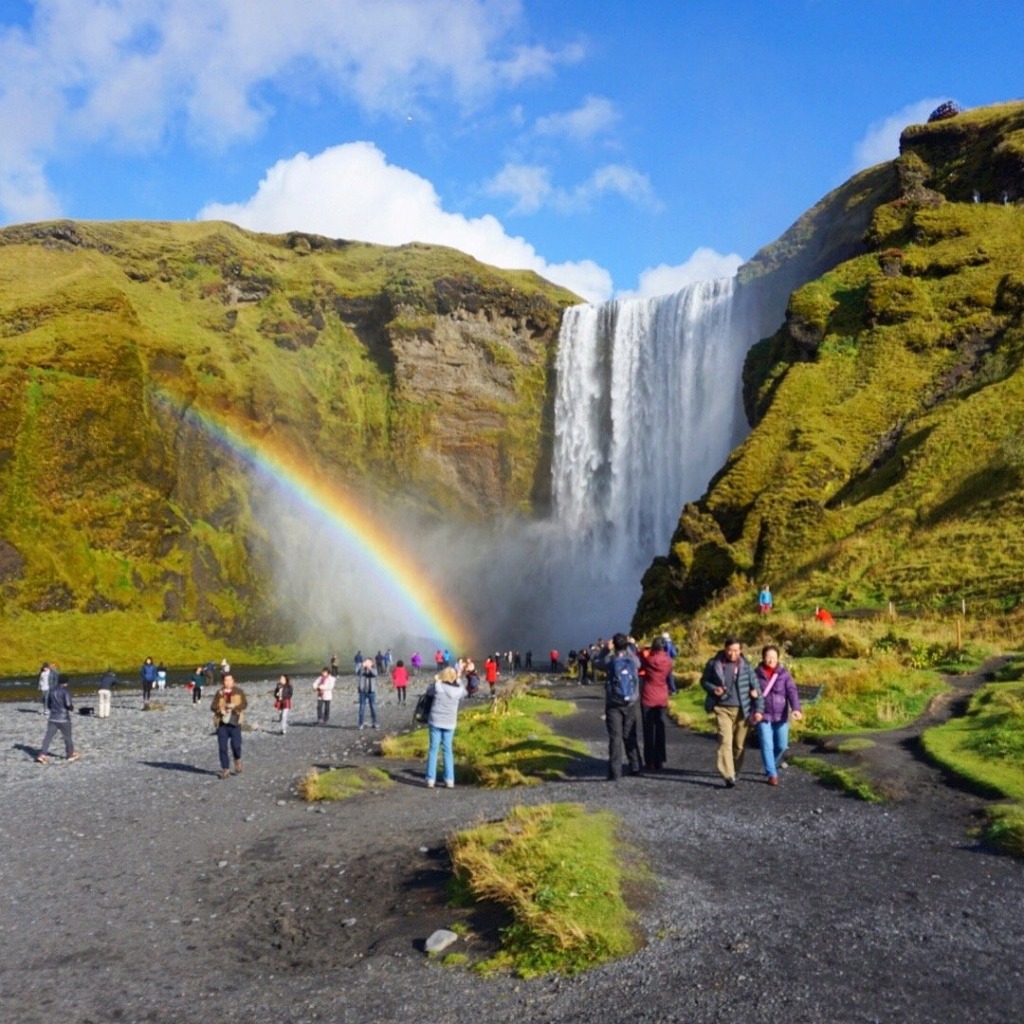 Reynisfjara Black Sand Beach
We stopped here to see black sand and spiral lava formations. I've seen similar in Northern Ireland so it wasn't extremely crazy exciting, but still beautiful. The church on the road down was the best part!
We also passed the plane wreck on the way to the black sand beach, but missed it because we were on a bit of a time schedule. It's close the black sand beach in case you want to make a stop there!
Vik
We stopped at the rest stop in Vik for gas and actually had amazing lamb stew for lunch right at the restaurant, Vikurskali, there. Lamb stew in Iceland is to dieee for. We also had to stop for horses cause, why not?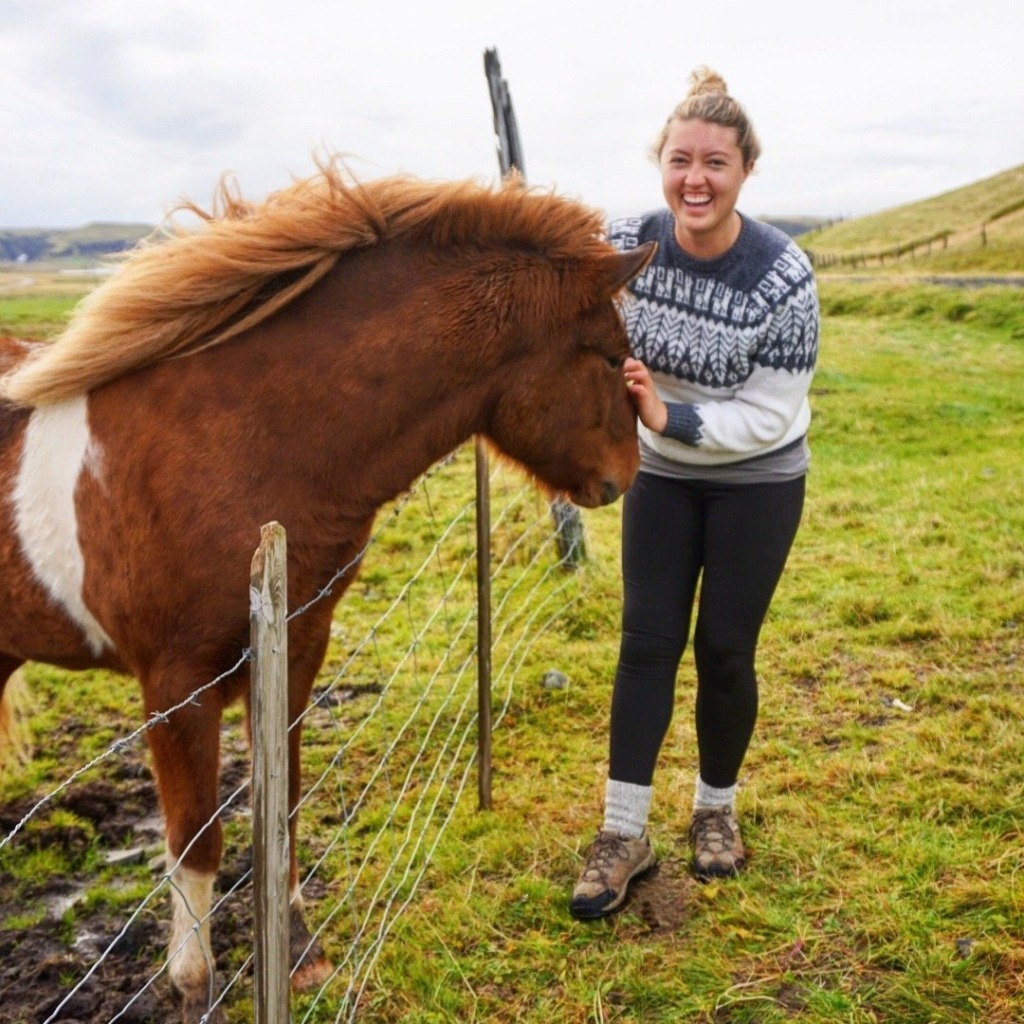 Fjadrargljufur
We didn't know this existed until a girl from LA told us about it. It was a mossy canyon in the middle of nowhere and very much worth the drive there. I think you can kayak down the canyon in the summer months which would be so fun!
Skaftafell Glacier
We just stopped here at the rest stop at the entrance to the national park, but it was cool to be so close to this huge glacier. You can do treks hiking on the glacier. It looked so scary because the gray clouds were coming in!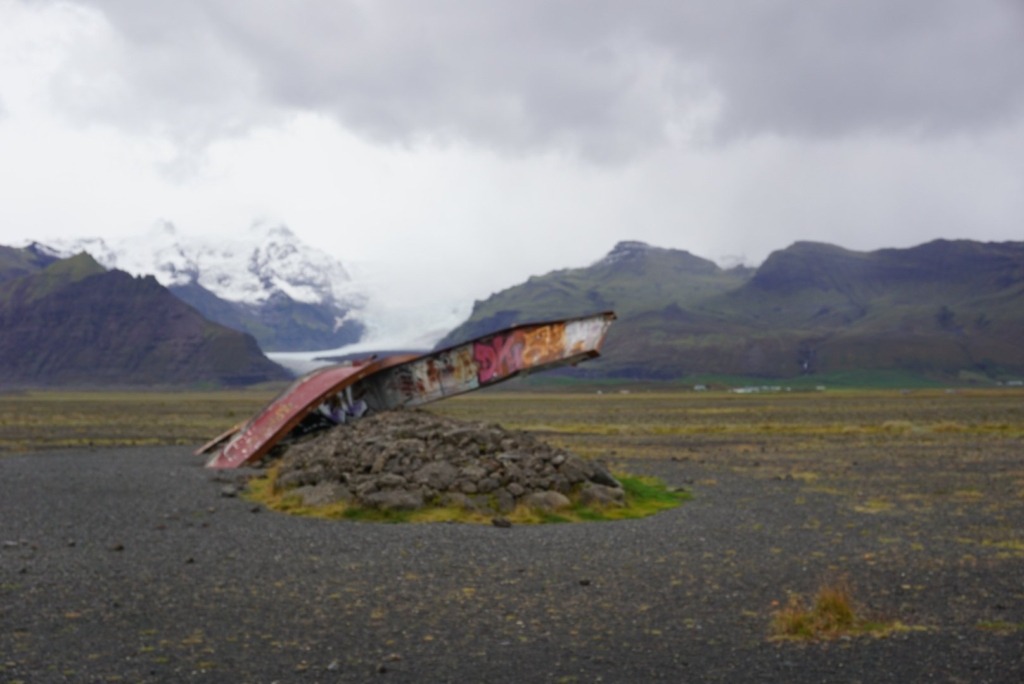 Jokulsarlon Iceberg Lagoon
We ended our day here and it was FREEZING. The icebergs move almost every day so no two days would get the same picture. Across the street is another black sand beach with mini icebergs you can pick up! This sort of reminded me of the Titanic because I've never actually seen icebergs before!
Camp Spot #2
We found a sketchy camp spot next to an old schoolhouse along the road and hoped to not die that night. 😐
Day 3: East Coast
Hofn & the Viking Cafe
We just drove through Hofn for gas and then drove to the Viking Cafe for a snack and a coffee break. We decided to plan out the rest of our trip here. It was a cute place, free wifi and a nice break!
Egilsstadir
We also just drove through this town to get to Seydisfjordur. Egillstadir is a larger town and has places for groceries, gas, restaurants etc. if you need a stop. The scenery driving to Seydisfjordur was breathtaking with waterfalls everywhere and the leaves were just starting to change to fall colors which is my favorite!
Seydisfjordur
This was one of my favorite towns to stop in. I loved finding the Blue Church, walking down the technicolor street and stopping at the brew pub, Kaffi Lara, for a local Icelandic beer. They had over 20 on tap!
Borgarfjordur Eystri
We drove up here because I needed to see this specific grass covered house called Linderbakki. The drive up was beautiful and I'm so glad we did it. We also ate incredible fish stew at the only restaurant open in town. Note: this is a bit out of the way so if you aren't obsessed with grassy houses like I am then you could probably find something else to stop for and keep going along your route.
Campsite #3
We stayed here in Borgarfjordur Eystri at a campsite in town.

Day 4: Northern Iceland
Fjallakaffi
This place was somewhat of a highlight of the trip because of the lamb stew. It was SOOOO GOOD. It's a local farm and you have to drive off the road a bit to get there, but again, there are turf covered houses and it was so YUM. Def worth the drive out to it and I realize this photo may not look appetizing, but it was the best lamb stew I've had!
Myvatn Nature Baths
Of course we had to stop at another hot springs! This one was the northern version of the Blue Lagoon only with way less tourists! It was somewhat expensive, but cheaper than the blue lagoon and WAY less people. It was nice to soak since we'd been driving for so long.

Godafoss Waterfall
This waterfall reminded me a lot of the waterfall right outside of my hometown in Twin Falls, Idaho. I can see why people go because it's beautiful, but wasn't the coolest waterfall I've ever seen. Still worth a stop though because it's right on the way!
Akureyri
This city was awesome. If I lived in Iceland I would probably live in this city. They call Akureyi the capital of the North. We didn't have a ton of time here, but we did try reindeer and got ice cream. The fall leaves here were amazing and we decided to check out the botanical gardens. Unfortunately the cool cafe (below) was closed, but we still loved seeing the architecture of the outside and the botanical gardens were beautiful!
Campsite #4
We camped above Akureyri at the campsite, Hamrar. It was a beautiful spot where you could view the city, the mountains, fall trees, and of course our favorite horses!
Day 5: Northwest and Snaefellsnes
Glaumbaer Museum
My numbers above are out of order, but from Hamrar campsite we went to Glaumbaer. Like I said before, I'm obsessed with turf grassy houses so I loved stopping here to see the turf house museum (Glaumbaer). You could go inside and see how the Icelandic people used to live in these turf houses. This one was an entire farm of turf buildings and I found it so interesting!
Grundarfjordur
This town was right on the water on the Snaefellsnes Penninsula. We walked around a bit until our dinner place, Bjargar-stein, was open. It was soooo worth the wait.
Kirkjufellsfoss
From Grundarfjordur it's a short drive to Kirkjufellsfoss. The views here of the mountain are incredible and it was even more beautiful as the sun was setting!
Campsite 5
The middle of nowhere. Literally. We stopped on the side of the road because we couldn't find one!
Day 6: The Golden Circle
Geysir
After being away from people and lots of tourists for the majority of our trip, it was so weird coming back to tourist land. We got here quite early, but still there were hoards and hoards of people on tour busses coming in to see Geysir. We only stayed for about 30 mins, but saw all of the geysers. Note that it's worth seeing the large Geysir, but it isn't the one that blows. The one with people surrounding it is the one that does and it happens about once every 5-15 mins.
Gullfoss
This waterfall was insane and I couldn't believe how big it was! We didn't stay that long because it was cold and the waterfall was spraying us, but wow this one was cool. Lots of tourists here again too.
Secret Lagoon
We decided to end our tour around Iceland's Ring Road at the Secret Lagoon. To be honest, this lagoon isn't all that secret, but didn't have many tourists at all inside! This was definitely our favorite hot spring of the trip and we spent a lot of time here soaking and enjoying our last bit in Iceland.
Reykjadalur Hot Springs
I added this on here again because it's located close to the Golden Circle so you could go here during your Golden Circle route as well.
Reykjavik
We ended our trip in Reykjavik to drop off our KuKu camper. We had gone over the kilometer limit allowed for the van each day because we drove so much. Luckily the guy behind the counter said we can either pay 150 euro or we could go and buy him beer across the street. Naturally, we ran across and bought the beer immediately and were super grateful for him 🙂
We technically did the Golden Circle in 6 days, but were in Reykjavik for the first and last days making our trip to Iceland about 8 days!
Here is the Google Maps link to my route.
Do you have any spots that I missed and must go next time I'm in Iceland?
_________________________________________________________________________
READ NEXT:
What to Pack for Iceland in Fall & Winter
A Perfect Day in Reykjavik, Iceland
10 Amazing Sites You'll See Only if You Hike the Inca Trail
Guide to Hiking the Inca Trail: Tips and Packing List