This post was written in partnership with Whiskr. As always thoughts and opinions expressed here are entirely my own.
Since 
traveling the world for over a year
, I've gotten pretty good at finding cheap flight deals online. Whether it's scouring the web for hours to find the perfect flight or setting up trip alerts on my phone, it's become somewhat of a hobby for me. In fact, this is how I found my
cheap flight to Iceland
to start my trip around the world!  So, when I found out about
Whiskr,
a new flight deal-tracking site, I knew I had to test it out. Below, I've written about my experience using
Whiskr's
free-trial so you can see if it's something you'll want to try as well.
Whiskr is a travel site that tracks flight deals, flash sales, and mistake fares.
How does it work?
Whiskr finds short-lived flight deals by scanning upwards of 400K flights a day. Then, they look for any flights that might be cheaper than they should be and send them to the Whiskr site.
After this happens, people like you and me are able to scan the website for deals from our main airports or a certain region we'd like to travel. You can then sign up to get emails or texts of flight deals based on your search terms.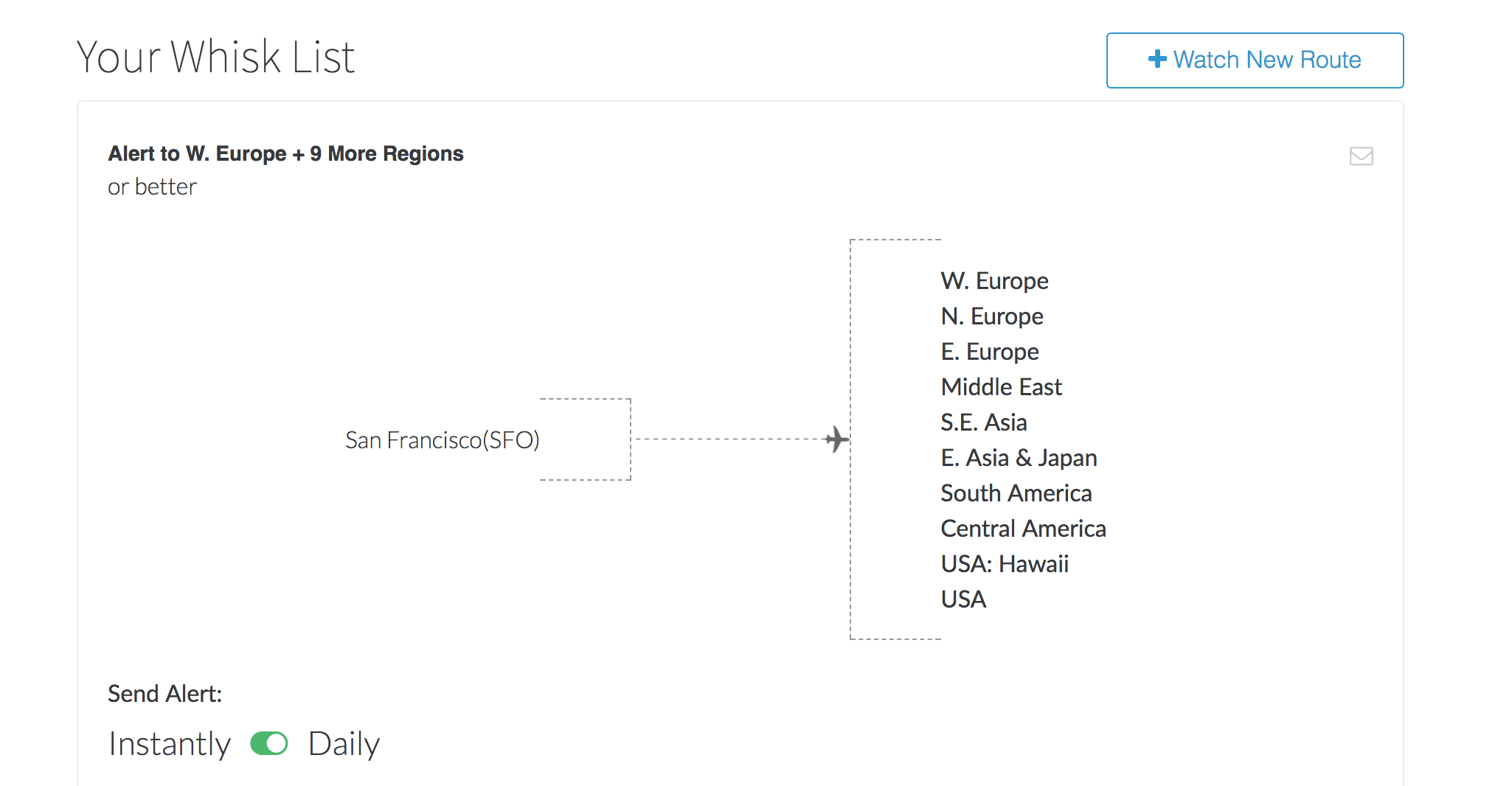 Whiskr also allows you to search by airline alliance and has a real-time calendar that displays the flight prices on each day so you know which days will be cheaper to fly. For me, this helps save a lot of time from searching which day in the month might have a better deal.
What's the Cost?
At first, I was kind of surprised there was a cost for the product, but the cool part is that there's a free trial for 14 days, so you're able to see the value before purchasing. I'm currently on the free trial and testing it out now, but I feel like the payments are pretty cheap for what you get in return….as long as you're an avid traveler. If you pay monthly it's $4.99, yearly it comes out to be $3.33 a month, and quarterly is $4.33 a month.
How is it different from other travel sites?
Upon first glance of the site, you may think is just like any other travel site, which is what I thought. But, the cool thing about Whiskr is that they've been collecting and curating flight information for many years. Other deal sites get their info second- hand so that data is typically out of date once it comes into contact with the consumer. Whiskr deals typically average 3-5 hours fresher than other sites which is huge if you're trying to hop on the next big deal like I always am.
Advantages of using Whiskr
I think the best part of Whiskr is that their information is fresh and they send it right to your phone or email when they get the new deals in. It makes it easy to hop on the best flight deals in real time. The site is fairly simple to use and you can sign up for the free-trial or payment options easily as well as sign up for the alerts. If you're looking to take a vacation from your home city and are flexible on where to fly, Whiskr is a wonderful option. They also have a one-up to other travel sites as they have great deals to less popular tourist spots like India and South America, and the Middle East.
Disadvantages of using Whiskr?
If you're a long-term traveler and don't have a home base, this may be a bit harder for you to use. You can still put in the airports that you're close to, but you won't be able to track deals as easily. Also, I would highly recommend doing the 14-day free trial before purchasing the product to see if it's something that works for you. If you aren't planning a few trips in your future or are not an avid traveler, this might not be the site for you.
Overview
Overall, I think
Whiskr
is a great site to find deals for flexible travelers. I've typed in flights from my home city of
San Francisco
and have already found really cheap round-trip flights to places like Amsterdam & Copenhagen. I love trying new sites like this, so it's been fun for me to test out the free trial. The coolest part of this company is that it's run by fellow travelers who understand what it's like to search for sites and love finding sweet flight deals just like the next guy!  I'll have to finish my free trial before deciding on the quarterly or yearly membership. However, it seems like the perfect product to use on a month by month basis when you know you have heavier travel months and want to find the best deal to a specific location or anywhere in the world.
Check out their daily deals and even their top deals from today here — https://whiskr.net/list/today
So, would you try finding cheap flight deals with Whiskr? Let me know in the comments!