Traveling to Jamaica for Spring Break
I've been obsessed with getting the chance to go to Jamaica ever since I watched the movie Cool Runnings as a child. Such a classic! 😃 The white sand beaches, laid-back culture, and incredible sunsets have been calling my name for years! However, when my college boyfriend went to Jamaica for Spring Break one year and came back to let me know it's not all it's cracked up to be and that he didn't actually like it, I was bummed.
Fast forward seven years and my cousin decided to go to Jamaica with her best girlfriend for Spring Break. I was somewhat surprised they picked Jamaica since the country hasn't had the best reputation in recent years (due to crime and drugs), but nonetheless, I was excited to hear how her trip went! I especially wanted to see what she thought it was like traveling there as a young female. After her trip, I caught up with her and she let me know that she LOVED the country. Luckily she agreed to share her top tips for spending Spring Break in Jamaica.
Welcome, Ashley! Find Ashley on insta here: @ashleyyycox
1. The water is as blue as it looks!
Yes, the water seriously is that aqua! I thought it was only possible in a strong Instagram filter, but it truly is the crystal clear, can't believe your eyes kind of water! The water temp is also similar to bath water, so grab snorkel gear (wherever you may be) and enjoy a warm swim with a plethora of really cool tropical fish.
2. It's smart to break up your Spring Break by traveling to multiple cities.
But, I would recommend only two cities. Much more might be a little too much for a weeklong vacation. My friend and I had the opportunity to visit both Negril and Montego Bay (both highly recommended places). By doing this, it gave us an opportunity to see two very different, but amazing parts of the country within the week.
3. You might get hassled by men and they will definitely call you 'a princess'.
This is true! It can be a great ego boost (HA!), but also a little overwhelming at times. The men in Jamaica are extremely nice but sometimes I couldn't figure out their intentions. There were definitely times when we didn't feel completely safe, but we learned to keep the conversations brief and then continue on our merry way. Don't let this deter you from visiting Jamaica though! Just make sure you stay vigilant, act confident and be smart.
4. Pack light & don't forget the bug spray.
Jamaica is situated in a beautiful climate. I expected it to be extremely humid after doing a little research, but it honestly wasn't bad at all when we went in March. All you really need to pack is a couple of swimsuits, flip-flops/sandals, Tevas or Chacos (anything stable enough to do hikes/walks in and be waterproof), a pair of shorts, a few tanks, a couple dresses, lots of sunscreen and BUG SPRAY. Unfortunately, there are sand fleas (which I was unaware of) that come out at night. I ended up getting about 30 bites within the first two days, but after wearing bug spray the rest of the trip I didn't get another.
5. Jerk Chicken, Red Stripe beer, and Rum Punch are their "claim to fames," and they're worth a try.
Red Stripe, a Jamaican made beer, is a great light beer that's super cheap in Jamaica. It is sold in the States as well, but if you haven't tried it, it's definitely worth it! Rum punch was all over Jamaica as well. It is a rum-based drink made with dark and light rum, grapefruit, orange, and lime juice mixed with some grenadine. The food in Jamaica was pretty good, but one of their most famous specialties is the jerk chicken made with a bunch of different types of spices. If you like chicken, you'll love it like I did!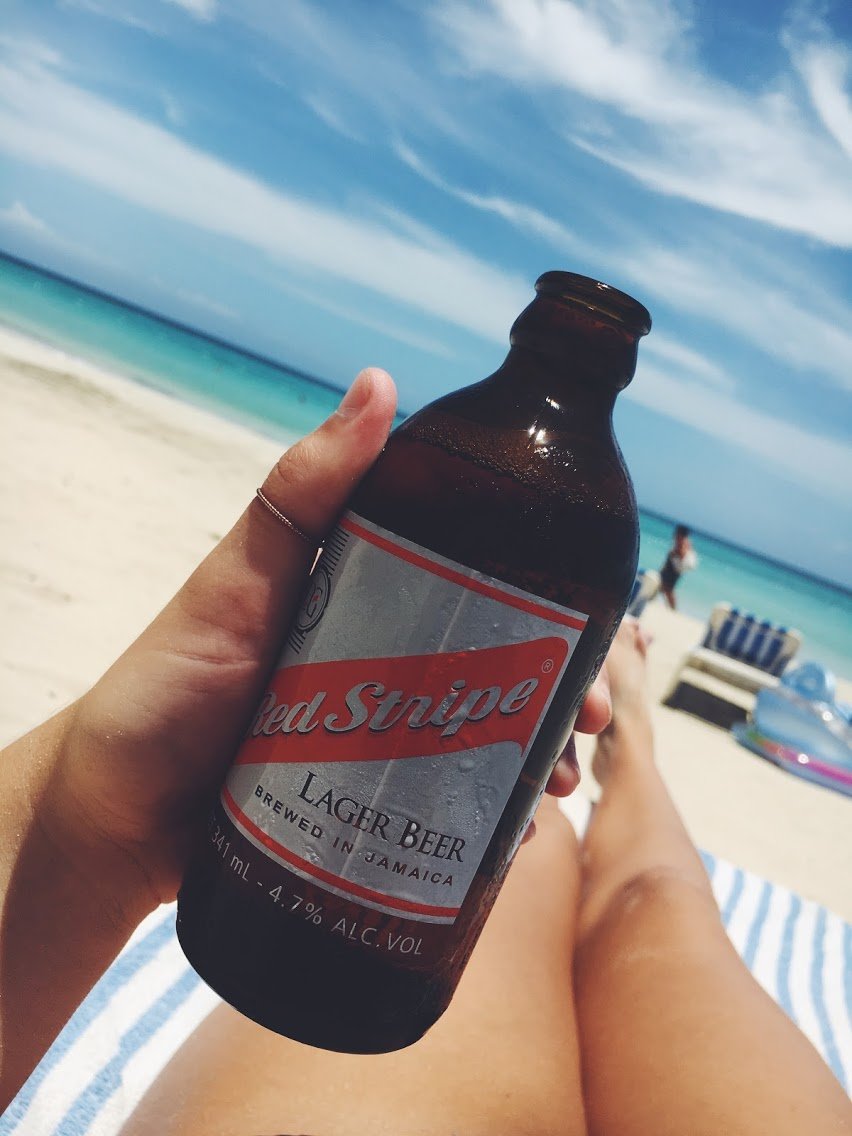 6. You must go on a Catamaran to Rick's Café.
My best friend and I chose to do a catamaran adventure to the infamous Rick's Café, a local restaurant/bar located off the shores of the 7-mile beach in Negril. Once we set sail, we were immediately greeted with rum punch, liquor drinks, loads of beer, and some amazing Jamaican tunes. The catamaran took us to some of the best reefs and caves around the area and we were able to jump off the catamaran to snorkel and explore the caves. We hopped back on the boat and were served dinner (jerk chicken, of course!) and were taken to Rick's Café which is known for their beautiful sunset views and cliff jumping. This trip was by the far both of our highlights of the trip!

7. The YS Falls are beautiful.
The waterfalls in Jamaica are said to be some of the best and most beautiful in the world and they aren't lying! YS Falls was our favorite and was located approximately 1.5 hours away from Negril. They were tucked into a rainforest-like setting with rope swings and small natural pools to swim in. Just as an FYI: the falls are some of the most touristy things on the island. There is a fee and there are many other tourists around, as to be expected. While sometimes that element discourages me, I still believe you should check them out. My recommendation would be to choose one set of falls (YS, Mayfield Falls, Dunn's) instead of trying to do them all. For us, it was pretty pricey at $75 for the set.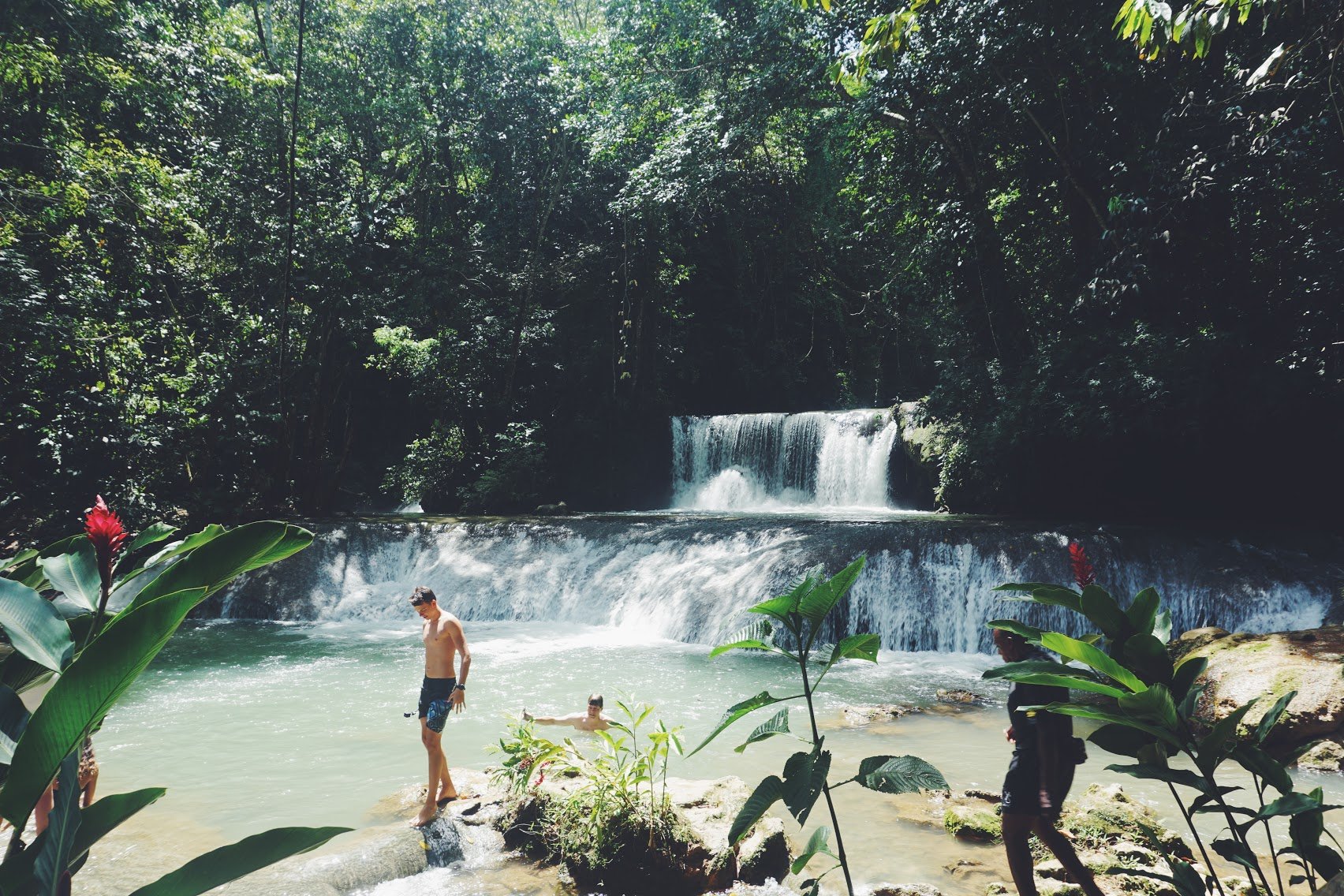 8. Negril or Montego Bay?
My vote is Negril. Both places were amazing, but for very different reasons. If you're an adventure seeker, I would recommend checking out both destinations and if you're looking for a relaxing vacation, I would stick to one. Negril happened to give us more of a cultural taste of Jamaica which was fun for me. It also wasn't booming with expensive resorts and was located on the amazing 7-mile beach. In Montego Bay, we stayed in a nicer more touristy type of resort and since we paid for it, it made it harder to leave the resort property. Think beds on the water, hammocks in the trees, seas of beach chairs and umbrellas. While all-inclusive was nice, I felt as though I was eating the same food every day and not getting much of a cultural experience.
WHERE TO STAY:
This is a great place if you're looking for an all-inclusive resort-style hotel. It's fairly expensive, but the views and ammenities are worth it.
This spot is super authentic, is right on the beach and has Jamaican music at night. I couldn't get over the view here or the food! This place is not all-inclusive, but was so cool!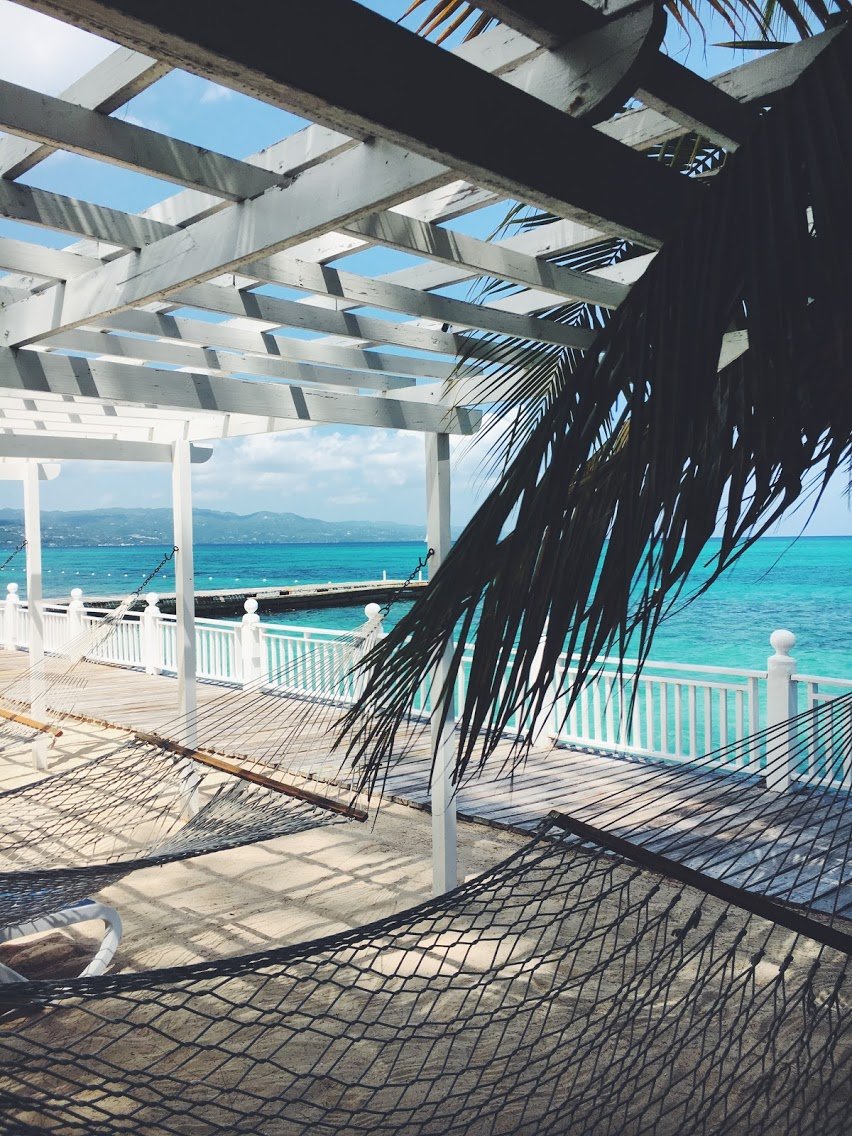 Overall, Jamaica was AMAZING and I would most definitely recommend a trip to the Caribbean to anyone. There is so much to see, do and explore on the tiny island. Katie, thanks for letting me celeb shot on your blog 😉
As the Jamaicans would say, "Be Happy, Mon!"