Japan is one of my favorite countries in the entire world and after spending an entire month there, I've been longing to go back. I have really good Japanese family friends that live in Japan that I basically consider family. So, when I got to Japan it almost felt like I was coming home. This trip to Japan I got to stay with them for a month by myself (I was spoiled) and I made it JUST in time for cherry blossom season!
I was the happiest person on the planet because that particular year the cherry blossoms fell later in the year and it was just in the middle of it when I arrived. This is such a special time to go to Japan and I feel so lucky to have gotten to experience it during cherry blossom season that I now want you to experience it!
SO, WHEN IS CHERRY BLOSSOM SEASON IN JAPAN?
Cherry blossom season typically starts in late March and can last until mid-May. In many parts of Japan it will end in April. The actual bloom of the flower on each tree usually will only last about 2 weeks. Before heading on your trip, make sure to do your research on when the blooming is predicted that particular year so you don't miss it! You can check cherry blossom forecasts here for more information on best times to visit. Just remember that while it is spectacular to visit Japan during this time of year, it can be very crowded in certain places.
Why should you visit Japan during cherry blossom season?
1) The Japanese temples and castle views are amazing with cherry blossoms in the foreground.
It's breathtakingly beautiful and fairytale magical, all at the same time. If this is the only reason to visit during cherry blossom season, then it's probably enough. Cherry blossom season is especially amazing when you visit temples and castles with beautiful cherry blossoms all around you. You'll get to see the cities and countryside covered in blossoms like the pics below. SWOON!
2) Everything is Sakura flavored!
Sakura is the Japanese word for cherry blossom and when I say everything is sakura flavored, I mean everything! They even make sakura KitKat flavors, face masks, chapsticks and cookies. You name it and it's probably sakura flavored. This photo below is of my matcha tea ice cream, but you best believe they have cherry blossom flavored as well!
3) The weather is getting nicer
Usually, cherry blossom season falls in the beginning of spring when everything in Japan is crisp and cool and other flowers and plants are in bloom. There are some days where it's chilly, but you'll also get great days where you can just wear a light jacket around.
4) Locals start their 'hanami' traditions.
In Japanese, the word "hanami" literally translates to "flower watching". Many local Japanese people not only go out to look at the cherry blossoms, but will set up a picnic in the parks to watch them bloom. The hanami is all about BYOB picnics and home-cooked meals to gather with friends and family under the cherry blossoms. If you're around a nice cherry blossom area, grab a picnic and some friends to watch the blooms, you'll probably meet some locals as well!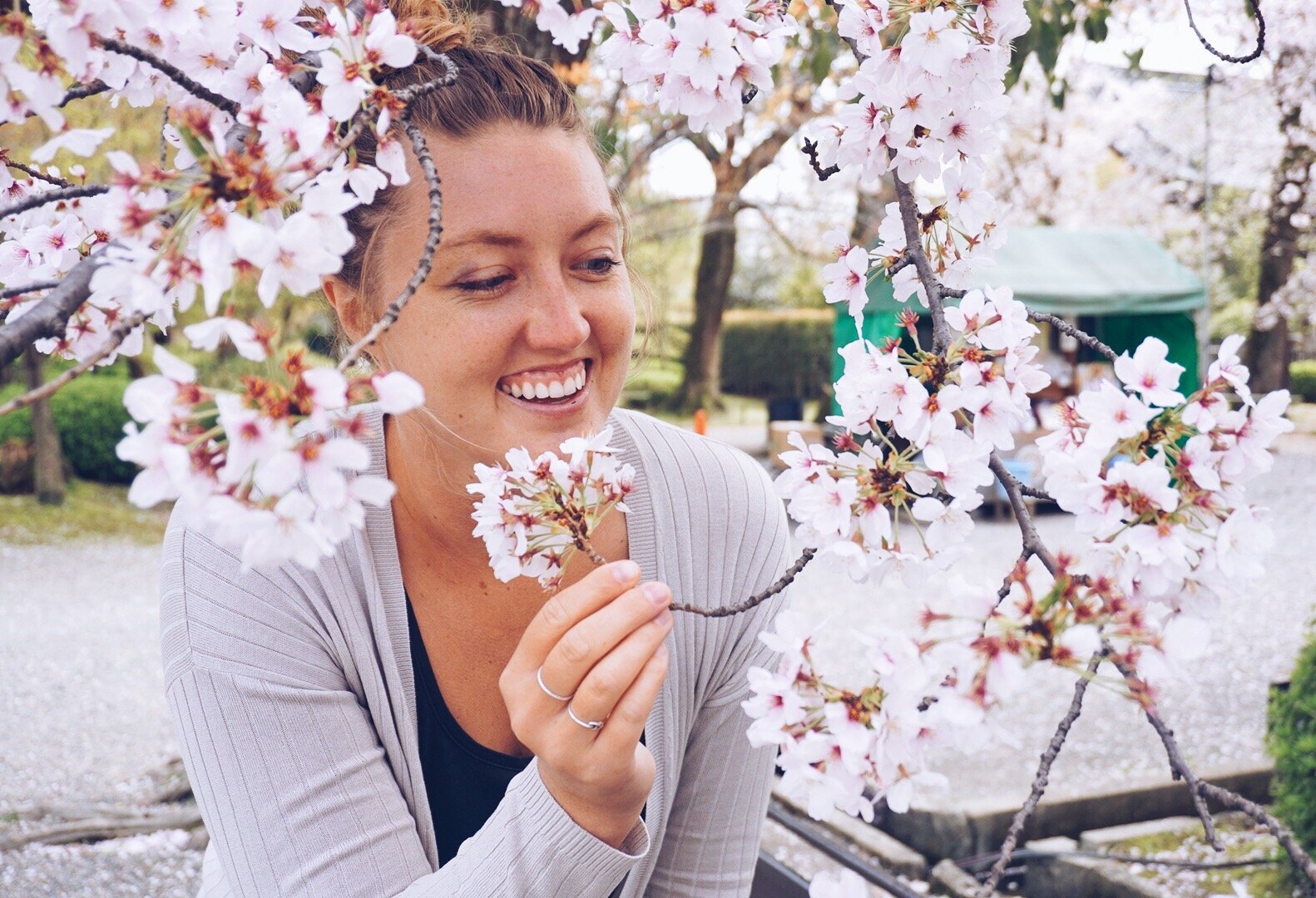 5) There are other flower blooming festivals during this time!
In the springtime there are many other flower blooming festivals like this one I went to at Mt. Fuji called Fuji Shibazakura Festival. It was a bit crowded, but worth it because of the landscape! There are also other flower festivals surrounding Golden Week which is a popular time off for Japanese workers. This usually takes place at the end of April and is the same time as numerous Japanese holidays. You'll see the photo with the carp streamer or Koinobori below that celebrates this time of year.
The Japan cherry blossom festival season is one of the most incredible times to see Japan. However, it is busy with tourists and can be one of the busiest times to be in the country. That said, I never felt like it was too hectic to get around and I'm really glad I still went during cherry blossom season!
Would you visit Japan during cherry blossom season?