Lyndsey Vincent is an American expat and my friend from college who just left Shanghai after living and working there for 2 years. Lyndsey works for Disney (are we jealous?!) and moved to Shanghai to work on the opening of the Shanghai Disney Resort that just opened its doors in June 2016! She is SO cool and I knew she'd be the perfect person to give us a locals perspective on Shanghai! I'm so excited that she has agreed to share her insider tips and experiences with all of us. Welcome, Lyndsey!
Shanghai Like a Local with Expat Lyndsey Vincent
Life as an Expat in Shanghai
How long did you live in Shanghai?
About 2 yrs.
What is it like being an expat in a foreign country where English isn't the main language?
In regards to the language barrier, it has its ups and downs. On one hand it's nice if you don't understand a lot of Mandarin because you can tune out the chatter around you, and it becomes "white noise". It's also unique that you can have a conversation in English with your other expat friends, and most likely, the people around you don't understand what you're saying, so there's more freedom in speaking.
On the flip side, I remember sitting on the metro many times, and people would be pointing at me and speaking in mandarin haha. I did take Mandarin lessons during my first year living in the city, and this definitely helped me get by. It's a fascinating language, hard to master, and so different from Latin-based languages. If you're looking to travel to or live in mainland China, I'd HIGHLY recommend doing some language courses or ask local friends to help you (and maybe you can, in turn, help them with their English). You will find that most of the younger, local Chinese do speak English (in fact, it's being taught at most of their schools now). However, many of the smaller, local businesses and suburbs surrounding Shanghai do not have many English speakers – so it's important to learn what you can.
On a scale of 1-10 how good would you say Shanghai is for expat living?
9. If you can get past the crowds and air pollution, it's a fantastic city for expat living. There are about 23 million people living in the metropolitan area of Shanghai, and 2 million of those are expats (I'd say mostly British, Australian, and French). You won't be alone if you're a foreigner!
What are some cons to being an expat?
Depending on your work situation, it can be difficult to get a visa (and there are laws being put in place now that make it more difficult for expats to secure jobs in China). As mentioned earlier, there is also the language barrier. You will find that a lot of western foods are expensive (a small box of brand-name cereal will cost you about $14) or just altogether unavailable. I found that the following online grocery delivery sites had a lot of expat necessities (at a price!). Kateandkimi and Epermarket.
Do the pros outweigh the cons or vice versa?
In my opinion, absolutely. When you look at the energy of the city, the amazing food options (don't be fooled, you can get any cuisine in Shanghai, not just Chinese), and the ability to travel to many nearby countries (Thailand, Cambodia, Malaysia, etc), it makes up for the hassle of crowded sidewalks, air pollution, and other Eastern culture differences.
How does living in Shanghai differ from living in Orlando, Florida in the USA?
I don't think the two cities could be more different! Shanghai life is fast-paced (think New York City, but triple the population) and Florida is known for its glacial pace of life (especially in smaller, retirement-focused communities) and theme parks. The only similarity I can draw between the two is ease of travel. Orlando International Airport is one of the busiest airports in the US, and you can get to Europe or South America relatively easy. As mentioned before, Shanghai is an international business hub and there are more flights being added, making it even easier to see other places in Asia.
How to Do Shanghai Like a Local
How would you describe Shanghai in a few words?
Energetic, diverse, and oozing with life.
How would you describe people living in Shanghai?
Family-oriented, curious about Western culture, and most are very friendly. Customer service is getting better in Shanghai, but don't expect 4 star service unless you're at a swanky restaurant…or Shanghai Disney Resort (shameless plug!)
(really talented mail courier…)
Where are your favorite places to eat in Shanghai?
This is going to be tough!
Brunch, Breakfast:
A western-style breakfast/brunch will easily cost you $40 US, but if you're adventurous and want to try street food, you can have a feast for about $1.50 🙂 Here are my top picks:
– Liquid Laundry (Western)
– Bull & Claw (Western)
– Street food
Lunch:
– Cheese & Co (Make sure to ask for a pickle-back shot 😉
– Yang's dumplings (local, SO GOOD). There are many locations across town. Beware, 2-3 dumplings will fill you up.
Dinner: SO many amazing options!
– Lost Heaven (best for groups of 3+ people) Yunnan province cuisine
– Di Shui Dong (local Chinese)
– Din Tai Fung (world famous xiao long bao [soup dumplings], and they also have locations in a few US cities!)
*Also, checkout Sherpa's – Shanghai's online food delivery! Its one of the things I miss most about living in China.
Cafes:
There is a Starbucks on almost every corner, but if you want something local…
– Baker & Spice (great sandwiches, salads, pastries, and coffee)
– If you like Friends, you can even visit Central Perk (warning, don't go for the coffee)
Where are your favorite bars and pubs?
For a fancy night out, head to the Bund and hit up Vue Bar (amazing 360 view), Char Bar, Unico, or The Roosevelt. If you want something more chill, head to Shanghai Brewery, Boxing Cat Brewery, The Senator Saloon (great drinks, small and intimate), The Apartment (if you like DJs and dancing), Barbarossa (great outdoor patio), Kartel (rooftop), or Bocado (great dancing, mostly 80s/90s hits)
What's your favorite touristy thing to take people to do?
Shopping at the fabric market (http://www.smartshanghai.com/venue/1701/fabric_market_shanghai), fake markets (be ready to bargain! These markets are slowly disappearing so get your fake bags while you can!), and going to the Bund for dinner and drinks. If people have a bit more time, I like to take them to an ancient water town nearby (Wuzhen has been my favorite so far)
What are your top 3 favorite neighborhoods?
Former French Concession, Jing'An and the Bund
Where would you tell people to stay if they were visiting?
Depends on your budget 🙂 There are a lot of high-end hotels in Shanghai, so if you want something fancy, you will easily find it (http://boutiquehotels-shanghai.com). Otherwise, I'd try Airbnb or stay with a friend
When is the best time of year to visit Shanghai?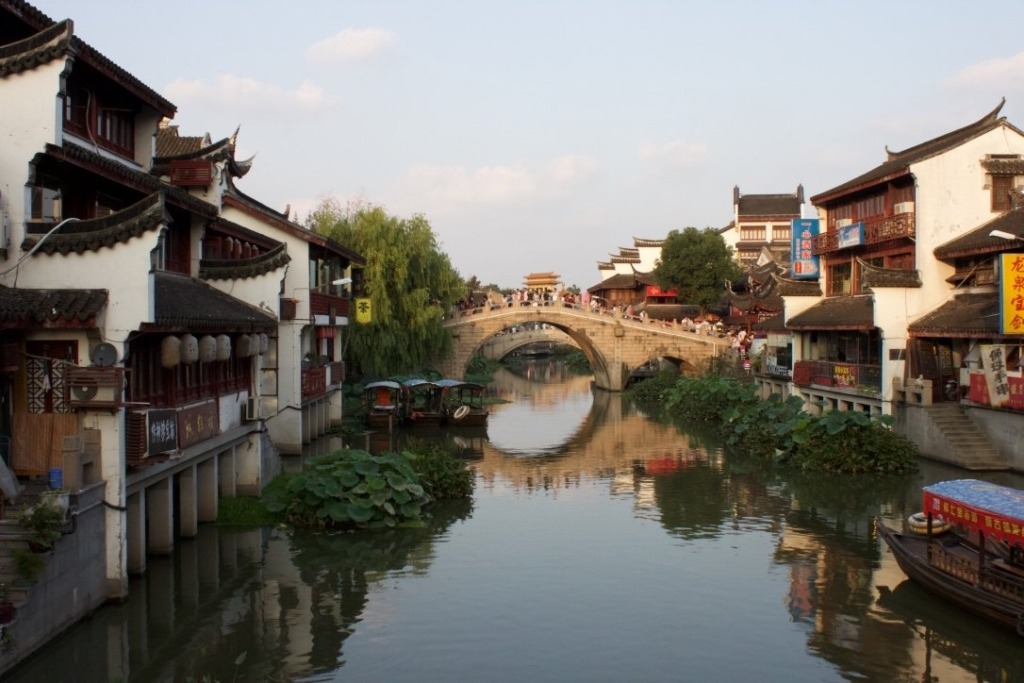 What is your favorite thing to do on weekends in Shanghai?
I had a battery-operated scooter (which was recently outlawed by the government), but I LOVED riding that around the tree-lined streets of the former french concession. Other than that, I would enjoy going to brunch with friends, visiting some of my favorite local shops/markets (Go to Spin, Painter's Street and Tianshan Tea Market). There are also some great museums in Shanghai (Power House, MOCA, China Art Museum, Urban Planning Museum).
What has been your favorite memory so far?
There really are too many to recall. Seeing our first guests come through the gates at Shanghai Disney Resort was pretty magical, but outside of work, some of my best memories were created on trips to Vietnam, Thailand, Malaysia and a lot of smaller trips throughout rural China (Guilin and the Hani rice terraces were my favorite trips). A lot of memories are of smaller, more intimate moments experienced with locals or just wandering through the streets and documenting what I saw through drawing or photography.
Any final thoughts or recommendations for travelers to Shanghai?
China can be overwhelming at first and if you're a westerner, be prepared to stick out like a sore thumb. But I'd urge you to embrace the diversity, try new things, and try to see as much of the city/country as you can. I've given a pretty good variety of options above, but there are so many amazing things to eat, see and experience outside of what I've mentioned. Download SmartShanghai, grab a metro pass and start exploring!
Thank you Lyndsey for sharing your amazing tips for how to do Shanghai like a local! We can't wait to visit 🙂
PIN IT:
READ NEXT:
Junk Boating Through Halong Bay