Outside Lands (OSL) is one of San Francisco's largest music festivals and one of my absolute favorite festivals in the Bay Area. The music, food, fashion, and art are extreme reflections of San Francisco's culture and overall vibe. Nothing beats the rustic outdoor camping and fairytale woodland theme of OSL and it's no wonder over 60,000 people flock to Golden Gate Park for 3 days!
For the people out there who haven't been to Outside Lands, I've decided to compile The Beginner's Guide to the Outside Lands Music Festival so you know what expect when you attend next year. And I highly recommend that you do!
Buying Tickets
♢♢♢♢♢♢♢♢♢♢♢♢♢♢♢♢♢♢♢♢♢♢♢♢♢♢♢♢♢♢♢♢♢♢♢♢♢♢♢♢♢♢♢♢♢♢♢♢♢♢♢♢
Try and buy your ticket on the OSL site so you can guarantee a ticket. These usually sell out the day they go on sale.
Good news: people sell their tickets on Craigslist and StubHub.
Bad news: they usually hike the price up. I've also had friends who have purchased a ticket and then couldn't get in because the ticket was sold twice. Bummer.
The first tickets to go on sale are the 3-day eager beavers. These go on sale for about $285, but they sell out super fast and usually the same day! Next to go on sale are the regular priced 3-day tickets and then they start selling individual day tickets.
Getting There
♢♢♢♢♢♢♢♢♢♢♢♢♢♢♢♢♢♢♢♢♢♢♢♢♢♢♢♢♢♢♢♢♢♢♢♢♢♢♢♢♢♢♢♢♢♢♢♢♢♢♢
This is the tricky part. I either will drive and park the car in Seacliff on days i'm planning on not partying hard. On other days I will take and Uber or Lyft with a group of people. There are also other ways of getting there like bus, renting a Scoot, biking, or taking a pre-paid bus you can find on their site.
It's super crowded after the festival so I recommend walking a few blocks outside of the park and calling an Uber or Lyft. Also, be prepared for traffic, or cut through the Presidio to most of it!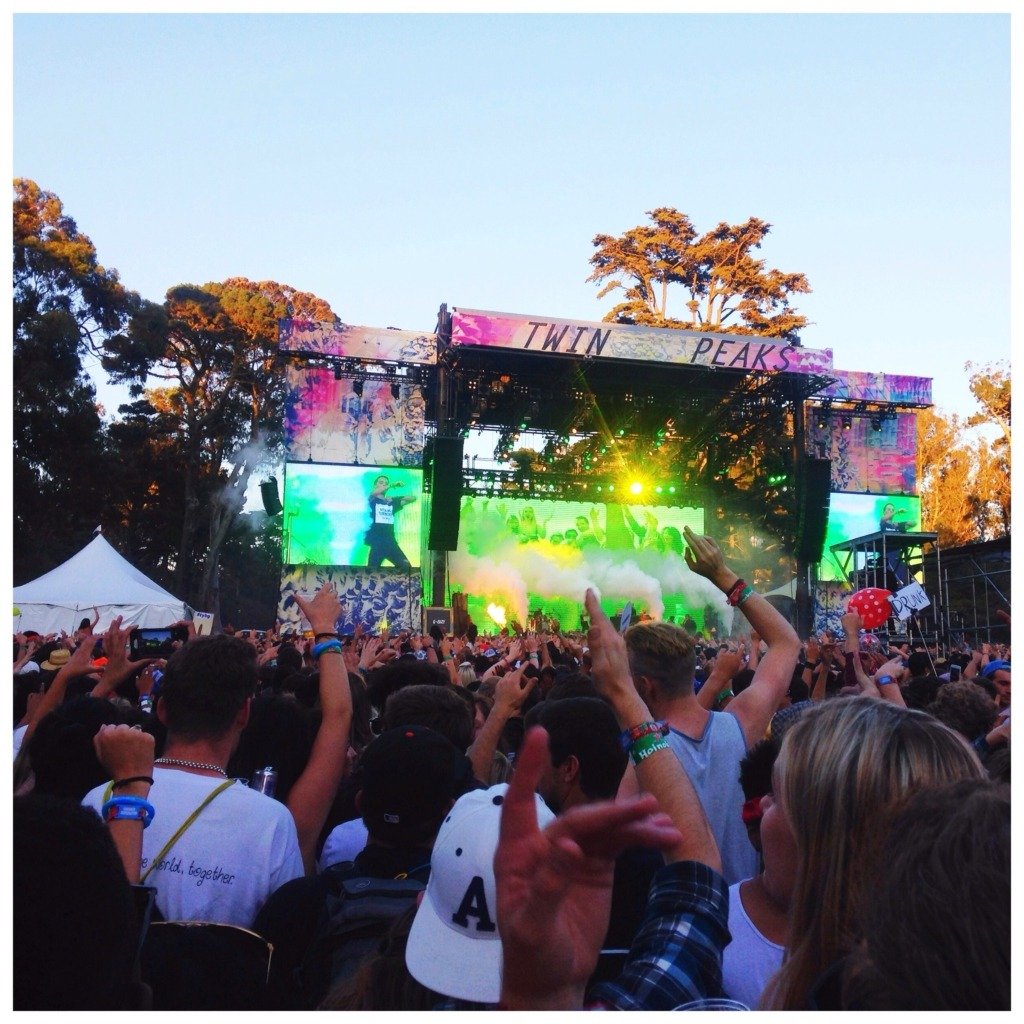 What to Bring?
♢♢♢♢♢♢♢♢♢♢♢♢♢♢♢♢♢♢♢♢♢♢♢♢♢♢♢♢♢♢♢♢♢♢♢♢♢♢♢♢♢♢♢♢♢♢♢♢♢♢♢
I've been a few times and have finally honed in what to bring.
Empty water bottle. This year I brought an empty Camelbak and filled it up at one of the Camelbak water stations once I got in. This saved my life because I didn't have to haul around a water bottle and I stayed hydrated!
Backpack or side purse. I brought a backpack this year and a purse last year. The backpack was my favorite option because I didn't have to deal with it hitting my side while I was dancing. I could also fit a lot more inside.
Phone charger battery pack or charger. Your phone will probably die, so bringing a charged battery pack is awesome to have later in the day when you need more juice. There's also a massive charging station that's easy to find inside the festival.
Cash. Everywhere takes card, but it's so much quicker and easier to use cash. Don't worry, though, ATM's all over.
Blanket. This is great if you're going earlier in the day and want to hang out on the grass and listen to music.
Warm Clothes. I talk about what to wear below, but bring warm clothes for when Karl the Fog rolls in! And he will!
Food & Drink
♢♢♢♢♢♢♢♢♢♢♢♢♢♢♢♢♢♢♢♢♢♢♢♢♢♢♢♢♢♢♢♢♢♢♢♢♢♢♢♢♢♢♢♢♢♢♢♢♢♢♢
This is my favorite part of Outside Lands! Be prepared for all of the best SF restaurants to be at one place. Whether you want a Ramen burger from Nombe, chimichurri fries, Bacon Bacon, Pica Pica, Proposition Chicken, or a chocolate taco from Rocko's Taco's. It's all there.
They switch up the vendors every year, but it never fails to disappoint! We're in SF after all…
Also, if you can, visit BeerLands, WineLands, ChocoLands and CheeseLands for all of the best food and drink in the festival!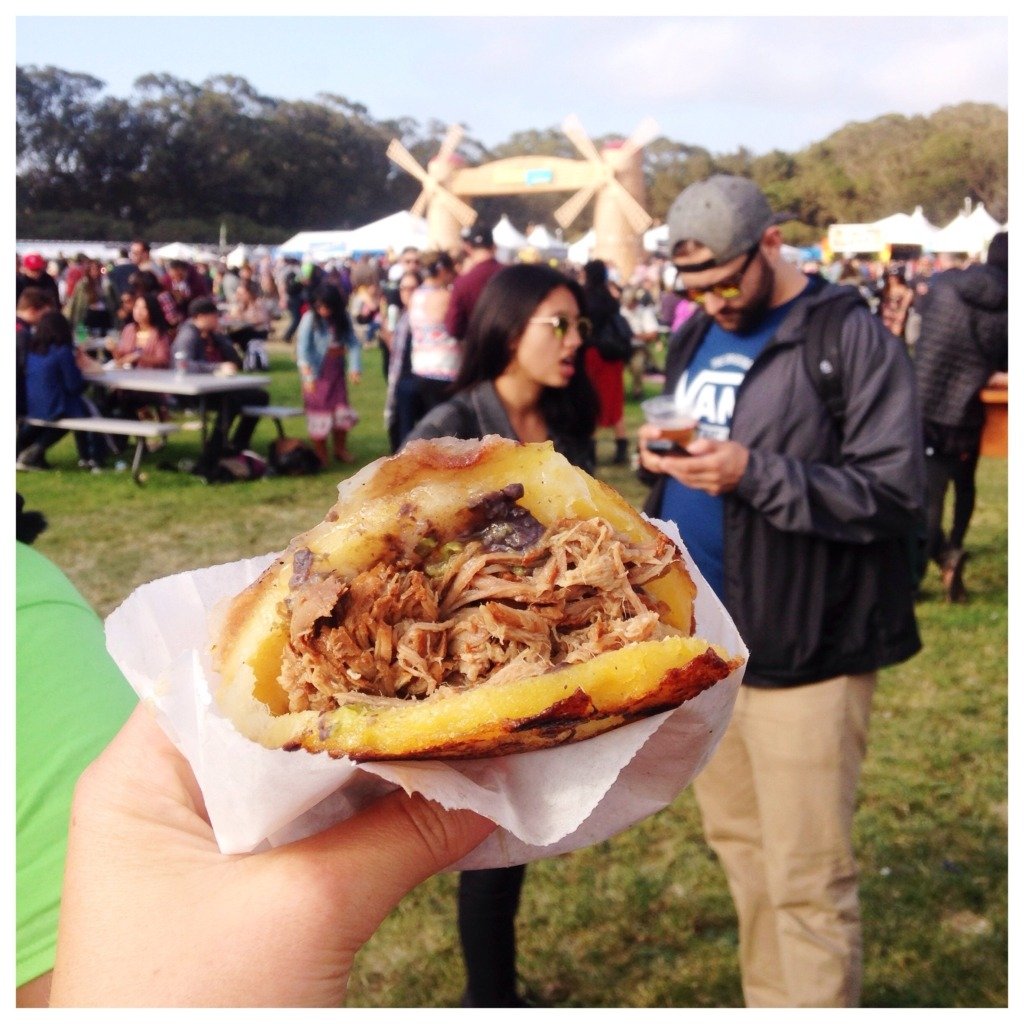 What to Wear?
♢♢♢♢♢♢♢♢♢♢♢♢♢♢♢♢♢♢♢♢♢♢♢♢♢♢♢♢♢♢♢♢♢♢♢♢♢♢♢♢♢♢♢♢♢♢♢♢♢♢♢♢
A lot of people come to SF expecting it to be hot weather. Unfortunately, that's not always the case and OSL is situated in Golden Gate Park where the fog hits pretty hard. Expect chillier weather and lots of fog.
Layer as much as you can. I usually wear a t-shirt or tank top with a long sleeve over it and then bring another type of jacket to tie around my waste or put in my bag. I also get cold easily so I bring a hat and or gloves just in case.
Also, it's important to bring comfy shoes! I recommend wearing moccasins, toms, tennis shoes, comfy booties, or Birkenstocks.
Other
♢♢♢♢♢♢♢♢♢♢♢♢♢♢♢♢♢♢♢♢♢♢♢♢♢♢♢♢♢♢♢♢♢♢♢♢♢♢♢♢♢♢♢♢♢♢♢♢♢♢♢♢♢
Download the OSL app so you can create your schedule and add Bison Bucks for wine lands.
Plan out your lineup ahead of time so you have time to get from one stage to another.
The bathrooms are somewhat miserable and this is something they still need to figure out. The least crowded section of bathrooms are in a square between Lands End and Sutro stages. They have the least amount of a wait (5 mins max). Trust me on this one. The others can be anywhere from 15-45 mins.
Hope this helps and can't wait to see you all next year!