Things to Do in Bend Oregon for Your Next Weekend Trip
Ever since moving to Boise I've heard from so many people about their love of Bend, Oregon and that I should take a long weekend and go to Bend, or maybe even just freakin' move to Bend. I mean, people in Boise LOVE Bend.
So, I of course had to find out for myself what all the hubbub was about. Luckily, I got invited to go to stay at the Riverhouse on the Deschutes hotel (right on the river) and decided to make a weekend out of it. My friend came along and we decided to eat, drink and explore as much as we could in one short weekend.
Below I've got everything you need to know for your weekend in Bend and some of my favorite things we did while we were there!
HOW TO GET TO BEND, OREGON
Driving:
Coming from Boise, the drive to Bend is about 5 hours 20 mins through some desolate areas, which isn't too bad if you have company. If you are one of my Idaho people reading this, just know that there are NO gas stations after you get to Burns, Oregon so be sure to fill up there.
Flying:
Most people fly into Redmond, Oregon and drive about 20 minutes to get to Bend. You can also fly into Portland and then drive for about 3 hours.
WHERE TO STAY IN BEND
I personally stayed here and loved my stay! Check my full review here and check current prices here.
If you are looking for something modern and downtown, then try out the Wall Street Suites. My friends raved about them and they have full kitchens and are dog friendly. They aren't your traditional hotel, but the suites comes highly recommended. Check current prices here.
This is probably the most luxurious of the hotels and is one of Bend's signature Boutique hotels. They are located in the heart of Bend's downtown and are also pet friendly. See current prices here.
This is a great option if you're like me and love staying where the locals live. Here's a code with a discount for your first stay on Airbnb!
WHAT TO DO DURING A WEEKEND TRIP TO BEND
Bend is the perfect outdoorsy person's adventureland. There's so much to do like hiking, biking, golfing, drinking, and floating. Here are some of the main things I would recommend doing (some of these are must-dos from my friends)!
1 – Float the Deschutes River
This was probably the number one thing people told me to do and guess what, I didn't do it. Yeah, I know. I didn't have time, and we also have a river here in Boise to float, but when I go back (and I will) you best believe I'll be floating the Deschutes.
2 – Kayak the Cascade Lakes
We booked this kayak tour with Wanderlust Tours, but you can also rent kayaks through any other tour company. We ended up going to the Paulina Lake which is technically a crater in the mountains. It was gorgeous and informative, but in all honesty, I would have much rather floated the river (just because I've been kayaking before and I prefer doing it on a river).
3 – Go on a Brewery Tour
Okay, so Bend is FULL of amazing breweries. I've listed the best ones below in my list of places to eat and drink, but I think this is a great way to see the different spots and learn about the area's brewery history!
4 – Go hiking or mountain biking
I don't even know why I'm adding mountain biking to my list because I hate mountain biking, but there are tons of trails and great paths to do this in Bend. If you're into hiking, like me, there's also a ton of great hikes. If you want something easy and fast, see number 5. Or, this half-day hiking tour also looks awesome.
5 – Hike up the Pilot Butte
This is a great walk for dogs or just you walking up for the view. You can also drive up (we missed the parking lot at the bottom and drove up), but the views were breathtaking! I highly recommend stopping here just to get a full-circle view of Bend. It's especially amazing on a clear day when there aren't any forest fires
6 – Go to the shops downtown
I'm not a big "shopper" when I go out of town, but everyone recommended shopping in downtown Bend so I thought, okay why not? My friend and I ended up killing time and went downtown to stroll through the shops. Surprisingly there are a lot of adorable little spots and we spent a few hours just wandering the streets and hopping into the little shops all over town.
7 – Walk around River Bend Park or Drake Park
Both of these are great parks to walk along the water and enjoy some pretty scenery!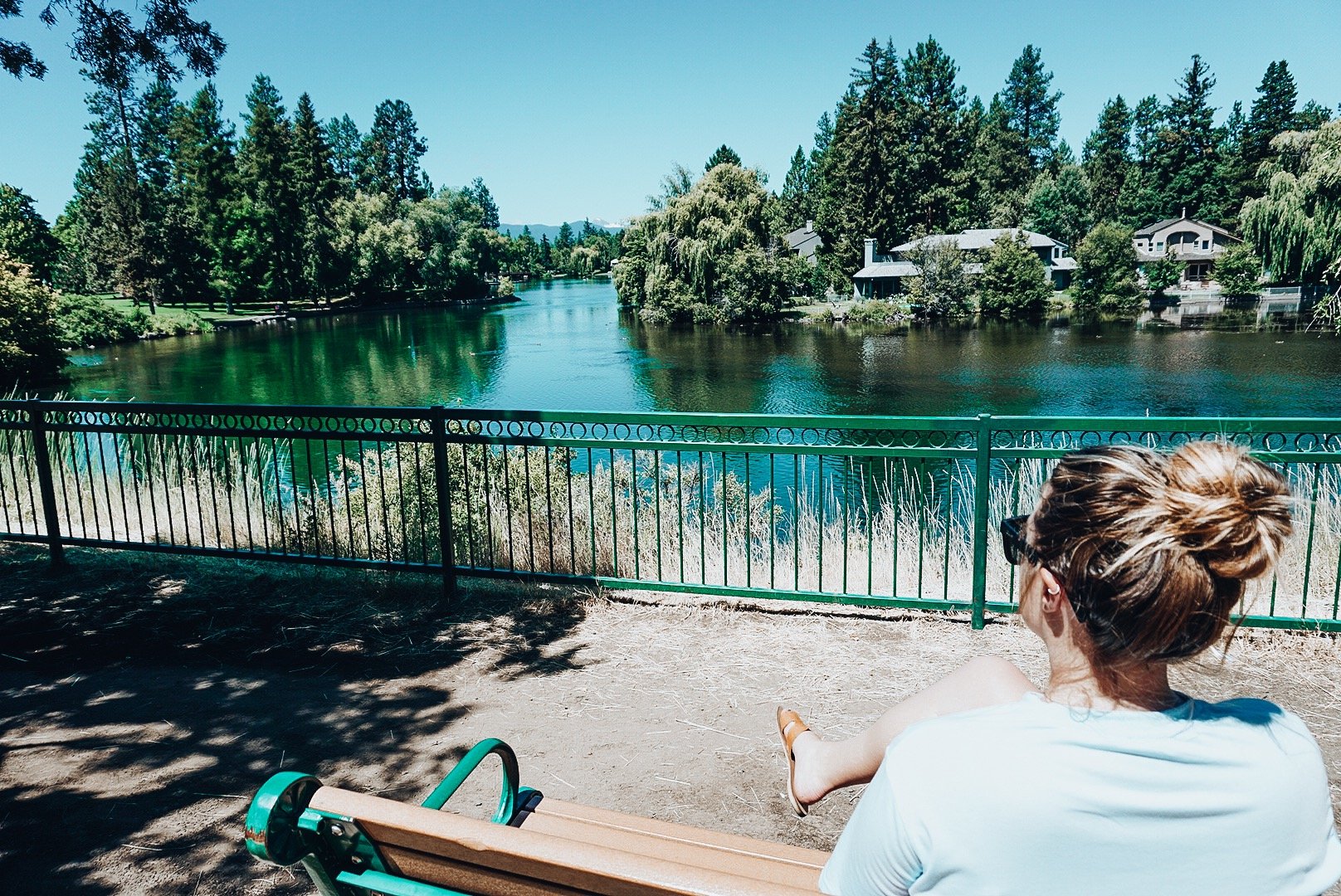 8 – Go skiing at the Mt. Bachelor
If you're here in the winter, most people go skiing at Mt. Bachelor because of it's proximity! You'll be able to see the mountain when you're in town. There are also a lot of winter activities to do in Bend, like cross country skiing and snow shoeing!
9 – Go to the Lava Tubes, hike Smith Rock, visit Tumalo Falls
If you're sick of Bend, (jk) there are a bunch of other fun things to do nearby! Lava Tubes, Smith Rock and Tumalo Falls are all fun stops to make for part of the day.
WHERE TO EAT AND DRINK IN BEND
Oh.my.gosh there are so many places to eat and drink in Bend. We didn't get to hit up all of these over just one weekend, but I've listed a lot of the ones I was recommended by very trustworthy sources as well.
Coffee/Tea Shops:
Thump – I loved their coffee and it's a quick spot to grab and takeaway downtown.
Townshend Bend Teahouse – Go here if you're a tea fan!
Breakfast/Brunch:
Sparrow Bakery – This place was adorable, but had a line! Make sure to try the Ocean Roll and Cardamom Latte. They also have other wonderful breakfast options.
Jackson's Corner – A super popular spot in a cute little neighborhood. You order at the counter and they have a lot of outdoor seating. Once again, this had a line, but we go there just in time and they have just about anything you could want on their menu!
Mother's Healthy Cafe – This is a cute juice and healthy restaurant with a bunch of great breakfast and lunch options.
Lunch/Dinner:
On Tap– Food trucks and beer on tap.
The Lot – Another food truck spot!
Wild Rose – My friend knows the owner and swears this place is awesome. I also loved the decor inside!
Pine Tavern – Go here for the best prime rib and scones.
Mcmenamins Old St. Francis School– This is actually an old school house that's been transformed into a hotel and bar/restaurant. Each room has a different theme and it's a great place to grab a drink or dinner.
Breweries & Other Places to Drink:
Bend Brewing – I personally loved this spot and we went right upon getting into town and it's right on the river with a great lawn and ppl brought their dogs! Great food too.
Crux Brewing – This brewery is a bit farther out, but amazing in my opinion. There is a huge lawn with a ton of food trucks and games and I loved it.
Deschutes Brewing – I didn't make it here, but it's also high on the list!
Sunriver Brewing – Another highly recommended brewery.
Portello Wine Cafe – Wino's unite! My friend who doesn't like beer told me this was her go-to wine spot!
I hope you get a chance to make it to Bend and when you do, I hope you get to eat your way and adventure your way through this cute town! I cannot wait to go back again and this time cross even more off my Bend Bucket List!