I'm glad you're here! And most likely you're here because you're planning a trip to Tahoe and aren't planning on skiing. In this guide, my plan is to share things to do in Tahoe during winter if you don't ski or board!
After growing up in a state like Idaho, I've developed a deep, deep love for the mountains. The good news for me about living in San Francisco was that Tahoe was a quick 3 1/2 hours drive from the city. Actually, it's not really quick and the traffic is horrendous, but it's definitely worth the trip every time!
My girlfriends and I decided to head up to Tahoe for MLK weekend and I was so excited to ski for the first time on a Tahoe mountain and one of the best ski areas in the United States! Why I have not done this before is beyond me. Unfortunately, I hurt my knee right before heading out and wasn't able to snowboard AT ALL.
I decided to get a bit more creative this time and set off to find fun Lake Tahoe winter activities and winter sports that didn't require sitting in the cabin and wishing I was skiing. Luckily, despite being a world-class ski area, Tahoe has a TON of other winter activities to do besides skiing!
►►PRO TIP: If you're planning on going to Tahoe from San Francisco try and leave early morning on a Saturday to get there rather quickly and not have to sit in Friday "after work" traffic.
While we're at it, let's be friends on Instagram and Tiktok!
Things To Do In Tahoe During Winter
1. Try snowshoeing, cross country skiing, or fat biking
Tahoe has endless amounts of golf courses and trails that are great for snow sports like snowshoeing, fat biking, or cross country skiing. Almost all of the rental shops have snowshoes and cross country skis for about $15 a day. I ventured over to Squaw Valley to the Squaw Creek Resort Nordic Center and paid to snowshoe across the valley floor on their trails. You can also rent snowshoes and go snowshoeing wherever there is snow! It's a great workout too. Another great place to rent gear is in South Lake Tahoe at Camp Richardson's Mountain Sports.

2. Get involved in the apres-ski scene
Why not hit up a brewery or wine bar during the day and apres-ski (after ski) at night! This has to be one of my favorite thing to do in Tahoe during winter. For breweries, try Tahoe Mountain Brewing Co. in Tahoe City, South Lake Brewing Company or Sidellis Lake Tahoe. If you're into wine bars, try The Idle Hour or Uncorked wine bar! Plus the entire town lights up after the skiers get down the mountain so why not meet up with friends for the apres-ski!
There are also plenty of great happy hours in Tahoe and live music after people leave the slopes. Here are some different apres-ski options where you can meet people after a day on the mountain.

3. Walk around Squaw Valley Olympic Village, Incline Village, or Heavenly Village
If you have time, be sure to grab a coffee and walk around these cute little villages!
Squaw Valley is also known as Olympic Valley and is one of the largest ski resorts in the United States. In fact, it housed the 1960 Olympic Games in North Lake Tahoe. It's fun to walk around the Village to see the tribute sign with the Olympic Rings placed near the ski lifts or take the tram up to the top for a tour o the Olympic Museum showcasing views of Lake Tahoe below. You can also eat lunch up at the museum during the day. Take a walk through the village and it will remind you of a European ski town with cute little walkways and stone buildings. The rooms above have balconies that look over the village and you'll see tons of restaurants, bars, and shops peppering the scene!
Incline Village is the largest town on the Nevada side of Lake Tahoe. Throughout they have a great variety of restaurants, bars, and shopping with stunning views of the lake.
Heavenly Village is at the base of the Heavenly Ski Resort and boasts over 40 restaurants, bars, and shops. It's another cute little area to stroll the cobblestones and check out the shops, art galleries, and eateries.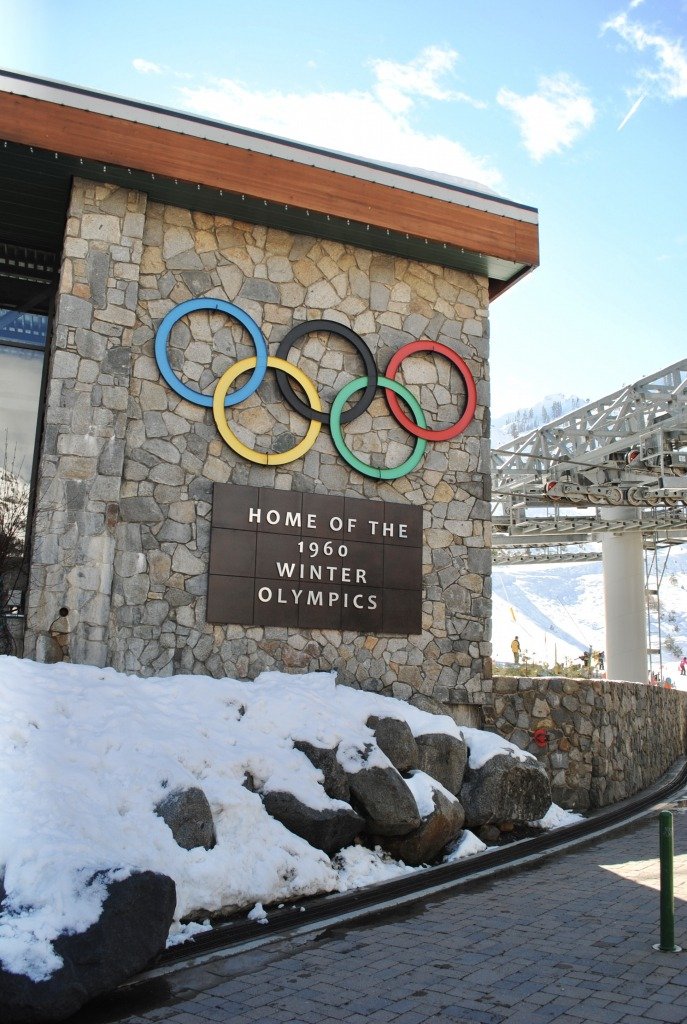 Ready for a spectacular view of Lake Tahoe? Take the Palisades Tahoe Tram up to the top for panoramic views of the Lake Tahoe area. The tram to the top is somewhat expensive, around $40, but worth it. You can also take the tram up to eat lunch and have some drinks at the Terrace Restaurant. We did this and had a great time.
Another option is going up the 2.4 mile Heavenly Gondola for breathtaking views the entire way up!
5. Go on a snowmobiling adventure
Snowmobiling is also a fun way to get views of Tahoe without having to break too much of a sweat! In fact, some places offer snowmobile tours which is a great way to go if you don't know your way around or don't own a snowmobile. Check out this highly-rated snowmobile tour company in North Lake Tahoe. They run their tours from November through April, weather permitting. This is a great option for adventure while still getting out to enjoy the outdoors!
6. Try ice skating
This is a fun option to spend the day in South Lake Tahoe. Try ice skating at the top-rated Heavenly Village. They are open from November through March and have fun music and a beautiful winter ambiance. You can skate during the day or every night and they have skates for rent.
7. Visit one of the many hot springs or spas
What's better than sitting in a relaxing hot spring in the middle of winter? Nothing! Check out this guide to the many different hot springs in Tahoe.
If you're more of a spa-goer, try the Stillwater Spa in Incline Village or the Resort at Squaw Creek Spa!

8. Go on a sleigh ride!
I haven't done this in Tahoe yet, but it's one of my favorite things to do when I'm home in Sun Valley, Idaho for the holidays! Check out the Borge's family sleigh riding company in South Lake Tahoe. It looks pretty magical and would be perfect for an outing with friends, family, or a romantic date night. They go along Sand Harbor State Park where you'll get gorgeous views of the Lake from the sleigh.
9. Eat good food
There are some really great restaurants in Tahoe so if you're not hitting up one of the ski resorts you might want to try one of these options! Just make sure you make a reservation since the skiing and snowboarding season can get pretty busy up here!

10. Go to the casino
As you've probably already figured out, half of Lake Tahoe is in California (North Lake) and the other half is in Nevada (South Lake). So, naturally, there are casinos in South Lake Tahoe! Casinos are a very popular activity in Lake Tahoe—especially in the colder winter months. Head to one of the popular spots like Harrah's or Harvey's!
11. Catch a movie
There are plenty of places to catch the latest flick in Tahoe. This is a great thing to do while waiting for your friends on the ski slopes. Check out the Incline Village Cinema, the Village Cinema at Northstar, or the Tahoe Art Haus for their latest on-screen hits.

12. Visit a museum
Interested in learning a bit more about Lake Tahoe and Truckee's history? Learn more about the infamous Donner Party and the history of emigrants to the area at the Donner Memorial Park and Emigrant Trail Museum.
13. Take a drive around Lake Tahoe
If you have a car, why not take a drive around the lake! The entire drive around the lake will take about 2 hours and 15 minutes. That's not including the stops you will make or how the weather might be. Don't make the drive if it is snowing heavily as the roads can get pretty bad. I recommend stopping at places like Tahoe City or Meeks Bay, Zephyr Cove, Lakeside and Incline Village, Emerald Bay Viewpoint, Memorial Point. If you want to stop for lunch, Tahoe City is a good option depending on which way you are coming.
14. Go shopping
I'm not a huge shopper while on vacation, but I know some of you are and in that case, there are some great places to shop in Lake Tahoe. From local artists to fancy designers, Lake Tahoe has it all. I recommend shopping in downtown Truckee like the Boatworks Shopping Mall, King's Beach, downtown Tahoe City, or the Incline Shopping Village if you're going to make your rounds!
15. Attend a yoga class
If you'd like to get a nice workout in while you're visiting, try one of Tahoe's amazing yoga studios! I recommend trying the Yoga Room Tahoe in Tahoe City or Tahoe Yoga and Wellness Center offering power flow to meditation to massage in Truckee.
16. Go sledding or tubing
There are many great hills in Tahoe for kids and adult-like kids! Adventure to the Tahoe City Winter Sports Park for their small sledding hill and ice rink. You can also try the Tahoe Donner Snowplay Area which is a great spot to tub down the mountain and play with the snow toys provided. Heavenly also has a tubing hill now near the Tamarack lodge. They even have a place for parents to sit at the bottom which I think is fun!
_____
I hope this post was informative for those of you that need ideas of things to do in Tahoe during winter—especially if you're not a skier or border. Tahoe is a great place to visit in the winter and I hope you have a blast. Please message me in the comments if you have any other recommendations I can add!
IF YOU LIKED THIS POST, PLEASE PIN IT! 🙂