Ireland is one of my favorite countries in the world and anytime I hear that someone is going there on vacation I can't help but rattle off a list of things for them to do! I've been 4 times now and each time it gets better and better. You may have already seen my post about the 20 Reasons Why You Should Roadtrip Through Ireland or my Top 10 Views in Ireland post and can probably tell how obsessed I am with the country.
Because of my love for the Emerald Isle and the fact that two of my really good friends live in Dublin, I've decided to create the Ultimate Ireland 2 Week Itinerary for anyone looking to go! I did this same itinerary with my family in our rental car and we had the most wonderful trip to Ireland.
♧♧♧♧
Pro Tip: I recommend renting a car. Ireland is a country where you'll want to get off the beaten path to check out random castles and beautiful views and it's just not the same without a car! Luckily I had my dad to drive, but if you put your mind to it you can do it.

In order, here's the route we took: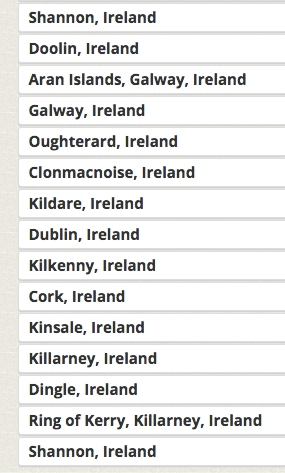 Stop 1: Shannon, Ireland. Many people fly into Dublin, but I recommend giving Shannon a try! Usually it's cheaper than flying to Dublin and if you fly in here you can immediately start your drive over to Doolin to see the Cliffs of Moher. Check out this view of Shannon from the plane.
Stop 2: Doolin: Spend a few nights here (2 nights). That way you can see the Cliffs of Moher and then head to the Aran Islands for a day! We took the boat over to the larger island, Inis Mor and it was incredible. We bought aran knit sweaters and biked the whole island. Definitely one of my highlights and something I don't recommend missing!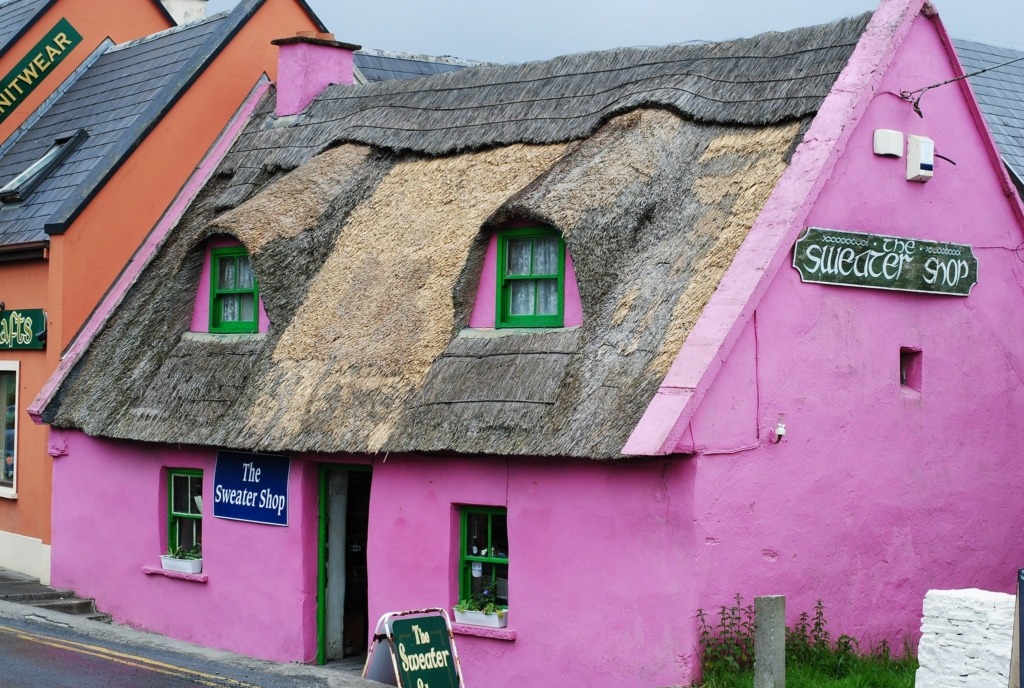 Stop 3: Galway. The drive from Doolin to Galway is super short as is everywhere in Ireland, but you don't want to miss driving through the rocky Burren on your way to Galway. Here you'll see beautiful rocky scenery and you'll visit the Poulnabrone Dolman structure that dates back to 4200 B.C.! I also recommend visiting the Burren Perfumery for their cute tea room and perfume shop. The scenery and drive to get there is worth it. I would also recommend staying a night in Galway so you can experience the amazing nightlife and have a day to explore!

Stop 4: Oughterard. You can either stay here or spend another night in Galway. After this you'll drive up the coast to get to your next stop, Kylemore Abbey (photo below). DON'T miss it. It's magnificent. It will take a few hours to tour the grounds and Abbey and once you've finished here you can make your way East to drive through Clonmacnoise where you'll visit old monasteries and castles along the way.
Stop 5: Kildare. This is a small village full of charm! Stop here on your way to Dublin. 
Stop 6: Dublin. Make sure to spend a few days in the capital! The culture in Dublin is fascinating and you'll want a few days here at least! I know it's touristy, but I recommend taking the Hop on Hop off bus to see all of the sites, especially the Guinness Factory. It's my favorite (I've been 2x and would go again). Definitely, check out the amazing nightlife at Temple Bar and just walk around. There's so much to see and do! If you have extra time you can also take the train down to the water town of Bray.
More on things to do in Dublin here.
Stop 7: Kilkenny. We didn't spend a ton of time in Kilkenny, but it's a great city. Make sure you stop at the Kilkenny castle while you're here.
Stop 8: Cork. After stopping in a lot of beautiful villages it was fun to come to another bustling city. We didn't stay here because we spent a few nights in Killarny and Kilkenny instead. Honestly, I would do it the same if I had to do again. Cork wasn't my favorite place, but it was still fun to see. A lot of Irish people living in the U.S. are from this area of Ireland.
Stop 9: Kinsale. This was an adorable and colorful waterfront town with cute shops and fresh fish restaurants. It was great to get some fresh air and just walk around the water!
Stop 10: Killarny. This was my favorite stop in Ireland! The town is beautiful (kind of ritzy also).  Just outside of the city you can take a tour of the Ring of Kerry or just drive around it instead. I also recommend taking the jaunting carts through the Gap of Dunloe. This and the Ring of Kerry were major highlights of my entire Ireland trip.

Stop 11: Shannon. And Bunratty Castle for the finale! Definitely stay in Bunratty on your final night and go to the Medieval Castle Banquet. It might sound weird and touristy and maybe it is, but it's also AMAZING. You literally get to feast with your hands in an old castle where they serve you copious amounts of wine and the King and Queen come out to greet you! There's also a jester and an entire medieval court with singers and dancers. You feel like you've stepped back in time to medieval Ireland and it's pretty magical if you ask me!
I hope you have an amazing time on your trip to Ireland and I hope this Ultimate 2 Week Ireland Itinerary helps! Next stop: Northern Ireland!
Please comment if I missed any stops that you recommend!
READ NEXT:
20 Reasons Why You Should Roadtrip Through Ireland
Top 10 Views in Ireland
3 Days on the Causeway Coastal Route in N. Ireland
My Top 6 Belfast Highlights
Best Things to Do in London