Heading to Iceland in the fall or winter? I'm excited for you! Curious about what to pack? You're in the right place. This list of what to pack for Iceland in fall and winter will hopefully help you get your life in order.
Iceland is one of the most amazing countries and I have no doubt you'll have a great time.
Iceland's climate is constantly changing and the temperatures can fluctuate drastically every day. It can be sunny at one moment, hailing and snowing the next, and windy and raining a few minutes later. I definitely experienced weather changes while I was there in late September into October.
My main recommendation for packing for Iceland in fall & winter is to LAYER and bring your warmest clothes. Try and bring warmer clothes than you may think you need especially if you've traveled to Iceland from a mild climate like I did, (San Francisco)!
And always remember:
"There's no bad weather, only bad clothes." – My Mom
Keep this quote in mind when you're packing. Having warm clothes will definitely make your trip a lot more enjoyable!
When I was in Iceland I took a camper van around Iceland's Ring Road and slept in that. It gets VERY cold at night in a camper van so if you are camping be sure to pack extra warm clothes for sleeping.
I recommend listing out the different activities and day trips you'll be doing in Iceland before you start your packing list. This will help you determine what exactly you need to wear in Iceland based on the activities you'll be partaking in.
What to Pack for Iceland in Fall & Winter
Here you'll find my packing list followed by examples of my outfits. I pretty much wore the same thing every day…fun I know!
Before we get started, let's be friends on Instagram and Tiktok!
Iceland Packing List: Bags
Suitcase
The Osprey Sojourn Wheeled Luggage is my favorite. I took the 60L version of this bag, which is apparently not available anymore (sad), but something similar to this would be perfect. This went with me on my year of travel and it was great because it can be wheeled in most places, but also has the option to become a backpack.
Purse
This bag is perfect if you're like me and want to be stylish, but also carry around a camera. It fits a mirrorless camera with two lenses!
Backpack
I take this bag everywhere with me when traveling. It's got compartments for everything and room for my camera gear, laptop, or other electronics.
A camelback backpack or something similar
If you're planning on hiking or going to hot springs while you're in Iceland something similar to this will be great for storing layers of clothes and necessities while you're out and about. I'd recommend something like this or this. If you'd rather bring this in place of the backpack I suggested above that works too. Or you can get a packable day pack like this that packs flat in your luggage and you can take it out when you need it.
Packing Cubes
I can't speak highly enough about packing cubes. They keep your bag completely organized and have helped me so much when traveling. It doesn't really matter the brand, but I like Eagle Creek because of their flexibility and you can really fit a lot into each pack.
Iceland Packing List: Clothing and Shoes
Puffer jacket or a parka
Bring your warmest coat. It will be even better if it fits under your raincoat. I wore my Patagonia puffer the majority of the time and that was great for fall. However, if you are there in more wintery months, it will be a good idea to bring a long-length jacket like this or a more heavy-duty parka similar to this.
A sturdy raincoat
This will preferably be one that you know works, is water-resistant and will help you stay dry. If you can fit this raincoat over a smaller puffy jacket or parka, that would be ideal. It is also a smart idea in winter months to bring a Gortex jacket or long length jacket. My rain jacket recs here, here, and here (this one is Gortex).
A wool sweater or sweatshirt
A sweater or sweatshirt will be key if traveling during Iceland in winter. You can also purchase an Icelandic sweater upon arrival which is a fun memento to bring home! If you'd rather pack it, I recommend something like this or this. My recs here and here.
A fleece half zip or full zip-up jacket
I lived in mine while in Iceland because they were breathable and easy to put over a base layer. This is what I brought for a fleece half-zip and this for a full zip-up jacket.
Thermal long sleeve shirts
I brought a few of these and they were key as base layers. They were great to sleep in at night too.
Thermal leggings
These were key for me. Bring a few pairs! Or you can bring fleece-lined leggings that you can layer. Here's a thermal set that would be great as well. My rec for fleece leggings is here.
Jeans or Jeggings
These are definitely optional. You may end up mostly wearing leggings, but if you want to bring jeans for going out in the city, please do bring your favorite pair! I was living in a pair of black Uniqlo jeggings because they were comfortable, but still looked good for going out to dinners in Reykjavik!
Swimsuit
Even though it's cold you'll want to hit up the hot springs in Iceland, so bring your favorite swimsuit or two if you think you'll be going to multiple over the course of a few days. You'll want to make sure they dry in time!
Sturdy and comfortable hiking shoes
I wore these every day while I was traveling through Iceland in the fall. My exact boot is sold out, but these are my current favorites that I'd back if I was leaving tomorrow. These are also great options if you don't like high ankle hiking shoes.
Short rain boots (for fall)
If you travel to Iceland in the fall you will most likely get some rain or hail. I recommend bringing some water-resistant, easy to pack, rainboots. I wear these all the time where I live in Idaho and they are my favorite because they are warm and have great traction! These are also great options.
Snow boots (for winter)
Definitely bring snow boots if you're going any time after October! Here are currently my favorite winter boots for women.
Nicer knee-high boots
I would only bring these if you have room and if you are going out to nicer dinners in Reykjavik or are wandering the city and care to look a bit nicer. I had them because I was traveling around the world for a year, but these are definitely not necessary. Here's what I mean when I say nicer knee-high boots if you do decide to bring them.
Flip flops or sandals
These will be great for getting in and out of hot springs or if you're staying in a hostel and need to take a communal shower. My favorite ones to travel with that pack nicely are these.
A warm hat or warm winter headband
You don't necessarily need all of these, but having one that's really warm will be great! Preferably they will be made of wool or will be fleece-lined so they are super warm. My recommendations for a headband is here, and here and hat is here.
A warm knit scarf or blanket scarf
These will be an extra layer for when the wind is whipping and/or you're outside for longer periods of time. My recs are here for blanket style or here for classic warmth.
Warm gloves
In the fall you can get by with lighter-weight fleece gloves, but in winter you'll want heavier-duty snow gloves like these.
Wool socks
Bring the warmest socks you own. Don't even worry about bringing ankle socks/tennis shoe socks because you won't wear them. Here are fun ones and here are more practical.
An umbrella
I used this a lot in the fall due to the heavy rain, however, you most likely won't need it in the winter.
Iceland Packing List: Electronics and Gadgets
Camera
I use the Sony Alpha 6000. This camera is seriously the best thing to happen to me! I've used it for over a year and it's the perfect size for traveling. Plus the photos come out clear and crisp without much fidgeting with the camera. You don't need to know a thing about photography to get great photos with this thing. You honestly won't want to miss the incredible photo opportunities in Iceland so I think it's a good idea to bring your best quality option.
Powerbank
A power bank is a must if you're using your phone for a lot of reasons, like taking photos, using maps, etc. I recommend this one!
Headphones
A must for travel, I love these because they are noise canceling and great for the plane!
USB International Wall Charger and Adapter
This thing is a lifesaver because it allows you to charge multiple electronics at once.
Unlocked Phone for Sim Card
You may want to get a Sim Card in Iceland although the wifi in Iceland is very strong and all over the place. If you do get one I'd recommend getting it set up at the airport.
Kindle
Many times I'll read on my phone, but a Kindle is a gamechanger for a trip like this if you have time to read.
Iceland Packing List: Toiletries
The good news about Iceland is you'll easily be able to find pharmacies and places to buy toiletries in case you forget anything—unless you're camping. Here are some things to pack:
Makeup
Hydrating lotion

– Make sure you have something for your hands and face because it can get dry in Iceland in the fall and winter months.

Tampons/Saalt Cup

– It may be difficult to find your favorite feminine hygiene products at local Egyptian stores.

Hand sanitizer

– This will be handy for bathrooms in Egypt

Face wash
Hair Detangler

– if you spend any time diving or swimming in the sea, you'll want this to detangle your hair.

Toothbrush, toothpaste
Deodorant
Hairbrush and hair ties
Shampoo and Conditioner

– This is my favorite right now because it smells so good.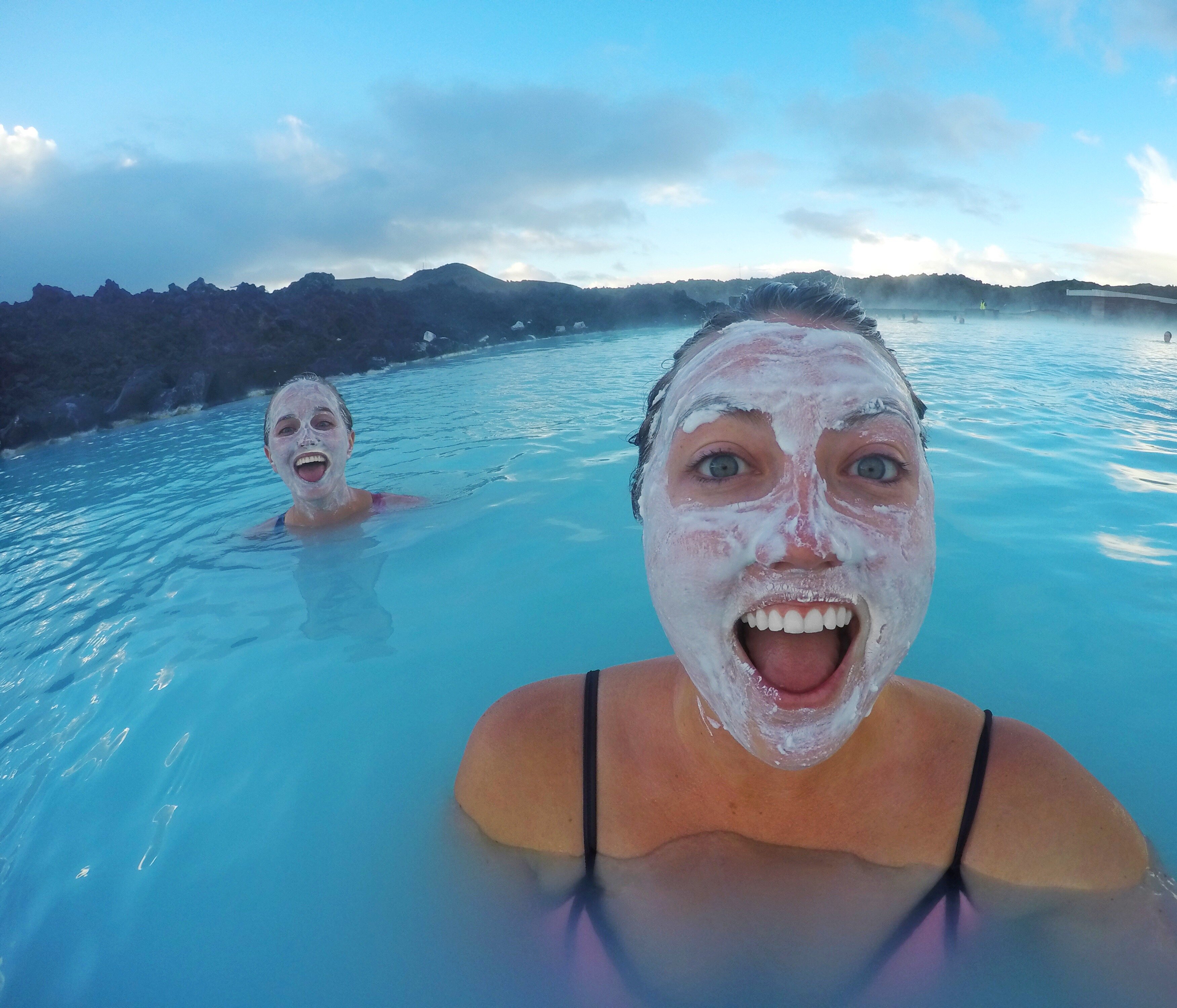 Iceland Packing List: Miscellaneous Items
Life straw water bottle

– This is great if you don't want to keep buying so many plastic water bottles. Iceland's water is perfectly drinkable so you can easily refill almost anywhere.

Sunglasses – It can get sunny in Iceland in the fall and winter!
Hand and feet warmers –

I brought these and used them quite a bit—even in the fall.

Headlamp –

This is perfect if you are in a camper van or going out in the dark.

Quick-dry towel – If you're camping this will be important for showers and other things.
Travel pillow – This will come in handy for your flight! I love this travel pillow

and I've tried a lot.

Camera strap – I get lots of compliments on this so thought I'd share since it's so cute.
Travel Insurance – My favorite travel insurance is hands-down World Nomads

and is great for adventurous trips.

Passport + Visa – Don't forget your passport! Also, as a US Citizen, you don't need a visa to get into Iceland, but if you're not a US citizen you might want to look up if one is needed or not to enter.
Credit card and debit without international transaction fee – Everyone in Iceland uses a card. No one really ever handles cash from what I found. I recommend bringing cards without international transaction fees. I love the Chase Sapphire Reserve because of all of the perks and points you get on travel. My favorite debit card is through Charles Schwab because they don't have ATM fees. I use this anytime I travel internationally. You can sign up for it here!
I hope you have a great trip to Iceland in the fall or winter! Check out my other Iceland blogs if you need more tips on what to do there!