Every so often I happen upon a place that totally enchants me, takes my breath away and makes me feel comfortable enough to want to stay for longer than planned. Salzburg is one of those places for me.
After visiting most of the main cities in Austria (Salzburg, Linz, Innsbruck, Vienna) and a trip to Hallstatt (amazing btw) I can honestly say that Salzburg is one of the most charming cities in Austria. If you haven't been to Austria it should definitely be on your list. I decided to go to Austria after Oktoberfest in Munich, Germany and it happened to be my 3rd visited country on my around the world trip. Salzburg was my second visited city in Austria, and my favorite one… hands down.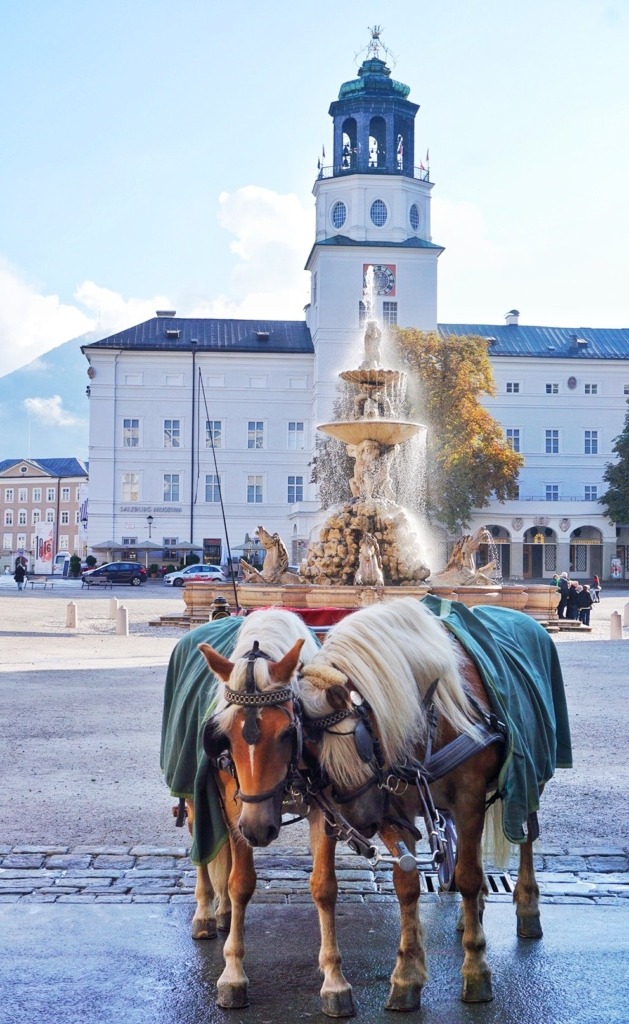 Why Salzburg is My Favorite City in Austria
When I got to Salzburg I didn't really know what to expect! I hadn't done much research, but I decided to stay 2 nights and then ended up extending my stay to 4 days. Many people do day trips to Salzburg from Munich. If you're ready to crank through the city then that might be enough time for you, but I recommend staying at LEAST 2 nights.
Below, I've compiled a list of things I did. Do these if you want to have as good of a time as I had. 🙂
And hopefully, you'll understand why Salzburg is my favorite city in Austria!
(1) Get the Salzburg card.
I normally don't do the city cards for a few reasons, 1. I'm on a budget 2. they are typically expensive, and 3. they usually don't include things I want to do. This one was well worth it though! It included all public transportation, all museums I wanted to see, access to Mozart's birthplace, The Residenz, Schloss Hellbrun, and the Hohensalzburg Fortress on the hill. The card for one day was 24 euro and I later realized that just to go to Mozart's birthplace was 10 euro. I thought I was getting a great deal. (This is not sponsored by the way. I just really liked the card).
(2) Visit Mirabellplatz
This was a beautiful garden in the center of the city where the Sound of Music was filmed. I came on a Monday morning and it felt like I was the only one there. The gardens are incredible!
(3) Do your own Sound of Music Tour
I didn't do the actual paid Sound of Music tour because I found this blog that lists out how to do it on your own for free. I hit up most of these spots and really wanted to find the hill that Maria sang on, but it was too far for me in the time I had. bummer…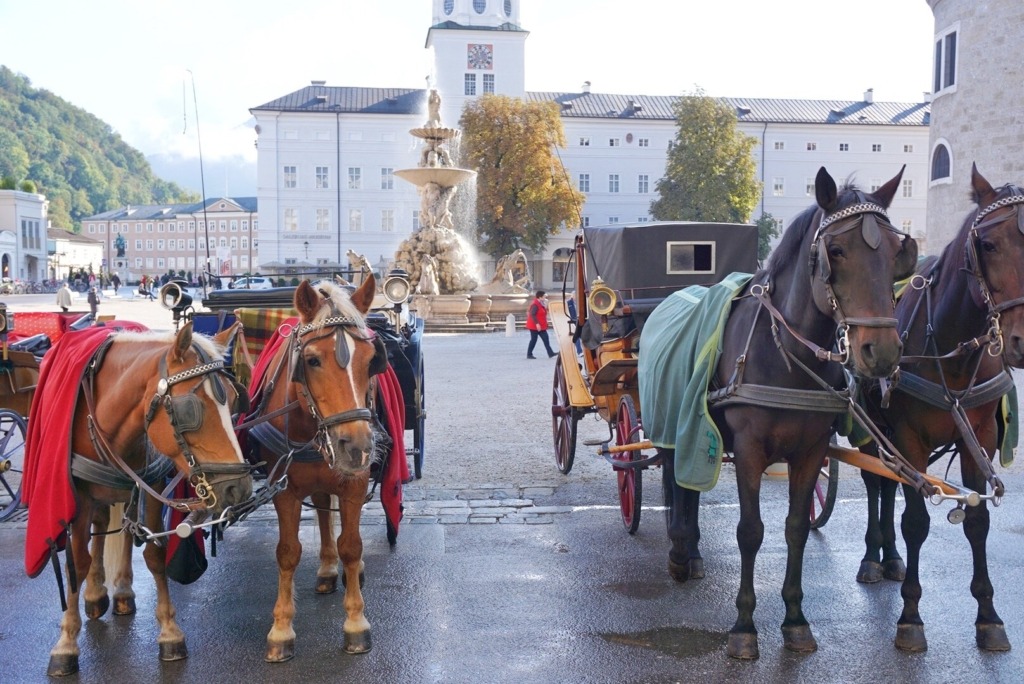 (4) Visit the Love Lock Bridge
It's covered in locks and you cannot miss it! It looks amazing next to the turquoise water as well.
(5) Visit the Hohensalzburg Fortress on the hill.
Here you'll get great views of the city, plus a good historical tour of what the Fortress used to look like. To get up there you can take the funicular which is included in your Salzburg card. I went early (10 am) and I recommend it because there weren't many people at the top.
(6) Hike up to the lookout from Mönchsberg Mountain
This isn't really a hike at all, but you can find it on the way to the Augustiner Brewery. Directions here.
(7) Visit the Augustiner Brau beer house and brewery.
This was such a cool experience! I highly recommend it. They don't open until about 3 pm most days so make sure you time it correctly. I hadn't been to a German/Austrian beer house before (except Oktoberfest) but this was something special. You pick your mug from the shelf, you wash it out, pick your beer and then they fill it from huge wooden barrels. I can't really explain, you must just try!
(8) Visit Mozartplatz and Mozart's birthplace and home.
Mozartplatz is pretty hard to miss since it's right in the center of the city with a statue of Mozart. Try not to miss visiting Mozart's birthplace and house as well. I went thru both really fast because I'm quick and not super into Mozart, but it's perfect for classical music buffs! You get both of these free with the Salzburg card so I went through both. I honestly don't think they are worth paying the full price which is why the card comes in handy once again!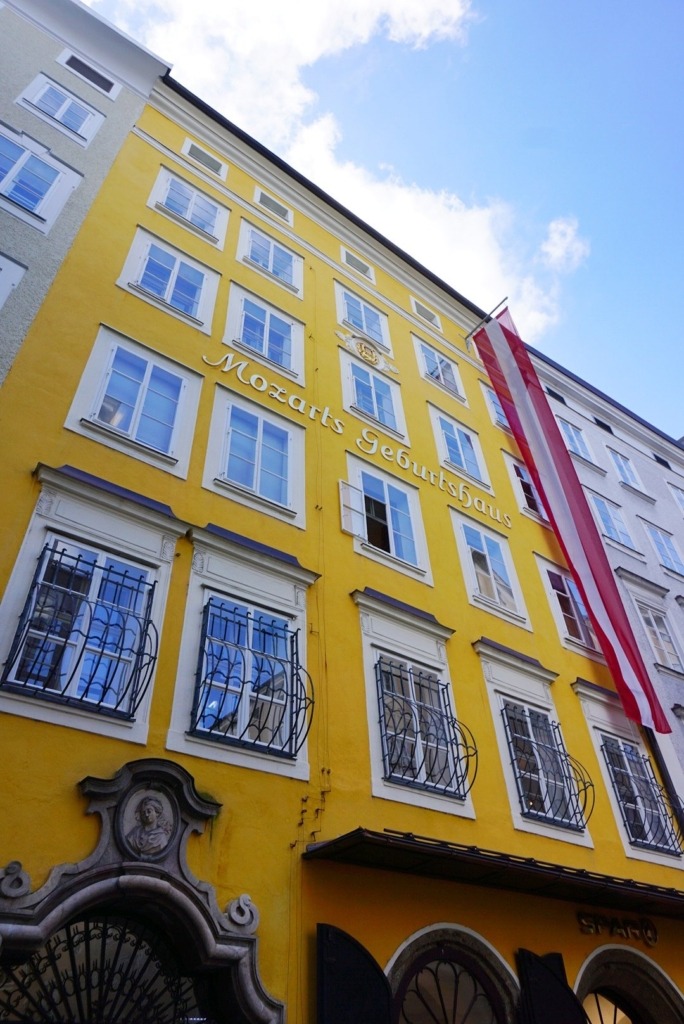 (9) Visit the Salzburg Residenz
The Residenz wasn't even on my list of places to see in Salzburg, but with the card, it was super easy to go in and out. There are huge extravagant rooms to view inside. It's not set up like it was in the past so most of the rooms are empty, but it's still beautiful to walk through. Oh and it says it will take 2 hours to get thru and took me 20 mins, but I didn't listen to every single thing they said on the audio guide.
(10) Visit the Schloss Hellbrunn and Trick Fountains
It's a short bus ride to get out to this palace, but I'd say the trick fountains are worth it. The actual inside of the palace was more like a museum than an actual replica of what it looked like back then. It was still pretty, but the trick fountains were the highlight and like nothing I've ever seen before. It's crazy to see what people used to entertain themselves with before technology!
(11) Get lost in the winding streets
This is always one of my favorite things to do in new cities (especially now that I can download offline maps on Google). I came upon a Mozart festival where they were having a huge beer fest with music and a stall with many different types of pretzels. I was in heaven. Wandering the streets in Salzburg is always a good idea!
(12) Visit the cemetery at St. Peter's Abbey
After coming down from the Fortress I went to the cemetery next to St. Peter's Abbey. I had never in my life seen a cemetery like this one. Go here and check out the extravagant grave sites. I seriously kept saying "WOW" to myself the whole time!
I hope you get a chance to visit this pretty place and that you get to see why Salzburg is my favorite city in Austria!
For those who have been, did I miss anything that I must do next time I visit?
PIN IT: