Are you traveling for work quite a bit but aren't sure how to actually make the most of your time while traveling and working? Maybe you're going to a new city and want to explore but can't figure out how because of your work meetings.
For roughly 8 years, I worked at a tech company, and I was in a role where I traveled a lot for work, and I sure learned a lot during my years of traveling for work.
 Here are some of the best ways to make the most out of your work travel!
Best Ways to Make the Most Out of Work Travel
My first trip to London for work!
1 – Figure out your work schedule, free time schedule, and what fun events are happening in the area.
I always make sure I know exactly when I have meetings and events during the day and then calculate exactly what amount of free time I will have. Then, I subtract a little time from that since I know most of the time I will be working. It's always fun to see what events might be going on in the city you're visiting, though! I got lucky to see St. Patrick's Day celebrations in
Minneapolis
and
Chicago
, a Tom Petty concert at Red Rocks in Denver, and celebrated
Valentine's Day in Honolulu
, all while traveling for work!
Exploring Chicago by myself on my first business trip!
Visiting Harvard on a work trip to Boston!
2- Create a list of pillars or top "must-dos."
Before I head to a new city, I usually figure out the main things I want to see or do. If I've been there before, I usually visit friends or new restaurants. If it's a new place, then I usually list out a bunch of touristy things I want to do and foods I want to try. For example, when I went to
Minneapolis,
I knew the two main things I wanted to do were 1) see the Mary Tyler Moore statue and 2) eat a
Jucy Lucy
. Try not to make too lofty of goals since you never know what amount of free time you'll actually get. It's always important for me to scout out where I'm staying in town and where I want to go beforehand so I can see if it's worth my time to get there.
I had a work event in Vegas, so I tacked on a weekend to go to 3 other states plus the Grand Canyon!
3 – Tack on a weekend
This is what everyone says to do, but I'm serious about tacking on a weekend. This is how I've had the most fun on my trips! I've tacked on weekends in
San Diego
, Nashville, Denver, NYC,
Chicago
,
Hawaii
,
Austin
,
London
etc! Sometimes this isn't possible because of the time/day of your travel, but if you can do it I suggest doing it! That way you'll get a free flight to check out a new city. You'll probably have to pay for the extra hotels, but I would always find
AirBnB ($40 off with my code)
or cheaper hotels in the area I wanted to visit.
In NYC for a summer week and tacked on a weekend.
4 – Get recommendations before you go.
I'm the queen of giving and getting recs in new cities. It's always a good idea to ask around to people who have been there before to see if they know of fun things to do close to your hotel. I always ask coworkers before I go and then ask locals when I get there. Even if you can't go everywhere (which usually you can't), try going to a cool new restaurant or take a walking tour of the city.
Pro Tip: I've realized it's always best to ask waiters in restaurants or bartenders in hip bars about the best places to eat. If you ask people on the street or elsewhere they might recommend places like Cheesecake Factory or Bubba Gump chains. No thanks. 😉
5- Go a bit early or take a red eye.
This goes along with tacking on a weekend, but if you can cut out some of the travel time during the day or can take a day off before or after your trip that's great! If you happen to be traveling on a Saturday, then ask your manager if you can take a day during the week for your personal day. If not, try taking a red eye to get there earlier so you can rally! On the days you are there you could also try and get up super early to see some sites before going to work and make it your "workout" for the day. One time I had a work trip to Dallas, but I really wanted to go to Austin, so I rented a car and drove to meet friends in Austin for the weekend!
6- Enjoy your hotel room and the hotel.
Most people think that you have to explore a city thoroughly when you're somewhere new, but sometimes on work trips, it's amazing to put on the white robe, order room service, take a bath, and enjoy yourself. You can even go to the hotel bar to grab a drink, and you'll probably meet new people.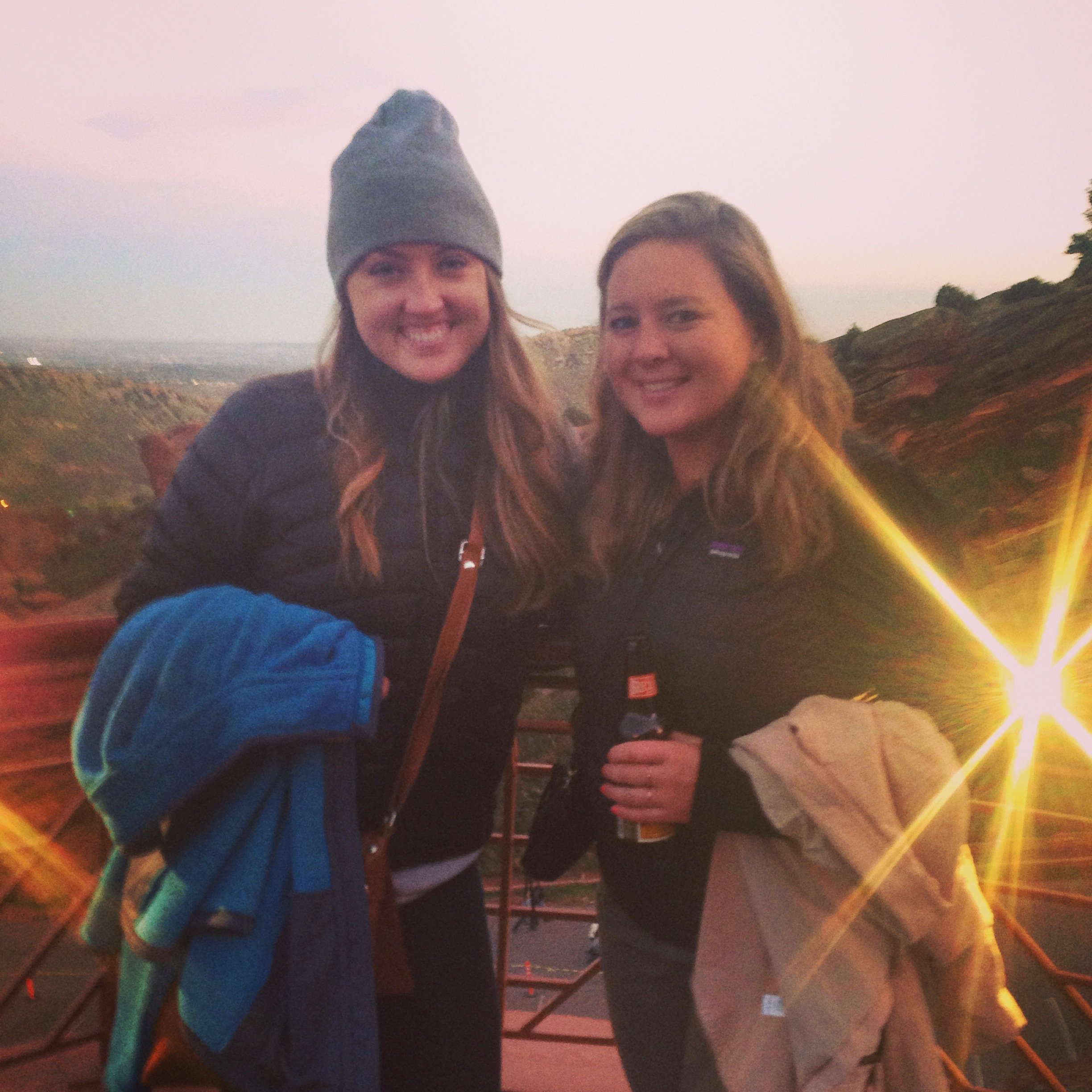 I had a work trip to Denver, so I went to a Tom Petty concert at Red Rocks!
7- Try walking to your work location
I try to do this if I happen to have a bit of time and know I won't be sweating or carrying a bunch of stuff the whole way there. I've done this a few times and have been super surprised by the cool things I pass by during my walk there. Plus, it's fun to see the real, local experience, and people watch as everyone goes to work.
I convinced my boss we needed to do
business in Hawaii
and then tacked on a few days to my work trip in Hawaii.
8 – Try to experience the city like a local.
I always love to see new places with a local perspective. However, the first time I'm in a new city/location, I usually don't do this and go major tourist crazy. 🙂 After going to the same places multiple times, it's fun to check out sites like
Thrillist
and
Urban Daddy
to see what the hot new bars/restaurants/events are in the area to get more in the local groove and mindset.
Perks of Traveling for Work
1 – You get to see the world while getting paid.
When you think of a job, you most likely picture yourself sitting behind a desk from 9-5. But, when you get to travel for work, the whole world is your oyster. The best part is you are getting paid while doing it! Don't dread your work week of meetings; instead, get excited about it. 
2 – You can turn your work trip into a vacation.
As stated in some of my tips above, you can extend your work trip into a vacation. This includes my tacking on a weekend hack. Most companies will allow you to pick your flight home, too, if you ask in advance. You can also cash some of your PTO in and take a full week if your manager approves. Some companies will allow you to work remotely for a week, so you can soak up the new city you are in.
3 – You can dine at bucket-list restaurants on your company's dime!
A lot of the time, companies comp your meals when traveling for work. This is a wonderful opportunity to try any bucket list restaurant at your new location. Maybe you want to try an espresso in Europe or a fresh smoothie in Hawaii; the opportunities are endless. If you want to dine at a more expensive location, you can simply use your daily meal budget towards it and pay the rest. It is a great loophole to feel like you are on a full-blown vacation, even if it's just during your lunch break!
Best Business Travel Accessories
Cup Holder For Your Carry-On
Convenience is key when traveling! That is why a luggage travel cup holder is a must-have. The holder slides right over your carry-on handle. Making it easy to roll through the airport with your water bottle and coffee without having your hands full. 
Portable Charger
Don't forget a portable charger. There are too many times I see people searching for an outlet at a busy airport with all of them already taken. Also, a lot of airplanes do not even have outlets for you to charge your phone anymore. That is why a portable charger is a must. They normally hold 72 hours of charging time, making them excellent for multiple layovers and longer flights. 
Travel Steaming Iron
When you are traveling for business, you want to look your best. Especially if you are getting off the plane and attending a conference or work event, purchasing a travel steaming iron can save the day. You can quickly plug it in and steam your clothes to remove any wrinkles. A lot of the time, irons in hotel rooms can be bulky and even broken. This smaller device is a win and can be used anywhere with an outlet. 
Noise-canceling Earbuds
You board an airplane to find a baby crying and friends loudly talking about their upcoming trip. That is why noise-canceling earbuds are an essential item when traveling. Nothing is better than shutting out your surroundings while watching your favorite movie or playlist. Noise-canceling earbuds work so much better than standard headphones that the flight attendants hand out. It will help you keep your sanity during your entire flight. 
Packing Tips For Work Travel
Having a thought-out packing list will help you stay relaxed when traveling for work. I always pack my carry-on essentials and walking shoes just in case I have time to explore. It's smart to bring a few extra changes of play clothes (not work clothes), so you can be a tourist!
Here are some of my favorite packing tips, so you don't forget any of your travel gear!
Packing Cubes
Packing cubes can help you, and your suitcase stay organized. It is a fantastic way to separate your outfits. Putting t-shirts in one packing cube and undergarments in another can ease your frustration when trying to find something. This is especially useful if you are running late for a work event. Did I mention packing cubes help save space in your carry-on bag? Leaving more room for souvenirs for your flight home.
Travel Pillow
Sometimes you will need to go to work as soon as you land, so catching up on sleep when you can is important. That is why a travel pillow lands a spot on this list. Let's be honest; airplane seats are extremely uncomfortable, so bringing your own pillow can make or break your rest during a flight. 
Travel Adapter
One of the most forgotten items when traveling internationally is a travel adapter—making it necessary when traveling for business or pleasure. If you do forget one, you can purchase it at your destination, usually at a hefty cost. I recommend purchasing a universal one that can be in your laptop bag or carry-on bag at all times. 
Toiletry Bag
Keep all of your high-quality travel essentials in a toiletry bag. This includes airplane-sized face washes, moisturizers, makeup, hand sanitizer, and other travel bottles. You can even freshen up on the plane prior to landing if you need to be somewhere immediately. Just remember the rule for liquids is 3.4 ounces or 100 milliliters to fly in your carry-on bag.
Laptop Bag
Did you know that laptop bags can be fashionable? Instead of packing everything in a backpack, you can instead indulge in a professional laptop bag. A normal laptop bag can fit your work laptop top and personal devices, such as an iPad or Kindle Paperwhite. Most of them even have holders for your credit cards, cell phone, and other travel accessories. The best part is they can slide right under your seat, similar to a purse or backpack. 
Hopefully, all of this helps, and you can explore the cities you travel to for work a whole lot more!! 😃
PIN IT: