For roughly 5 years after college in Idaho, I worked at a tech company in the Bay Area (San Francisco) as a Sr. Marketing Manager. Over the past 5 years, I was pretty lucky to be in a role at work where I got to travel A LOT.
I wrote this particular blog post before leaving for my year-long trip and just found it! Even though it doesn't pertain to my life now, I sure learned a lot during my years of traveling for work and I certainly consider myself a queen of work travel. (lol)
 Here are 9 ways to make the most out of your work travel!
9 Ways to Make the Most Out of Work Travel
My first trip to London for work!
1. Figure out your work schedule, free time schedule, and what fun events are happening in the area.
I always make sure I know exactly when I have meetings and events during the day and then calculate exactly what amount of free time I will have. Then, I subtract a little time from that since I know most of the time I will be working. It's always fun to see what events might be going on in the city you're visiting though! I got lucky to see St. Patrick's Day celebrations in
Minneapolis
and
Chicago
, a Tom Petty concert at Red Rocks in Denver and celebrated 
Valentines Day in Honolulu
all while traveling for work!
Exploring Chicago by myself on my first business trip!
Visiting Harvard on a work trip to Boston!
2. Create a list of pillars or top "must-dos".
Before I head to a new city I usually figure out the main things I want to see or do. If I've been there before then it's usually visiting friends or new restaurants. If it's a new place then I usually list out a bunch of touristy things I want to do and foods I want to try. For example, when I went to
Minneapolis
I knew the two main things I wanted to do were 1) see the Mary Tyler Moore statue and 2) eat a
Jucy Lucy
. Try not to make too lofty of goals since you never know what amount of free time you'll actually get. It's always important for me to scout out where I'm staying in town and where I want to go beforehand so I can see if it's worth my time to get there.
I had a work even in Vegas, so tacked on a weekend to go to 3 other states plus the Grand Canyon!
3. Tack on a weekend.
This is what everyone says to do, but I'm serious about tacking on a weekend. This is how I've had the most fun on my trips! I've tacked on weekends in
San Diego
, Nashville, Denver, NYC,
Chicago
,
Hawaii
,
Austin
,
London
etc! Sometimes this isn't possible because of the time/day of your travel, but if you can do it I suggest doing it! That way you'll get a free flight to check out a new city. You'll probably have to pay for the extra hotels, but I would always find
AirBnB ($40 off with my code)
or cheaper hotels in the area I wanted to visit.
In NYC for a summer week and tacked on a weekend.
4. Get recommendations before you go.
I'm the queen of giving and getting reccs in new cities. It's always a good idea to ask around to people who have been there before to see if they know of fun things to do close to your hotel. I always ask coworkers before I go and then ask locals when I get there. Even if you can't go everywhere (which usually you can't) try going to a cool new restaurant or take a walking tour of the city.
Pro Tip: I've realized it's always best to ask waiters in restaurants or bartenders in hip bars about the best places to eat. If you ask people on the street or elsewhere they might recommend places like Cheesecake Factory or Bubba Gump chains. No thanks. 😉
5. Go a bit early or take a red eye.
This goes along with tacking on a weekend, but if you can cut out some of the travel time during the day or can take a day off before or after your trip that's great! If you happen to be traveling on a Saturday, then ask your manager if you can take a day during the week for your personal day. If not, try taking a red eye to get there earlier so you can rally! On the days you are there you could also try and get up super early to see some sites before going to work and make it your "work out" for the day. One time I had a work trip to Dallas, but I really wanted to go to Austin so I rented a car and drove to meet friends in Austin for the weekend!
6. Enjoy your hotel room and the hotel.
Most people think that you have to explore a city thoroughly when you're somewhere new, but sometimes on work trips, it's amazing to put on the white robe, order room service, take a bath and just enjoy yourself. You can even go to the hotel bar to grab a drink and you'll probably meet new people.
7. Pack appropriately.
I always pack
my carry-on essentials
and walking shoes just in case I have time to explore. It's smart to bring a few extra changes of play clothes (not work clothes) so you can be a tourist!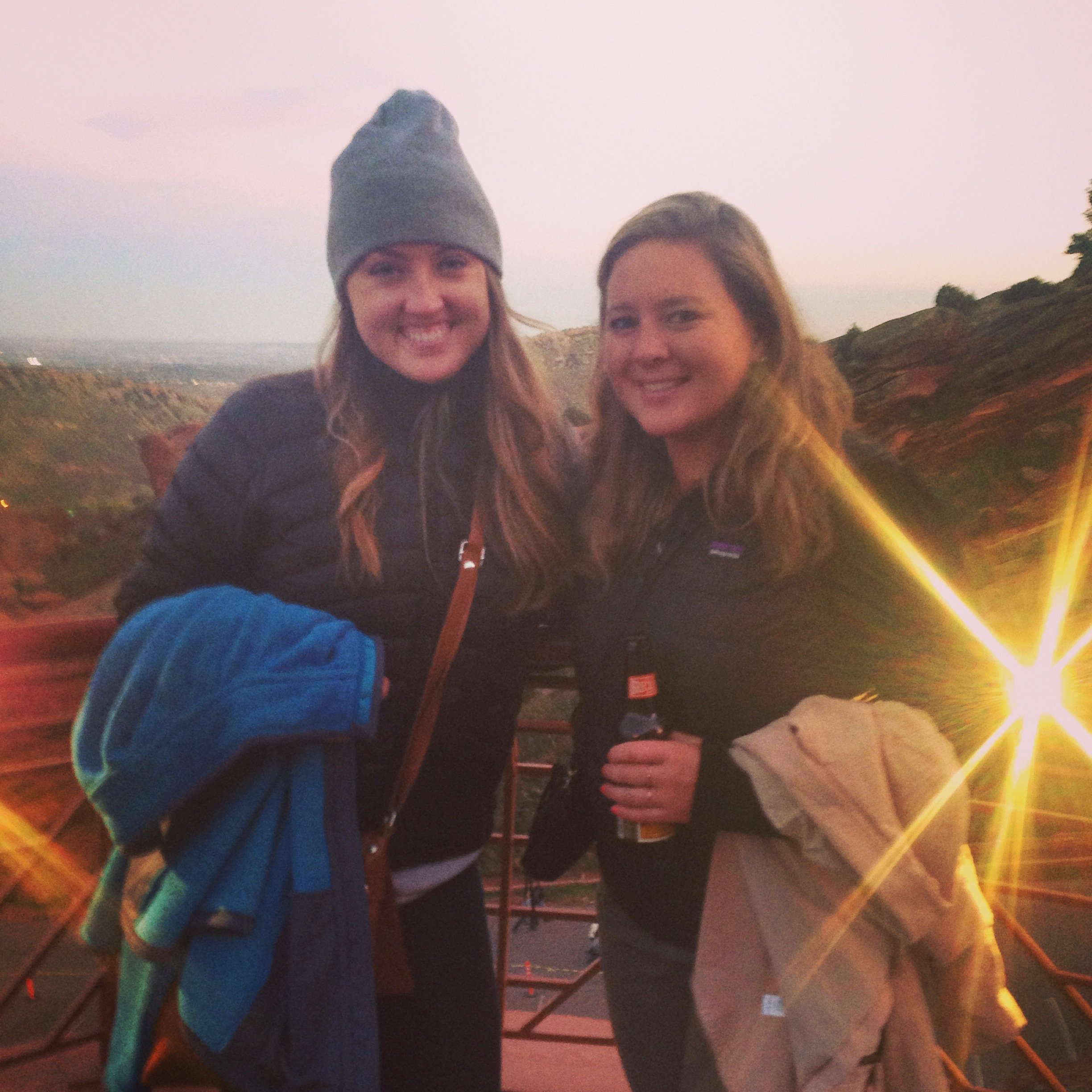 Had a work trip to Denver so went to a Tom Petty concert at Red Rocks!
8. Try walking to your work location.
I try to do this if I happen to have a bit of time and know I won't be sweating or carrying a bunch of stuff the whole way there. I've done this a few times and have been super surprised by the cool things I pass by during my walk there. Plus it's fun to see the real local experience and people watch as everyone goes to work.
I convinced my boss we needed to do
business in Hawaii
and then tacked on a few days to my work trip in Hawaii.
9. Try to experience the city like a local.
I always love to see new places with a local perspective. However, the first time I'm in a new city/location I usually don't do this and go major tourist crazy. 🙂 After going to the same places multiple times it's fun to check out sites like
Thrillist
and
Urban Daddy
to see what the hot new bars/restaurant/events are in the area to get more in the local groove and mindset.
Hopefully all of this helps and you can explore the cities you travel to for work a whole lot more!! 😃
PIN IT: