I grew up most of my life in a little town in Southern Idaho called Twin Falls. It's situated about 2 hours south of Boise and about an hour away from Sun Valley, Idaho.
Twin Falls is a typical Idaho town with a population of about 50,000 people. It's mainly popular because of its vicinity to the Snake River Canyon and the famous Shoshone Falls. Many people also drive through Twin Falls on their way to Yellowstone National Park, Boise or Salt Lake City. The town itself is surrounded by the Snake River Canyon, lots and lots of farmland and cattle, and smaller farm towns like Filer, Jerome, and Kimberly.
Since I now live in Boise and get to live closer to Twin Falls, I decided to put together a little list of things to do in Twin Falls. Hopefully this will be helpful if you're visiting Idaho or ever find yourself driving through the town and looking for some fun things to do in Twin Falls.
9 Things to Do in Twin Falls Idaho
(1) Check Out Shoshone Falls
Shoshone Falls are actually some of the most amazing falls I've ever seen in my life and I grew up right next to them! What's even cooler is they are 212 feet higher than Niagara Falls and soo soo loud. From the lookout, you can actually feel the spray of the falls and the view is pretty mesmerizing. There's also a large park next to the falls, so you can bring a picnic and hang out here for a little bit if you'd like. Next door to Shoshone Falls is Dierkes and Bass Lake (mentioned below) so you really can make a whole day out of hanging out in that area.
(2) Drive or Walk Across the Perrine Bridge
This bridge has become famous due it being a popular spot for BASE jumping. People from all over the world come here to jump off of it! It also is the main connector to get into Twin Falls if you're coming from Boise or one of the farming towns like Jerome.
Right when you drive across the bridge to get into Twin Falls you'll see the newly remodeled Twin Falls Visitors Venter. I actually recommend parking in their lot and then walking over to the Snake River Canyon Rim Trail along the canyon. These are going to be some of the best views of the canyon you'll see in Twin Falls! The trail goes on for awhile and you can walk under the bridge if you want to also. It's a great spot for a leisurely stroll or a jog with amazing views.

(3) Go inside the Snake River Canyon
One of my favorite things about Twin Falls is probably the Snake River Canyon. There are a ton of great hikes, places to go boating, areas for stand up paddle boarding, kayaking, golfing and canoeing. Some people rock climb and others BASE jump off the bridge. Dierkes Lake and Bass Lake are the most popular lakes in the canyon and perfect places to go swimming and fishing in the summer. There are also quite a few parks. When I grew up, stand up padding boarding wasn't really a thing and now you can stand up paddle board to Shoshone Falls which I'm dying to do! Click here to see rentals for this and kayaking.
Golfing is also popular in the canyon and the Canyon Springs Golf Course and Blue Lakes Country Club are both great spots!
(4) Go to Happy Hour at Elevation 486
There are quite a few new hot spots popping up in Twin Falls for food and drinks, but if you're visiting for the first time, you must go to happy hour at Elevation 486 for the view! Come here on a warm summer evening to watch the sun set and enjoy an Idaho Lemonade or a Corona'Rita. Happy Hour is from 3-6pm every day! If it's too busy here, then you can go to the fancier restaurant on the canyon, Canyon Crest for another great view.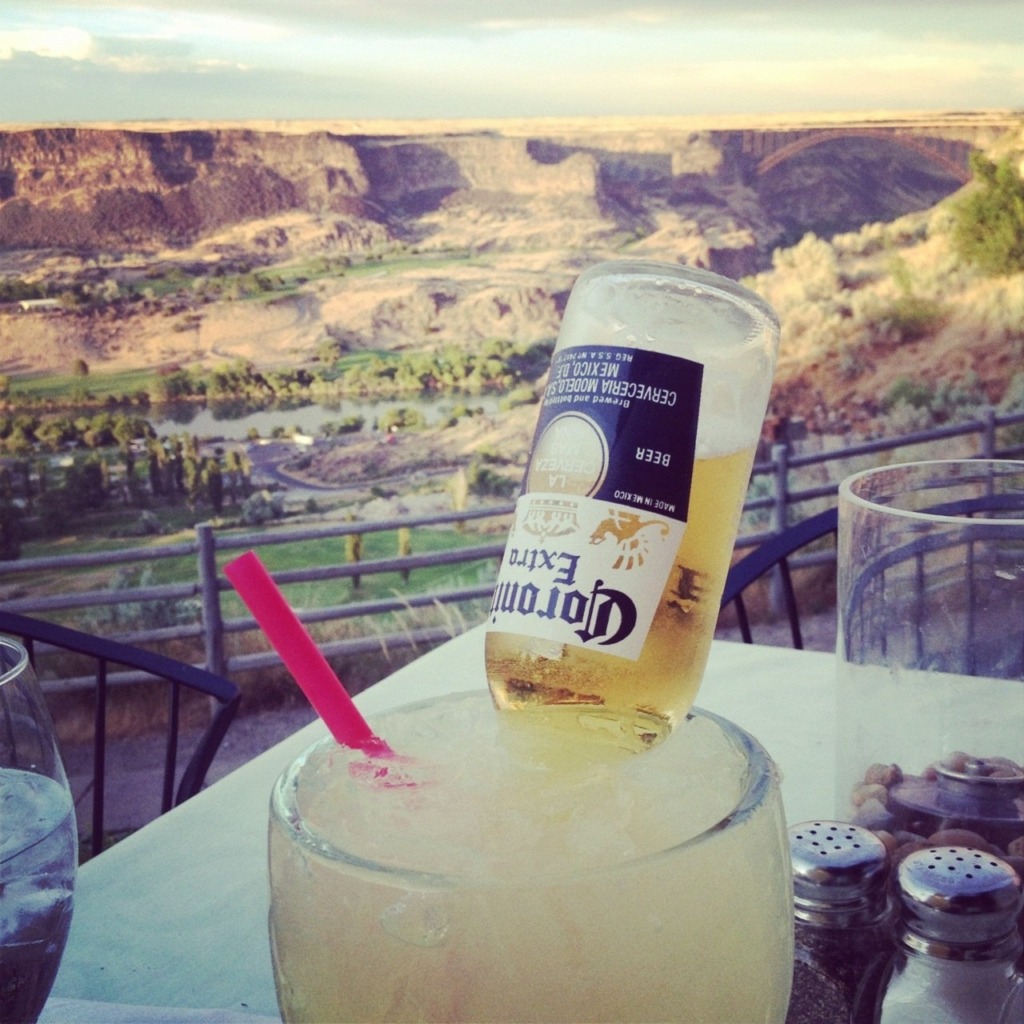 (5) Visit Bass Lake or Dierkes Lake
I grew up coming to both of these lakes in the Snake River Canyon. Bass Lake is part of the Blue Lakes Country Club so you technically need to be a member to go and Dierkes Lake is open to the public and a little larger. These are both great places to hang out and swim in the summer!
(5) Have breakfast at the Buffalo Cafe
If you want to have a down-home Idaho breakfast, then head over to the Buffalo Cafe. It's usually pretty crowded on the weekends, but so worth it. Make sure you get the home fries…you are in Idaho after all!
(7) Visit the newly renovated downtown for shops, food & drink
When I grew up in Twin Falls, the downtown was a bit run-down. Nowadays it's the place to be! With new breweries and restaurants popping up all, over it's a great mix of new with the old.
Best Eats:
Twin Falls Sandwich Company – This is a great lunch spot with awesome fresh sandwiches and soups.
Slice – A hip pizza spot with great pies and slice options.
Yellow Brick Cafe – Come here for healthier farm to table grub and amazing coffee.
The Cookie Basket – This cookie shop has been here since I was a little girl. I love their selection and it just reminds me of a Grandma's cookie shop.
Glanbia Cheese Marketplace – Go here and try the many different cheeses they offer. Glanbia makes a lot of the cheeses you can try and most are made locally!
Milner's Gate – This is actually inside an old ballroom building and is so cool. They do drinks and a great brunch, but also serve lunch and dinner as well.
Best Drinks:
O'Dunken's- This is a classic Irish pub that's been around for a long time. It's super fun on St. Patrick's Day, or any day for that matter!
Koto Brewing – This is one of the only breweries in Twin Falls and is really neat! Go here for great pub food and beer.
Anchor Cafe – This isn't actually located downtown and is located on one of the busiest streets in town, but is a fun bar and restaurant that I had to add!
(8) Zip line the canyon
This zipline was added a few years after I moved away from Twin Falls. Zip the Snake allows you to zipline in the canyon. Unfortunately, it doesn't all you go from one side of the canyon to the other, but it's still a thrill apparently. Next time I'm in town I have it on my list to try!
(9) Take a day trip from Twin Falls:
All of these places are really close to Twin Falls and fun for an overnight or just a day trip! I grew up going to all of them and actually miss living so close to all of these.
Twin Falls County Fair
Pomerelle Ski Resort
Vinyard Lake hike (a true locals secret)
I also have a list of my favorite places to visit in Idaho here.